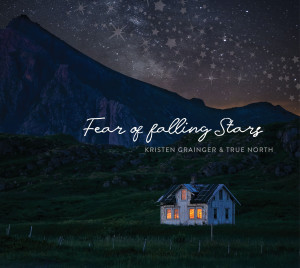 Kristen Grainger & True North continue their enviable run of top quality acoustic Americana with Fear of Falling Stars. This time out the theme is love of the family kind, including more than one personal missive of devition between Grainger and her husband and writing partner Dan Wetzel. He's a luthier who plays guitar, mandola, banjo, resonator slide guitar in this band, and he's a pretty good singer, too. The two perform as a duo around the Pacific Northwest – I've seen them a couple of times and they put on a very engaging show. Joined by young Northwest bluegrass players Martin Stevens (mandolin, octave mandolin, fiddle, harmony vocals) and Josh Adkins (upright bass, harmony vocals) they're a force to be reckoned with, as you can hear on this record.
Kristen wrote half the album's 10 songs, Dan three, and they co-wrote one. The sole cover is "Memories and Moments" by Darrell Scott and Tim O'Brien, and it's hard to go wrong with a song by that pair. Its sentimental message fits right in with Kristen and Dan's songs, particularly the third single "The Avalanche." That song has a simple arrangement featuring subtle interplay between Wetzel's warm guitar and Stevens' mandolin, and Grainger's straightforward delivery of the pop friendly lyrics that compare her feelings with the beauty of nature she sees around her: "Of all the beauty I have seen / Wide awake or in my dreams / Nothing moves me like you do." He returns the sentiment in the tender waltz "It's The Little Things," rife with scenes of domestic tranquillity that's sometimes hard won.
Like any good bluegrass-adjacent album Fear of Falling Stars has slow happy songs and peppy sad songs. "Go-Nowhere Town" is one of the latter, a clever bluegrass ditty about a newly single dude moving back to his hometown after a breakup, with great four-part harmonies on the chorus. Two swell solos on mandolin and guitar give it an extra boost – Wetzel sounds like he listened to a lot of Doc Watson as he was learning his craft. Another one along these lines is "Across The Mountains" in which our heroine gets the brush-off from her man and takes a bit of revenge before fleeing across the titular range.
Wetzel wrote and sings lead on the sad peppy song, the forlorn love ditty "What Might Have Been" that gets a jaunty swing from Adkins' walking bass line and Dan's resonator. He also penned the instrumental "Pent Up," a moody tune featuring his sole banjo outing on the album. The album opens on a somber note, the slow ballad "Don't Take Me Back," with lovely sad harmonies on the chorus; Wetzel's mandola and Stevens' fiddle add poignancy.
There's plenty more. Every song is filled with little details that make big differences – in production, writing, playing, and singing. Grainger's songwriting keeps getting more incisive and her singing more nuanced with each outing. Don't miss this one if you enjoy acoustic Americana with a lot of heart, sharp songwriting, and, as Kristen puts it, "harmonies stacked like cordwood."
(True North, 2023)