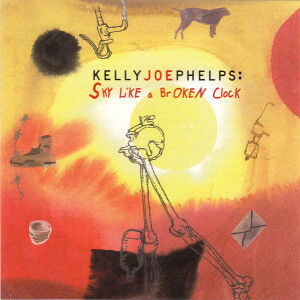 Kelly Joe Phelps is a Washington State native who started his musical career as a jazz guitarist and bassist. Sky Like a Broken Clock is his fourth as an acoustic blues player (his third for Ryko), and his first with a band.
His previous recordings, Lead Me On on Burnside, Roll Away the Stone, and Shine Eyed Mister Zen showcased his fingerpicking and slide guitar work, as well as his soulful, smoky and idiosyncratic vocals. They more or less captured the feeling of his mesmerizing live performances, in which he acknowledges his audience only briefly and seemingly shyly, then holds them captive as he sings, hums and yelps while plucking, strumming and drumming on the guitar.
In repertoir, Phelps has moved from mostly covers of blues and traditional spirituals on his first two records, to a mix of blues and folk covers and originals on Mister Zen. Sky Like a Broken Clock and the companion EP Beggar's Oil are entirely made up of Phelps originals, with the exception of one traditional folksong on the EP. And he's accompanied on nearly every track by a crack band: Larry Taylor on bass, Billy Conway on drums and Tom West on organ, with occasional contributions from others on accordion, cello and harmonica.
Phelps is not just a bluesman, he's also a poet, of the school that runs from Whitman through Ginsberg. How else to place these songs' hallucinatory, stream-of-consciousness lyrics? Lyrics that only obliquely hint at meaning: "It's a scavenger hunt in the best of times/a one-armed man with a box of dimes" ("Taylor John"); "Bouncing across the lake of 10 years/like a stone tossed from the burglar's hand" ("Flash Cards"); "The light is getting hot inside/It's a butcher in the slaughterhouse smiling/A mule with a razor and a swagger in his step/Ratboy in the corner taking a leak against the wall" ("Gold Tooth").
After a few listens, meaning begins to seep in with the images. The music speaks of faith, religion, poverty and riches ("Smite the temple yet again, spill the beggar's oil") and aging, maturing, loving and losing. Same things they've been singing of down in the Delta and up in Chicago and anywhere else they put the blues into nine or 12 bars, for decades now.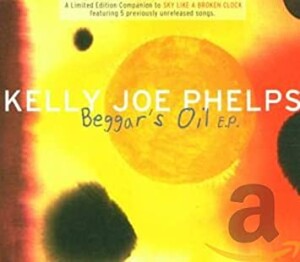 Phelps wraps up the CD with "Worn Out," a simple fingerpicked folk song with a beautifully poignant melody, cadenced like a hymn. Its lyrics, which include the CD's enigmatic title, draw on circus and carnival metaphors for the craziness and surreality of modern life: "Unfolding here before me/is an ugly naked truth/I know no more than a drunkard/in a circus dunk-tank booth."
The EP contains the album's solo acoustic version and a band version of "Beggar's Oil," plus a band arrangement of "Tommy," another album track, and three new offerings, "Don Quixote's Windmill," "Frankenstein Party of Three: Your Table is Ready," and the Child ballad "Lass of Loch Royale (If I Prove False to Thee)." The latter was recorded live and is worth the price of the EP if you can find it.
(Ryko, 2001 and 2002)