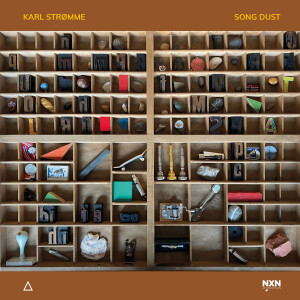 "Nods to West Coast jazz and Nordic cool" is an excellent description of Song Dust, Norwegian trumpeter Karl Strømme's debut date for the Naxos label NXN Recordings. It's also Strømme's first trio recording, and features the somewhat unusual trio lineup of trumpet, acoustic bass guitar (Gard Kronborg) and guitar (Per-Arne Ferner).
Strømme, who teaches at the Norwegian Academy of Music, has an extensive performing and recording history that includes touring with the European Union Jazz Youth Orchestra and, most recently, his well received 2019 quintet recording Dynalyd.
An easy comparison to Strømme is Chet Baker, in both his often airy tonal quality and his phrasing and material. He emphasizes that here with the opening track, the standard "Nature Boy," which he presents quite naturally and freely, with only minor embellishments from bass and guitar behind his trumpet lines. But elsewhere he follows his own path, particularly in his penchant for playing trumpet and synth lines simultaneously. The second track "Opal" finds him pursuing this subtly on a mostly traditional sounding post-bop piece of lovely melodic lines.
It's almost cheating to call this a trio, and I say that with a smile, but the synthesizer is truly a fourth instrument here. The electronic keyboard-trumpet pairing is quite explicit on the brief, languid "Dance Of The Cohort," with burbling synth sounds nearly alone in accompanying Strømme's horn. A few songs later, the similarly brief "0502Y" presents a dreamlike soundscape that includes a Rhodes-like keyboard in addition to shimmering synth and faux glockenspiel. The only track with explicit percussion, "VM" adds handclaps and hand drums for a Latin vibe behind an engaging trumpet improvisation that to me recalls Kenny Wheeler. Lots of that "Nordic cool" vibe comes through on the mysterious "One Two Trees" with some nice atmospheric guitar from Ferner and Strømme accompanying his horn with a unison line on the synth – again, very subtly, no prog bombastics here.
Kronborg provides solid and inventive rhythm throughout, and really displays his chops on a lovely, melodic solo on the title track, which finishes the album. My favorite is the rhythmically complex "Bela Waltz," which only truly runs on waltz time for brief melodic choruses. Ferner's guitar moves seamlessly from rhythm to melody and back again more than once here.
Atmospheric but never background music, Song Dust is consistently engaging, upbeat, cool modern jazz.
(NXN, 2022)