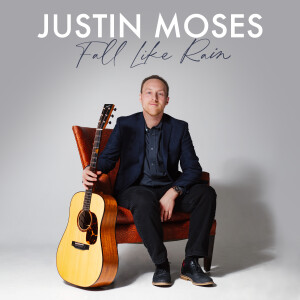 Highly respected bluegrass picker Justin Moses steps into the limelight with his first full-length project under his own name, and Fall Like Rain is an auspicious debut. Moses is a prodigious talent in many, many ways: he can play seemingly anything with strings, and not just play it but play it brilliantly. He's been playing mandolin nearly all his life, and on this record he plays it plus banjo, fiddle, dobro, electric and acoustic guitars and the Weissenborn, an all-wood lap slide guitar. He's twice been the recipient of the International Bluegrass Music Association's Resophonic Guitar Player of the Year award. He's a powerful high lonesome singer on both lead and harmonies, writes his own songs and tunes, and he even was producer and engineer on this album.
Fall Like Rain is a tasteful assembly of songs and tunes, including some choice and unexpected covers and some that Moses co-wrote with some top Nashville Americana talent. And he's joined by an all-star cast of top musicians from the world of bluegrass and acoustic country music including Dan Tyminsky, Del McCoury, Jerry Douglas, Shawn Lane, Stuart Duncan, Bryan Sutton, Cody Kilby, Barry Bales, Michael Cleveland, and Jason Carter.
It's hard to know where to start, because darn near every track has something remarkable about it — often multiple things. So let's look at the tunes and songs written or co-written by Justin Moses. The very second track is one of them, the uptempo but very melodic "Taxland," which revolves around the dueling mandolins of Moses and his wife, the great Sierra Hull. This breakdown also highlights the fiddling flights of Michael Cleveland and Bryan Sutton on guitar – just delightful all the way. He also penned the final track "Locust Hill" another rapid-fire breakdown led by Moses on banjo, which features most of the same players but with Stuart Duncan on fiddle and adding Jerry Douglas on dobro. In between are "Wise & Born," a midtempo bluesy tune on which he showcases his slide playing and fancy picking on the mellow Weissenborn with a smaller ensemble of only guitar, mandolin and bass; and the newgrass instrumental "Watershed" on which Moses plays dobro, banjo and rhythm guitar, backed by a core band, that to me is the least compelling track.
Moses also co-wrote three songs with some of the top names in Nashville acoustic country – Peter Cooper, Thom Jutz, and Charley Stefl. He plays guitar and sings harmony behind the muscular tenor of Blue Highway's Shawn Lane on "Looking For A Place," a solid piece of Americana with Jerry Douglas's dobro featured. "Walking To Lebanon" is a very intriguing hybrid of a song. It's a ballad of a refugee's life, a waltz-time tune that mixes the tone of gospel with bluegrass and Middle Eastern sounds — percussion and oud that were contributed from a studio in Kurdistan. Moses' Weissenborn fits beautifully with this one. And finally there's the dark-hued "Between The Lightning and The Thunder," with Dan Tyminsky on lead vocal and guitar and Moses on dobro and fiddle. This kind of song keeps the blue in bluegrass.
That leaves a great cover of the country standard "My Baby's Gone" by the late Nashville songwriting great Dennis Linde, featuring Del McCoury and a couple of his bandmates; the opening track of Eric Clapton's "Fall Like Rain," which allows Moses to show off his high lonesome vocals and some amazing interplay among fiddles, two guitars, banjo and mandolin; and the gentle acoustic Coldplay ballad "U.F.O." which has a string arrangement by Moses featuring him on strings plus Ethan Jodiewicz on a beautiful bowed double bass. I mean, it's kind of a lightweight song, but what a great arrangement!
I'd be remiss if I didn't mention one element that both binds together nearly every song and tune and also propels them forward, the superb acoustic bass playing by Barry Bales. It stood out to me from the very first track, never calling attention to itself but always serving the song. Bales is not only the longtime bassist for Union Station and an in demand session player, he's also a working farmer. You can watch a video in which he talks about the impact of the pandemic on farmers at Bluegrass Today.
As I said, this is an auspicious debut of original bluegrass music. It's fairly safe to say that Justin Moses is going to be one of those musicians who've been playing for years before becoming an overnight sensation.
(Mountain Fever, 2021)