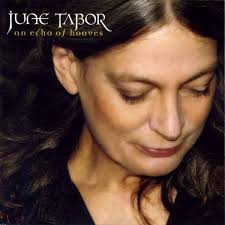 If anyone could pull off a whole album full of dark dismal ballads it must be June Tabor. And she certainly proves it on this album.
Tabor stirred up a lot of interest with her debut album, Airs and Graces, in the middle of the 1970s. Her epic a capella treatment of Eric Bogle's "The Band Played Waltzing Matilda" created a career for her, and boosted Bogle's as well. She has continued to be one of the major figures on the English folk scene, with a string of fine albums, although they are becoming more and more infrequent. Apart from her own efforts, of which I like Abyssinians the most, she has made some spectacular collaborations with Martin Simpson and the Oyster Band.
An Echo of Hooves has June Tabor returning to what, in my mind, she does best, delivering ballads or songs that tell a tale. For this she has chosen eleven Medieval ballads. Some of them are very well-known, like "The Cruel Mother," "Hughie Graeme," "Sir Patrick Spens" and "Bonnie James Campbell". Others are new to me.
All these ballads have one thing in common. They all have a tale to tell. Often that tale has a historical background, such as the battle of Otterburn, in which a Scottish fleet did sail to Norway to fetch a princess, with some ships going under on the way back.
Tabor has no intention whatsoever to modernize the songs. Her main accompanist, pianist Huw Warren, sometimes uses jazzy harmonies, but that is as far as it goes. Tabor and her fellow musicians trust their songs to reach the listener without any spoonfuls of sugar. Other backing comes from Mark Emerson, also on piano; viola, violin, cello and double bass have been added to strengthen the emotions of the lyrics and tunes.
That formula is abandoned on four songs. On "The Duke of Atholl's Nurse" and "Young Johnstone," Tabor once again works with Martin Simpson. He lays down the rhythm and adds some counter melodies on his guitar, all to great effect. On "The Battle of Otterburn," Kathryn Tickell accompanies the song with the drones from her Northumbrian pipes, adding an interlude between verses. And "Rare Willie," one of the shortest songs, has Tabor singing a capella.
I am very impressed with this record. The songs, singing and musicianship are superb all the way through. There is a deep well of ballads to choose from, and Tabor has chosen well. The album also holds together as a unit. There is an overall sinister feeling to it, with lots of drama in the songs.
It is hard to pick favourite tracks, but I must say "Lord Maxwell's Last Goodnight," a slow song filled to the brim with sadness, is nothing short of stunning. "Hughie Graeme," on the other hand, is given a more rhythmic treatment, with some great fiddle interludes and Kathryn Tickell joining in at the end. Nothing jolly on this album, but this is as close as you get. "Fair Margaret and Sweet William" is another almost up-tempo song. It is a perfect example of how verses and expressions are traded between ballads. All Fairport Convention fans will sense something familiar with the verse: "Saying, how do you like your bed making/and how do you like your sheets/and how do you like that new wedded bride/that lies in your arms and sleeps?" But this time there is no adultery involved.
As you realise by now, I strongly recommend this album to anyone with the slightest interest in ballads or Ms. Tabor's career. It is a true gem, and even by her own standards it is outstanding.
(Topic, 2003)