The female voice has long had a role in Irish and Scottish music. Some of the great ballad singers such as Margaret Barry and Jeannie Robertson have come from these twin traditions. This selection concentrates for the most part on young emerging talents, but one collection gathers the younger and senior members of the Scottish vocal sisterhood while another features the younger branches of the Irish tree.
Julie Fowlis is a native of North Uist, where she was brought up in Lanais before relocating to Ross Shire. Julie learnt Gaelic song at a young age and counts Isa Mcckillop, her primary school teacher in North Uist, as a source provider of much early grounding in Scottish Gaelic song and its presentation. While at college in Strathclyde University, she took a B.A. degree in applied music, in which she specialized in oboe and Cor Anglais. She is also an accomplished piper and whistle player and is one of the leading lights of the new Scottish Celtic band Dochas. Her debut album Mar a Tha Mo Chridhe, which translates to 'as my heart', is centered on her love for Gaelic songs and tunes.
One of the many new young Gaelic singers who have emerged from Scotland within the last decade, she is testament of the strength of Gaelic song on the Scots circuit now. Her voice is clear and possesses its own quiet strength. It has that particular Scottish softness of timbre, which is immediately identifiable as opposed to an Irish Gaelic voice, and this adds to the attraction. Two good examples of her repertoire include 'Tha Mo Gahol air Aird a chuan', a resigned ballad of separation on which the emotional quality of her voice brings out the lyrics' sense of separation; and 'Biodh an Deoch seo 'lamh Mo ruin' has Danu's Eamon Doorley on bouzouki and John Doyle on guitar providing propulsive yet undemanding rhythms, and Ingrid Henderson's clarseach rippling quietly beneath. Here Fowlis' vocal is quietly authoritative, conjuring up a young Karen Matheson. The instrumental tracks are also quite notable. Her whistle playing is obviously influenced by pipers including Iain MacDonald, who appears on 'Jigs and Reels' accompanying Julie on flute. She freely borrows much from the Irish tradition for her instrumental tunes as much as her Scottish repertoire highlighting the twined connection. Overall, this is a very pleasing debut and one that marks Julie Fowlis as a very promising talent. I do not think we have heard the last of her.
Emily Smith, a singer-songwriter and instrumentalist, also has Irish connections, having played with the Cork band North Cregg on several occasions. Not having seen any of these shows to witness the Irish/Scots connection in action I have obviously missed something. However, Emily Smith is quickly becoming the new name to watch; she is a previous BBC Young Traditionalist prize winner and has released two solo albums within the last five years.
This is her first solo CD, issued on Simon Thoumire's Foot Stompin' label in 2002. In addition to singing, she also plays accordion and piano. Her voice is distinctive with a sweeter tone than, say, Julie Fowlis and not quite as accented as Kate Rusby, for example. A Day Like Today is a finely wrought debut which promises much. The title track sounds lighthearted, its lyrics depicting a woman left holding the baby and professing that she doesn't need a man. Her settings of the traditional 'Fair Helen of Kirconnell' and 'Green Grass Grows Bonny' show a fine interpreter of traditional songs in action. Musically the band line-up includes fiddle, guitar, accordion, whistle and piano and while the tune sets mix cool jazz-like progressions and harmony with rustic traditional elements. The sound is undeniably Scottish in the Capercaillie vein. This is a promising start for Emily Smith and she will go on to do better – just watch her!
Scottish Women is a gathering of younger and elder names in the Scottish song community. Recorded live at the Celtic Connections 2004 festival in Glasgow, it offers a cornucopia of the influential and the influences. An album such as this offers good examples of teachers and pupils in action crossing the generation gap through the medium of traditional song in English and Gaelic. The names include Sheila Stewart, Margaret Bennet and Ishbel Ni Askill and younger singers such as Annie Grace, Karine Polwart, The Mackenzie Sisters, Mairi MacInnes and Rae Fisher. It's a virtual celebration of the Scottish female voice and the song repertoire shared through generations. The backing band, led by Brian McNeill, includes Emily Smith, Andy Thorburn, Mike Travis and Catriona McAffer. Raw and unadorned, this is a celebration in every sense of the word.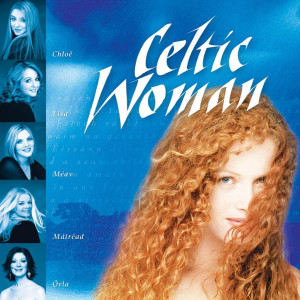 Celtic Woman is the most commercially successful album of all these releases combined. It has scored a success in the Billboard album charts, and the accompanying DVD inspired a touring phenomenon that has ridden on the Riverdance train and made its own niche in the American market. The Celtic Woman phenomenon is the brainchild of Sharon Brown and David Downes. It features a group of young Irish female singers and musicians whose repertoire crosses the Irish traditional folk and classical repertoires and which can entertain audiences as diverse as Irish American festivals and more formal concert venues and audiences. It began with a live concert in Dublin's Helix Theatre in October 2004.
The performers are teenage soprano Chloe Agnew, ex-Anuna singer Maece Ni Mhoalcatha and Lisa Kelly fiddler Maireid Nesbit and singer/harpist Orla. The span of material takes in everything from Thomas Moore's melodies to Enya's 'Orinoco Flow'. 'Danny Boy' is also here as is the Bach Gunod's 'Ave Maria' and 'Walking in the Air' from Raymond Briggs' The Snowman. Traditional music has not been forgotten in Mairead Nesbit's instrumental work. The singing and the voices are cultured, and while this album misses the spit and sawdust approach of the Scottish collection, it acknowledges the Irish tradition of parlour singing where everyone, be they young or old, had their party pieces. The young were praised and encouraged, and this is the central message of Celtic Woman.
(Macmeanmha, 2005)
(Foot Stompin' Records, 2002)
(Greentrax, 2004)
(Manhattan, 2005)