Aah, Hawaiian music. It's one of my guilty pleasures. In fact, I don't feel that guilty about it at all. At Green Man Review we've looked at quite a bit of Hawaiian music in the past. Steel guitar, slack key guitar, and the dancing flea, or ukulele all ring out with the very special sounds that speak of warm breezes, swaying palms and crashing surf. If you've never been to Hawaii … you owe it to yourself to go. If you have been … you're dying to go back. And Hawaiian music is one way to simulate the feel, and tone of the islands; it is relaxed, mellow, and soothing — and very melodic. These three CDs span a vast spectrum of music, and display the ukulele in the hands of a talented group of beginners and also in the hands of possibly the greatest living practitioner.
The Langley School in Canada's British Columbia has offered a unique music programme for many years. The Langley Ukulele Ensemble has been playing, performing and recording ukulele music since the early '80s. These two newest CDs are proof that the programme works. They have already produced their first virtuoso in James Hill (whose two albums of finger-numbing uke solos have been reviewed here) and Mr. Hill makes a guest appearance on one of these discs.
The Pacific Ukulele Connection is a collection of music drawn from or influenced by traditional Hawaiian melody. "Waikiki Aloha" (composed by ensemble leader Peter Luongo) starts things off with strummed ukes, and then the melody is carried by the vocal chorus. Their harmonies are sprightly. James Hill plays a delightful solo. The traditional "Henehene Kou Aka" is next, a bit jumpier, but always mellow; and then Peter Moon's "Hawaiian Lullaby" with its relaxing trills and soft harmonies. This is a disc (as are all Langley discs) about ensemble playing. Apart from Mr. Hill's participation (on three tunes) there are only three other soloists mentioned. Julia Hill plays the solo on "Pokare Kare Ana," Paul Luongo joins James Hill on "Kawika" and Kendra Croft's soprano voice is featured on "Hawaiian Wedding Song." You'll recognize "Sukiyaki" as the album winds down. Some nice playing, some gentle rhythms and some choral singing that is definitely above average highlight this offering.
(self-released, 2004)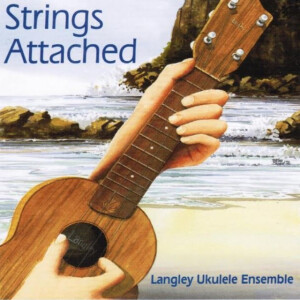 Strings Attached offers a broader look at the repertoire of the school. From classical composers to the Beatles, from R&B to Broadway, what a spectrum of music they play! Fucik's "Entry of the Gladiators" introduces the album. You've never heard this tune til you hear it played by a dozen or two ukulele players! And they all strum in time! And what a segue … right into the Doobie Brothers' "Listen to the Music!" The chorus adds vocals, and the tune nearly rocks! Paul Luongo throws in a hot solo. Boogie on! Then they visit Memphis for "Blue Suede Shoes," Motown for "Ain't No Mountain High Enough," and Liverpool with a rendition of "She Loves You."
Okay, it's essentially a school project, but the work these young musicians put into these albums is impressive. Sure, the choral singing is a bit stiff and too precise for these rock songs, but you have to appreciate the effort. And they certainly open vistas of possibilities for a little four-stringed instrument that people thought was a joke for many years.
(self-released, 2004)
Well, there's no joke about the music that John King makes with his ukulele. James Hill just told me in an email that "John's Royal Hawaiian Music is a phenomenal and important recording, in my opinion. He is arguably the best in the world." Royal Hawaiian Music is a world apart from the Langley group's recordings.
During the latter half of the nineteenth century Hawaiian music was dominated by four siblings known as Na Lani Eha, the Royal Four. Through their social and political influence, David Kalakaua (1836-91), Lydia Kamakaeha Paki (Liliuokalani, 1838-1917), Miriam Likelike (1851-87), and William Pitt Leleiohoku (1854-77) helped to create and popularize a new musical idiom that synthesized traditional Hawaiian poetics with New England-style hymnody. Harvard ethnomusicologist Helen Roberts wrote that the native Hawaiians "… first obtained an idea of real melody from the hymn singing of the missionaries. In somewhat later times there ensued a period of extensive composing on the part of those Hawaiians who had superior educational advantages and were gifted, like the members of the royal family. These songs represent a period in which the foreign art, stamped with a fresh viewpoint, was being adopted by the Hawaiians, and made to assume distinctive features at their hands." Due in part to the efforts of the Royal Four, Hawaiian music was in vogue on the Mainland and in Europe by the 1910s, despite one annexationist's prediction that it would "… never become widely popular." (from the liner notes, by John King)
There is nothing light about the music on the John King disc. The tone of the ukulele is not even the same. King gets a higher, more precise sound from his uke. At times it sounds like a music box, a harp, a mandolin, he is such a virtuoso. At times he loses some of the immediacy of the instrument, it is so finely played. The Hawaiian composers, as King states in his notes, were influenced by church music and European classical music and it seems as though they did what they could to sublimate their own traditions as they composed this music. If these pieces were played on a piano or a violin I challenge the listener to hear the source as being the South Pacific. And yet, as played on the ukulele they become essentially Hawaiian.
King has a wonderful touch, which is as true as it is tender. The notes ring, and there is little if any of the strumming that gives the familiar "uke" sound. There's very little point in mentioning titles, as they will be unknown to most readers, but whether playing the music of David Kalakaua, Henri Berger, or Princess Victoria Ka'iulani, King's delicate stroke pays tribute to the fine tradition of composing on the islands. This music would have easily complemented my visit to the Royal Palace in Honolulu, a place where ghosts inhabit the rooms, and history is close at hand.
The "dancing flea" shows its resources on these three discs. Whether entertaining us with a collection of pop tunes, paying homage to the commercial songs of Hawaii, or echoing the regal history of America's only royal family, the ukulele is a musical instrument deserving of respect. As are all the players involved in these recordings. And John King is the master.
(Nalu Music, 2004)