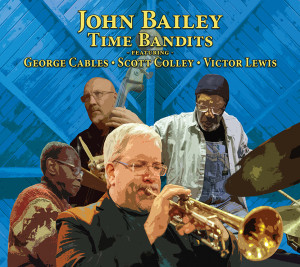 New York trumpeter John Bailey's third outing fronting a quartet is such a stellar outing in every way, I might run out of superlatives in this review. Time Bandits sees Bailey ranging over a wide range of jazz styles from numerous eras, from early bop to modern post-bop jazz, with sashays along the way into Latin, New Orleans second line, and more. He's assembled yet another superb quartet for this set including master pianist George Cables, in-demand bassist Scott Colley and drummer Victor Lewis, who has sat behind the kit on Bailey's previous albums In Real Time (2018), and Can You Imagine? (2020).
In a career spanning nearly 40 years, Bailey has worked with some of the most revered names in jazz. He grew up listening to both bebop and classic rock, was mentored by the great Chicago trumpeter and multi-instrumentalist Ira Sullivan, played with legendary drummer Buddy Rich before leaving college, and served long stints with Ray Charles, Ray Barretto, Frank Sinatra, Jr., and Latin jazz innovator Arturo O'Farrill, among others.
Bailey plays with clarity, sharpness and precision, but he also soulfully rides the deep grooves laid down by this rhythm section. That's evident from the very beginning with the title track, which swings with second line energy and showcases all four players' strengths.
"Time Bandits" is a Bailey tune, as are several others – the playful uptempo blues shuffle of "Various Nefarious" and the uplifting ballad "Ode to Thaddeus," a tribute to Thad Jones, and the free-playing, avant garde "Rose," built on Shoenbergian 12-tone rows (and yes, the pun is intended). Cables shows off some impressive classical style playing on "Rose," Lewis lays down a righteous solo, and Colley rumbles some deep arco moves.
The program has some choice covers, too. Cables' solo on Jerome Kern's "Long Ago And Far Away" is a thing of such beauty – crisp, swinging, and cleverly inventive; and Colley's solo that immediately follows is a textbook example of how piano, bass and drums can stay locked into their groove even as one of them steps out for a solo turn.
Bailey's playing is wonderfully evocative on Garry Dial's sunny straightahead blues "How Do You Know?" which amounts to a tribute to his mentor Ira Sullivan, who died in 2020. Bailey blows a warm, breathy flugelhorn on Cables' "Lullaby" in an intimate and lyrical duet. Lewis drums with his hands and Bailey double-tracks a duet with himself on a melancholy reading of the poignant Lennon-McCartney gem "She's Leaving Home." I absolutely adore the deep swing of Lewis's "Oh Man, Please Get Me Out of Here!," on which Bailey nods to several classic trumpet players including Dizzy Gillespie, Freddie Hubbard, and more.
It's both a dip into the pockets of jazz history and a sly recognition of jazz music's relationship with time – thus the album's title. "If you think about music in terms of Western and Non- Western heritages, jazz is actually both," Bailey says. "Jazz can be defined as syncopated African rhythm with Western European harmony. Though above all, the rhythmic feel is what defines the music as jazz." Time Bandits brims with both: rhythmic feel and heart-warming harmony.
(Freedom Road Records, 2023)
The quartet will play album release concerts March 24 & 25 at Smalls, NYC.
Follow John Bailey: | Website | Facebook |