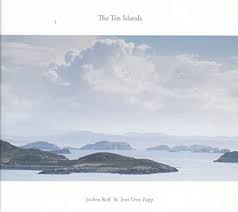 I must confess I've had this CD on my shelf for over a year. I listen to it regularly when my brain is abuzz with distractions and plans. The music of The Ten Islands has a calming effect. It's quite wonderful. Why have I taken so long to review it, you might well ask. I did write a review, which seems to have been lost in the ether. So let's look at this album again, with the knowledge that it's taken on a more important role than it had when we first listened.
First of all the cover: the artwork is absolutely gorgeous, and suits the music to a T. A photograph of blue sky, and water, clouds and some small islands. Ten of them, with mist covered hills behind. The cardboard cover is mainly white, with minimal text, just the title and artists' names. On the back, titles of the tracks, and credits. Inside, all white.
A booklet sits in the pocket and the script reads "The Ten Islands: lyrics and impressions" and inside that are photos of Scotland (by Andy Hall) that illustrate the natural beauty of the country; and two photos of Jochen Ross and Jens-Uwe Popp by Jorg Brockstedt. The "impressions" describe the intent of the music, "inspired by [some of Scotland's finest tunes] they created ten musical 'universes' which interpret the original character in their own colourful way."
That leads us to the music. Jochen Ross was born in Kassel, Germany in 1976. He studied classical mandolin and has won several international prizes. He teaches in a school near Hamburg. Jens-Uwe Popp was born in 1967, in Rendsburg, Germany. He studied classical guitar and is also the recipient of several prizes in international chamber music competitions. They have been working together since 1998.
Their first CD was Zeitpunkte, a collection of 20th century classical music. They found themselves inspired by the beauty of the Scottish countryside and people and began to create The Ten Islands. The music they chose is a mix of new and old, like Scotland itself. Some traditional tunes, three new pieces by Nigel Gatherer and a song from Jim McLean. The musicians who accompany them include Guido Jager (double bass), Moroccan percussionist Rhani Krija, Fabian Hink (electric guitar) and Ulrich Schubert on didgeridoo. Lisa Winn (who hails from my hometown of Hamilton, Ontario) sings.
The music is moody and gentle, then exciting and loud. It sounds just as you might expect, then swerves into something completely new. The acoustic guitar and mandolin complement each other, and the additional instruments fill out the sound sympathetically. The mandolin/guitar duets are not like you might expect. This is not a bluegrass band. It's not the Punch Brothers, either, with their take on modern classical music. It's more quiet and gentle. You hear echoes of melodies and even lyrics that remind you of something else, but make no mistake this project is new; they subtitle it "A different view on Scottish music."
I visited Scotland last summer. We traveled by train from Glasgow to Ben Nevis, to the Isle of Skye, to Inverness, Edinburgh and then by car down to Hadrian's Wall and back to Glasgow. We saw castles and lakes, sheep in fields, bustling cities, churches, restaurants. We ate haggis and deep fried Mars bars, drank single malts and Innis & Gunn beer. Ross and Popp have provided a soundtrack to recall the whole trip.
(Independent, 2008)