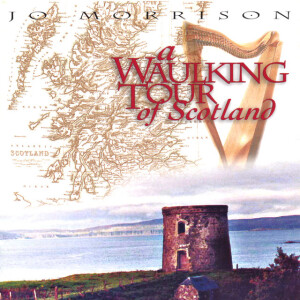 Chuck Lipsig wrote this review.
I've made a mistake. I was looking back at the review I did of Jo Morrison's The Three Musics and noted I gave it an excellent review. Now I'm wishing I merely gave it a very good review, so that I'd have more room to say how much of a jump in quality A Waulking Tour of Scotland is.
Inspired (and how!) by a tour of Scotland that Morrison took with her husband, she again brings together many other musicians to join her for a track or several. She includes a number of songs, as well as tunes, mostly sung in Scots Gaelic. By the way, waulking was the process by which people would soften cloth, usually tweed, by pounding it on a table. The waulking songs, several of which are included on this CD, were often used to keep the work from becoming tedious.
The CD leads off with "Arniston Castle" and "Rejected Suitor," a duet of pipe tunes played by Morrison and Paula Glendinning on bagpipes. It would have been very easy for Morrison's harp to get lost among the pipes. "'S Fluich an Oidhche" ("Wet is the Night") is perhaps the most remarkable track on the CD with Jo's husband Wayne singing lead on the beautiful waulking song. Again, the harp does not get buried beneath the singing; however, neither does it hide the singing.
"Lament for Ravenscraig" is Ms. Morrison's own composition lamenting the only historical place she visited in Scotland that was not being well-kept. The sequence of tunes, "Crags of Stirling," "Stirling Castle," and "Reel Stirling" is perfomed with Walt Michael on hammered dulcimer. This is a jaunty set with the musicians blending seamlessly.
"Oran Mu'n Ghruagaich" has primarily guest Maggie Carchrie in lead with Morrison and Heidi Gerber helping on the chorus. It's adequate, but I feel it would be more appropriate for this CD to have Jo singing lead. "The Highland Set," a march set of "Colin's Cattle," "The Lapwing," and "Shoals of Herring" (the first and third traditional; the second by Morrison), features Wayne Morrison, this time on shuttle pipe. It's a stately, well-played set.
A strathspey set with "O'er the Bows to Ballindalloch," "Nellie's Strathspey," "Devil in the Kitchen," "Inverness Rant," "The Marketplace of Inverness," and "Piper's Bonnet" features Morrison without accompaniment. Her playing is strong here and demonstrates why she should do more pieces without accompaniment. "Da Full-Rigged Ship" and "Bressay Lullaby," features Wendy Morrison on concertina, as well as Jo singing quite nicely on the second part of the set.
The set of "Huntingtone Castle," "Atholl Cummers," and "Brig O' Perth" is another solo set. This is another fine set that keeps moving along. "Ghost of Elgin," is a tune written by Morrison, commemorating her and her husband's visit to a cathedral they visited and the "unexplained phenomena" he saw. As is perhaps appropriate, this track is more Wayne's than Jo's with him singing lead on the opening "Dona Nobis Pacem," and his shuttle pipe playing taking the tune most of the way through.
"He, Mannd' Thu" ("What a Blunder") is another opportunity for Morrison to demonstrate her singing voice. I'm not sure, but there's a sound like a small dog barking in the background around the 1:45 mark of the song. Since the bark (if that's what it was) fit the rhythm, it somehow feels right. "Skye Boat Song" and "Coolin Hills" are a well-done pair of songs done as a harp duet between Morrison and Cynthia Cathcart, the later playing a wire-strung harp.
"Seallaibh Curaigh Eoghainn" ("O look at Ewen's coracle") is a nice, if too quick, vocal duet between Morrison and Heidi Gerber. Ms. Morrison uses a light touch on "Arran Boat Song"and "Fear a' Bhata" with the latter being especially lovely (though I'm likely biased by thinking "Fear a' Bhata" is one of the loveliest Celtic tunes in the first place.)
"Man From Skye" and "Crossing the Minch" are a pair of recently written hornpipes and feature Bonnie Rideout on fiddle. Inasmuch as this is Morrison's CD and her harping is (for once on this CD) overwhelmed by Rideout's fiddle, this track doesn't really work. On the other hand, it's good fiddling, so I'm not sure it should bother me so much. The air, "Banks of Lochiel," is another fine solo from Morrison.
Robert Burns' "My Love is Like a Red, Red Rose," is sung by Wayne and accompanied by Jo. I think Wayne was inspired. "74th's Farewell to Edinburgh," "Arthur's Seat," "Highland Whisky," and "Flowers of Edinburgh" features some nice tradeoffs of lead and accompaniment with Karen Ashbrook on whistle.
"Ho Ro Hug O Hug O" features Lisa Moscatiello on the lead vocals and is a solid waulking song. "Beloved Scotland" finishes the CD with Paula Glendinning on pipes.
(Triharpskel Productions, 2000)