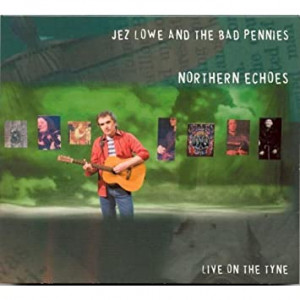 Mike Wilson contributed this review.
Jez Lowe returned to the Northeast of England earlier this year with a series of concerts that presented songs from his repertoire that were influenced and inspired by the region's people and places. This recording is of one particular night on that tour, at the Caedmon Hall, Gateshead on Tyne.
There is a perceptible warmth that permeates Lowe's lyrics, demonstrating empathy and gentle humour, whilst painting vivid portraits of the characters and their livelihoods that fill his songs. A more palpable warmth is captured in the exquisite quality of this live recording. The fullness and depth of Lowe's guitar captures the live sound perfectly alongside the supple yet subtle bass of David de la Haye. Kate Bramley's violin breathes melodic life throughout, whilst a local dimension is provided by the unmistakeable sprightly sound of Andy May's Northumbrian pipes.
Given that many of these songs were written under the shadow of Thatcher's Britain in the 1980s, it's no surprise that Lowe focuses on the plight of the hard-working proletariat and the strong sense of community that existed amongst the region's industrial sprawl. Lowe also cannily conveys the distinct sense of pride and humour that is often demonstrated by the folk from this area.
"Cursed Be The Caller" recalls the "caller" who would walk the streets of mining villages, waking the workers for the start of their shift in the early hours of the morning. The song carries menacing undertones as Lowe sings the refrain "knock, knock, knock," recounting murky mornings of disturbed sleep for the embattled workers, forever enslaved to the mining industry. "The Famous Working Man" continues in a similar vein, bemoaning the stereotyping of the working man, struggling to make ends meet: "The one that always plays the game / then comes in the also-ran."
"Too Up Too Down" is a clever play on words that tells of a woman reflecting on a lonely life spent in a two-up, two-down terrace house — it's not immediately clear if she is lamenting rare and precious stolen moments with her lover, or whether she has been abandoned to a life of domestic drudgery by an oft-absent husband. One thing that is certain however, is the almost unbearable sadness that Lowe imparts on his lead character: "And the stain by me window where the tears have all dried / I've left it for the rain in the big world outside."
There really is much to enjoy about this album. You can fall in love with the characters about whom Lowe sings, marvel at Lowe's lyrical ease, relish his lucid and heart-warming vocals or listen to the sublimely sympathetic musicianship of Lowe's compadres. This is a recording that exudes a warmth and honesty that make for an engaging and reflective listening experience.
(Tantobie, 2008)