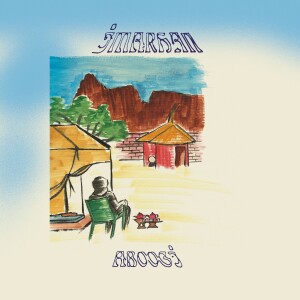 One of my favorite songs of 2016 was "World Goes Away" from the Tucson Arizona-based group Xixa's album Bloodline. As I said in my review of that album:
XIXA's dual frontmen, Brian Lopez and Gabriel Sullivan, seem to have internalized the Tucson musical ethos of collaboration and inclusivity epitomized by Giant Sand and Calexico. It's no mystery, since the two have played with both of those bands, the best known of the Sonoran city's fiercely independent acts, both of which excel at cross-cultural collaborations. … "World Goes Away" is where that spirit of collaboration comes in, as they build the song around the loping West African desert blues, a co-write with Sadam Iyah of the group Imarhan, formerly of Tinariwen. Appropriately, the song is about refugees and borders and immigrants leaving behind the familiar for a new life somewhere else. In addition to XIXA's usual elements like droning organ and layers of percussion and electronics, it has Iyad's chiming electric guitar, a lovely acoustic guitar solo, catchy chorus, and vocals by all three co-writers.
Now comes Iyad Moussa Ben Abderahmane, aka Iyad Sadam, and his band Imarhan exhibiting that same spirit of collaboration on their third full-length Aboogi. Imarhan is a Tamasheq word meaning something like "the ones I care about," and it also means this quintet whose members are Iyad Sadam, Tahar Khaldi, Hicham Bouhasse, Abdelkader Ourzig, and Haiballah Akhamouk. Imarhan's sound is similar to that of other Tuareg guitar rock bands, with perhaps a bit more of a pop influence and very strong melodic elements in the songs. This album has some very strong songs indeed.
It was recorded in Imarhan's new studio they named Aboogi which they built in 2019-20 in their home city of Tamanrasset in southern Algeria. They filled it with high-end audio gear previously inaccessible to most musicians in the Saharan region. It was named for the first semi-permanent structures their nomadic forebears built when establishing settlements and villages. Their press release says, "It seemed only natural to also call the resulting collection of songs Aboogi, a nod to the new collective space they had established, as well as the resilience of their culture and communities."
The spotlight collaboration on Aboogi is on the penultimate track "Tamiditin" with the poet Mohamed Ag Itlale, also known as Japonais, a pillar of the city's artistic community who passed away shortly after these recordings were made. Japonais sings this immensely appealing song with a rough and slightly frail voice that's full of character.
Sudanese singer Sulafa Elyas contributes a verse in Arabic to the song just before that one, the mournful, acoustic "Taghadart" (which she gets a co-writing credit on). It's a lovely contrast to Sadam's low-voiced moaning vocals in Tamasheq: "Please," he sings, "safeguard my trust, from now until the end of time."
One of the most sonically rich tracks is "Laouni." A lute of some kind leads off and is soon joined by what becomes a complex, circular, polyrhythmic bed of multiple plucked stringed instruments, bass line, handclaps and other percussion. Over all that Sadam sings a mellow melody all on his own but for a distant chanted backing chorus on the final verse. I really like this one.
Likewise the second track "Derhan," which has a folk-rock vibe from the unison licks on acoustic guitar and bass. There's also some superb electric and acoustic guitar soloing, complex percussion, and backing vocals from Lala Chekhi and Tata Balhadja Fatma (who also sing on other tracks) plus Bilal Alhoma and Ahmad Bika on the driving upbeat section that ends the song. Another favorite is "Asof" with its droning deep synth strings, dub bass, the trademark Toureg loping rhythm, and a fantastical instrumental outro.
In a couple of spots the production seems a bit much, but you can hardly blame them for making use of all their new toys in their marvelous new studio. The final track "Adar Newlan" was co-written by Super Furry Animals' Gruff Rhys and he sings about half of the song in Welsh with his sweet breathy tenor. It's a rather New Age arrangement, an arpeggio of flamenco style guitar laying down the base, rhythm from bongos and fretless electric bass – and a gauzy sonic sheen laid over the whole track. It has some lovely acoustic guitar solos, but overall the sound is "World Music pop." If the trope of an album's final cut forecasting an act's future direction holds true, this does not bode well.
Overall it's a lovely album though. And Imarhan, who play at the mellower end of the "desert blues" spectrum, are known for incorporating a bit of funk, psychedelia and more into their sound – a sound that captures the spaciousness and calm of the Sahara. The music on Aboogi is expansive and welcoming like the crossroads oasis at which it was conceived.
(City Slang, 2022)