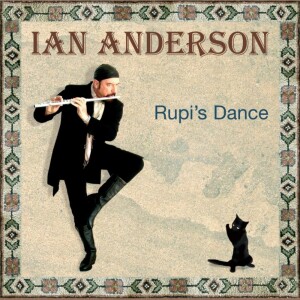 Ian Anderson is better known as the flute playing leader of one time heavy metal band of the year Jethro Tull. He is also an astute businessman, a blues fan, and a cat lover. That's right! A cat lover. He's written a guide to taking care of kittens for first time cat caregivers. His new solo album (his third) is an evocative collection of songs … eschewing the hard rock sound Tull oftens favours. Anderson surrounds himself with more classical musicians, and plays most of the other instruments himself.
His sensitive guitar playing complements his always exciting flute, and we get to hear his accordion as well. He's a man of many talents. There are, as you might expect, long stretches of instrumentation. Sometimes it's just Anderson and a percussionist, as on "Calliandra Shade," or a bassist on "Rupi's Dance." Other times he brings in the Sturcz String Quartet and a rhythm section of Leslie Mendoki (drums), Laszlo Bencker (keyboards), and guitarists Ossi Schaller and George Kopecsni. Whatever the mix, Anderson's unfailing gift for melody and his ability to combine eras wins the day.
His composing skills are rooted in English folk music and call on classical influences, but he is well versed in contemporary rhythms and rock instrumentation. His use of flute has always kept him separate from the average rock musician. His breathy flute playing is absent on Rupi's Dance, however, as he maintains a more controlled technique. More melodic, more precise.
The small groups called on to perform this new music present a lighter touch than we're used to with Jethro Tull. The percussionists' touch is light, string instruments are acoustic and recorded deftly, the sound is warm and immediate. Anderson's vocals are true and subdued.
When he released his first solo album Anderson was criticized that he had over-reached his abilities. It is only by over-reaching that we stretch ourselves far enough to touch those things out of our grasp. Rupi's Dance shows an artist ready to grow again. Subtle and emotive, Ian Anderson is producing some of the best music of his career. The album concludes with the lead track from the newly released Jethro Tull Christmas Album. Bonus!
(Fuel 2000 Records, 2003)