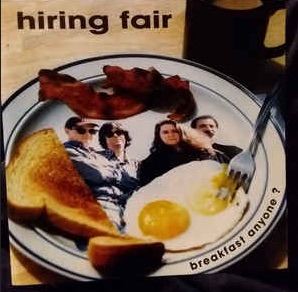 There is a big difference between live music and recorded music. In live music, you are very much dependent on the atmosphere created during the performance. Good live music is created together with the audience, and you play on their reactions. It does not always have to be perfect, and you can get away with mistakes and the odd harmony or instrument out of tune. After all, the music is only heard once.
Recorded music, in contrast, is produced to be heard numerous times, and some of the things you are forgiven for doing on stage are better left off when you record. However, it is often difficult to recreate the energy of a good live band in the studio.
This leaves us with the question of live albums. What is the purpose of them? Is it to give your live audience a chance to buy a souvenir from the gig? To present new reworked versions of your old recordings? To do some kind of a greatest hits?
Hiring Fair has taken the bold step to release their debut album in the form of a live album, recorded during two gigs in New York in July 1999. I am not entirely convinced that this was such a brilliant idea.
Hiring Fair is a four-piece group made up of Brenda Washburn on vocals and occasional bodhran; Tom McCuin on guitar, vocals and whistles; Steve Moore on lead guitar, mandolin and vocals; and Seth Lesselbaum on bass. On the album, they are augmented by friends on fiddles and mandolin. Since the time of these recordings, they have also added a drummer.
Hiring Fair approach their songs in a more rocky than folky way. Essentially I would label them a rock group without a drummer, with a very strong Irish influence. McCuin's acoustic guitar work is very energetic and fills out for both the rhythm guitar and the drums. Myself, I did not realize there was not a drummer on the album until I read the sleeve notes and listened more carefully. And Steve Moore's electric guitar licks and solos shine on many tracks.
The album starts off with "Danny & Mary." To my mind one of the best tracks, this is a song about two Irish immigrants who meet in Boston. The song, written by Lesselbaum and Washburn, is almost a policy statement from the group. In particular, the lines "Ireland lives on both sides of the ocean/Wherever whiskey flows and fiddles play" tell you much of what this is about. They also tackle the subject of Irish immigrants in McCuin's fine "Three long weeks," a song about the immigrant ships in the middle of the 19th century, three weeks being the duration of the journey, and in "Living in America" by Larry Kirwin.
Ireland is present in other songs as well. They do a nice version of the traditional "Step it out Mary," a song about love and death. They give us a blistering version of Ron Kavanaugh's "Young Ned of the Hill," one of the best tracks on the album, and they tackle Liam Reilly's "Summer in Dublin," though less successfully than the others.
Other fine songs include McCuin's "Throughout the years," about friendship, "One Fine Day," about love at a distance, and Lesselbaum's and Washburn's "Say goodbye," about parting with your lover. And to end the album they combine Saw Doctors' "Useta lover her" and the old rock classic "It's all over now," a suitable choice as I would label Saw Doctors as a big influence on them.
So what is the catch? Why am I not convinced? Well, I think the songs generally are very good. They are in possession of three very promising songwriters, and when they pick other people's songs, they know how to find the ones that fit in with the group's image. Also from what I hear I think they are a good live group, but to appreciate that to the full you must be there, be part of the atmosphere. It is like a nice pint of ale. It always tastes much better in a traditional English pub than at home in front of the television.
Given the proper studio treatment under the guidance of a good producer, these songs and players would have made up a superb album. They have got what it takes. The treatments here surely work well in a live situation, but there are quite a few moments that do not stand the test of being transformed to a CD. The sound is okay for a concert, but sub-standard for a record; sometimes the pace changes during the songs; there is the odd instrument out of tune and the odd harmony that sounds out of place, all things that are accepted during an energetic live performance, but should not be there on the record.
If you like them or if you are a fan of the Pogues or the Saw Doctors, do not hesitate to check Hiring Fair out. Or buy the CD as a souvenir at one of their gigs. Otherwise, go to their gigs, but wait to buy them on CD until they finally get into the studio and really work through the songs, because they surely have got it in them to make a wonderful studio album.
(Dancing Druid Music, 1999)