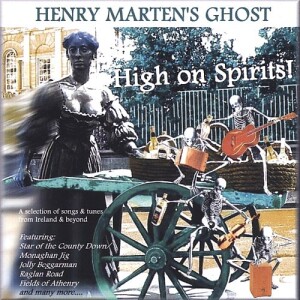 I had the pleasure of reviewing Henry Marten's Ghost's previous album Ireland – A Troubled Romance here on GMR in 2002. I reviewed it very favourably. High on Spirits is the band's latest album and really it carries on from where the last one left off. The album is dedicated to their fans everywhere and it is a true representation of what you can expect to hear at any Henry Marten's Ghost gig, although it is not recorded live but in a studio. Henry Marten's Ghost is in fact a true semi-professional working band, and not a specially conscripted group of professional musicians put together to produce an album or to work the festival circuit. Truly, this is the real thing as you can expect to hear in almost any folk club or Irish bar in the U.K. today. This is reflected in the band's choice of material on the album. In short, the songs and tunes are all tried and tested standards. They are the songs you "the public" like to hear and can easily identify with — good listening!
Belfast-born Padraig Lawlor, the lead singer, has a fine "Irish brogue" to his voice that comes over well, never sounds strained or tries to be too clever.
There have been one or two changes to the band's line-up since the last album. With Piotr Jordan still on fiddle, the band is joined now by Jill O'Shea on whistle and melodeon, and Huw Rees on drums. Guest musicians on this album are Eddie Brophy on uillean pipes and low whistle, and Mike O'Neill on bodhran on a couple of tracks.
Good popular songs abound here like "The Jolly Beggarman," "The Irish Rover," "A Man You Don't Meet Every Day," "The Wild Rover," and the ever popular "Fields of Athenry." The song that stands out as my favourite on the album is a nice rendition of the Eric Bogle song "Green Fields of France." The songs are interspersed with some instrumentals and jigs and reels. These include "Star of the County Down / The Monaghan Jig," "Rights of Man," "The Lads of Laois Reel / Unknown Reel," and "Charlie Harris's" "Finnish" & "Jessica's Polkas."
To sum up, if you have the band's previous album and enjoy it, you will love this one. The band might not push any barriers or pretend to test your musical intellect — that isn't what they are about. Henry Marten's Ghost just delivers the goods: well-played, popular Irish folk music that you are sure to enjoy.
(Henry Marten's Ghost, 2005)