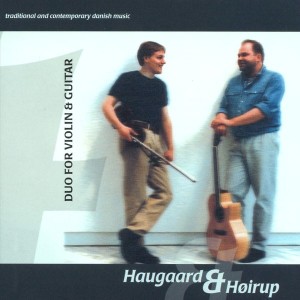 Two highly regarded Danish folk musicians, violinist Harald Haugaard and guitarist Morten Alfred Høirup, teamed up to produce this immensely enjoyable record. The 13 tracks cover a variety of traditional and contemporary Danish folk styles: waltzes, reels, polkas and other dance forms and a ballad or two.
What a delightful partnership these two musicians form. As Alan Klitgaard says in the liner notes: "The idea was quite simply to put together two dynamic, technically and musically gifted musicians, not as 'soloist with accompaniment,' but working together as equals, and then see what happened." Enchanting music, that's what happened.
A first listen reveals many similarities with Celtic fiddle music, especially in the reels and waltzes. Closer scrutiny, especially of the polkas and the contemporary songs, reveals some interesting differences. The sixth track, a suite of two tunes written by Høirup, is a good example. Both feature an open-D tuning, but the first, "Lonely," has a very "northern" feel to it, of melancholy and winter; the second, "Gunild's Lover," written in Slovenia, draws on Eastern European motifs.
Two of the tracks feature Haugaard's rumbly baritone vocals. One, an old traditional poem set to a tune written by Haugaard, has a definite "smell of autumn and death," as the liner notes point out.
The minuet started out as French dance music; "Menuet No. 60" is an interesting example, with a very old European feel to it but still something strongly Scandinavian.
But the most memorable feature of this record is the interplay of the two men's instruments. The guitar and violin take turns running with the melody and providing the rhythm, now sounding playful, now menacing, then melancholy and now joyful. Some of the tunes, with their mathematical counterpoint, call for classical technique, while others draw on blues-style picking and jaunty swing-jazz rhythms. Haugaard and Høirup pull it all off without a hitch.
Both musicians are active as solo artists and in various ensembles. This collaborative effort seems destined to become a classic of Scandinavian folk and roots music, and one can only hope for a follow-up. In the meantime, Duo for Violin & Guitar is a good choice for anyone who likes fiddle-and-guitar folk music. Here's a sample, the first track a tune set, "Trekant / Rail Road Ræs / Trædballehus."
(Go Danish Folk Music, 1999)