In spite of Do You Know the Lollipops being the first LP I ever bought, I have never really taken an interest in Danish music. My excuse for that Lollipops album is that I was only 12 at the time, and the members of that three-piece Danish boy band were not much older. With time I have been forced to admit that the Danes show a greater interest to the kind of music I love, proved by the fact that groups like Runrig and Fairport have played Denmark quite frequently but seldom show themselves in Sweden. And I admit that there have been a few good Danish groups playing Irish music, like Paddy Doyles in the 1970s and Flax in Bloom this millenium, but real Danish music has been absent from my life.
Then along come these two albums to make me think again. Suddenly Danish folk music and folk-inspired music catches my ear and I must make another confession. I find myself wondering, why did I not search for this long ago?
There is a common denominator between these albums and Flax in Bloom. I saw them live in Skagen a few years ago and have been waiting for an album ever since. Although the group still has not being recorded, some of its members have. Sussie Nielsen has made two, both reviewed here on Green Man Review, their fiddle player Ditte Fromseier Mortensen made a lovely album of Irish tunes some years ago, and the guitar player Rasmus Zeeberg has sufaced on CD with a couple of different groups, whose records I have yet to find.
Habbadám is the latest project from Ditte Fromseier Mortensen. The trio plays music from Ditte's native Bornholm, a small Danish island situated southeast of Sweden. There have been periods of time when it has belonged to Sweden, and both linguistically and culturally it is something of a cross between the two countries.
The Swedish influence in the trio is strengthened by their Swedish soprano saxophonist, Hanna Wiskari, brought up on the west coast of Sweden and nowadays playing in a number of groups, performing a great diversity of music. The Danish roots are being upheld by guitar player Sigurd Hockings.
I first saw Habbadám at the folk music festival in Uddevalla about half a year ago. I was immediately taken by their enthusiasm and their musical abilities. Here was a group of young (compared to me), brilliant musicians performing Danish traditional music with the power you get from some Irish and Scottish groups. You can sense that Ditte has spent a year in Ireland and that she has brought what she learnt there to influence the treatment of her native music.
Ever since, I have been waiting for this album, a little worried that they might not catch their feverish live performance on record. I am happy to report they have, helped by the fact that they have been sensible enough to record it live in the studio.
They start off with two reel like tunes, called "Riils," and if you did not know this was Danish music you might be forgiven for labelling it Celtic. And there are connections between the British Isles and Bornholm. Since Bornholm has always been an island populated by sailors and fishermen, its folk music has been subjected to international influences. For example the second set, "Det blå saet," is a collection of tunes from a 18th century book called "106 English Dances."
I could describe every track, but just let me say that Bornholmsk Folkemusik (Folk Music from Bornholm) is a lovely and varied collection of tunes, and yes, there are two songs as well, perfectly executed. Most tracks are performed as a trio, with the soprano sax and the violin blending perfectly and the guitar adding rhythm and also contributing tunes. There are two solo pieces included. Hanna plays a tune in a way inspired by the way she treats Swedish polskas, and Sigurd performs two tunes as a showcase of his guitar abilities.
With all the sleeve notes in both Danish and English, and some lovely old photographs of traditional fiddlers in Bornholm, Habbadám has performed a true act of culture. And to coincide with the release of the record Ditte has just published a book with 88 fiddle tunes from Bornholm.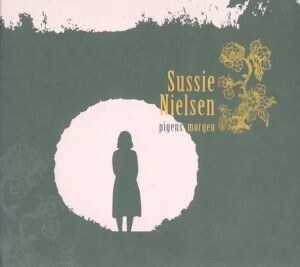 I have raved about Sussie Nielsen before and I see no reason not to do it again. Her previous two albums have been dedicated to Irish and English traditional music. On Pigens Morgen (The Maiden's Morning) she makes a U-turn and performs a number of her favourite Danish poems and two by William Butler Yeats, set to music by herself, on two tracks with the help of pianist-producer Nikolaj Busk.
But the CD starts off with three of her own songs, and judging from these, songwriting is something she should do more often. The opening "Aften Sang" ("Evening Song") is still my favourite song on the album, both lyric- and music-wise. The following "Da Dagen Blev Lys" ("When the Day Became Bright") with music by Busk, is a low key atmospheric piece, and "Midsommervalsen" ("The Midsummer Waltz") reeks of Scandinavian midsummer celebrations.
As with Habbadám, Nielsen's fondness for Irish music shines through on a number of tracks, both in the instruments chosen to back her up and her own singing style. There are quite a few examples of bouzouki on the album and she also includes wooden flutes and uillean pipes. When singing in Danish she uses the same ornamentation she has practised on her previous albums.
With all but three tracks (the two Yeats poems and one instrumental by Busk) in Danish, Pigens Morgen is not as instantly accessible to non-Danish speakers as Bornholms Folkemusik, but once you get into it you will find it equally rewarding. Habbadám gives you the rhythms and the swing, and Sussie Nielsen hands you a more reflective side of Danish music.
And I keep on asking: When will there be an album from Flax in Bloom?
(Gateway Music, 2006)
(Go', 2006)
I have previously reviewed Sussie Nielsen's first album, and Habbadám's appearance at Uddevalla Folk Music Festival.
[Oh, and in case you were wondering about that Lollipops album …]