Gangar's Stubb
Norwegian metal folk-rock is one of my new favorite things, thanks to Gangar. We already previewed the first single from Stubb back in June (2023). As I said of "Sukkeri er søtt" ("Sugar is Sweet") at the time, "It's taken from a fun old folk song of the same name, learned from a recording by fiddler Aslak Brekke (1901-1978), and combined with a Reinlender (what Norwegians call the Schottische) they learned from a recording by Ole "Ola" Løseth (1897- 1978). Done of course very hard, fast and loud." It's a recipe they follow throughout Stubb, and it's a winning formula.
The album's title is taken from their former band name: Gangarstubbgutta ("The boys who play short dance tunes" in Norwegian). It collects the repertoire the group has compiled and honed in live performances all over Europe. Making a loud noise here are Mattias Truell Thedens (Hardanger fiddle), Oskar Goendvrind Lindeberget (saxophone), Richard Max (guitar), Jonas Thrana Jensen (bass), and Henrik Dullum (drums). The prominent use of the Hardanger keeps it grounded in Norwegian folk, Oskar's saxophone adds elements of jazz and dance music (I can envision its place being filled by either accordion or bagpipes in a different kind of band), the grinding guitar gives it the metal touch, and the bass and drums drive it propulsively forward.
What they do best is dance music – traditional Nordic folk dances like the schottische (which is called "reinlender" in Norway), hopsa, polka, mazurka, etc. Synnøve Brøndbo Plassen, who sings on "Sukkeri," adds soaring wordless vocals to "Masurka fra Herefoss" a mazurka from Herefoss, in the lake country of southeastern Norway near the Skaggerak arm of the North Sea. I really like that one, as well as "Trøarn," a lop-sided folk dance with sax and Hardanger on dual leads. "Slarkjen" is a metal Americana style hoe-down, and "Hennar Valborg" is driving melodic rock with tune similar to "Sukkeri er søtt" – this one reminds me a bit of Fairport Convention at its hardest rocking, if Fairport had a sax player. (Oh, Pete Zorn, how I miss your presence in the Richard Thompson band!) Some of Gangar's songs are harder than the others, including the opener "Grøtleken," Dorisk Reinlender, an old Schottische turned heavy metal with a very fleet-fingered guitar solo, and "Synnjavinden," which features a throaty baritone sax playing along with the Hardanger on some melodic folk passages interspersed with deep metal sections – the three-way combination of bass, deeply distorted electric guitar and baritone sax is guaranteed to rattle your windows.
Gangar's Stubb is just good-time, head-banging hard rock, inspired by Hoven Droven, Meshuggah, and AC/DC, and firmly based in Nordic folk dance – a winning combination if you need a pick-me-up.
(Heilo Records, 2023)
| Website | Twitter | Facebook | Instagram | YouTube |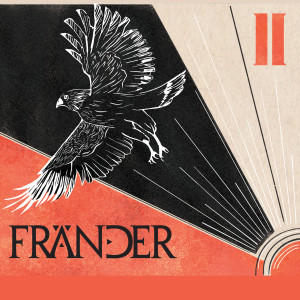 Fränder's Fränder II
Fränder is a Swedish and Estonian ensemble playing their own brand of "heavy acoustic music." Built around the family members Gabbi and Daniel Dluzewski (on Swedish låtmandola and bass, respectively), their fiddling sister Natasja Dluzewska (all of whom grew up in the old Viking stronghold of Håga near Uppsala), and Estonian flutist Säde Tatar, who is Gabbi's wife. To this core add legendary drummer Björn Tollin (percussion), Andreas Berglund (additional percussion) and Valter Kinbom (darbuka and alludu – an aluminum modified frame drum).
Influenced by first-gen Nordic folk rock acts like Hedningarna, Garmarna and Hoven Droven, but just as much by Led Zeppelin, Fairport Convention, Jethro Tull, and Steeleye Span, they're focused on making music their way. "This is not about tradition, this is about us, about today," says Gabbi. "Even though the band plays exclusively on acoustic instruments: It rocks." Indeed.
The opening track "Evigt regn" (Eternal Rain) is an in-your-face statement, a wall of sound and thundering percussion over which Natasja provides soaring vocals. They really remind me most of Steeleye at their hardest rocking, but definitely with their own sound. The frequent instrumental interludes by the flute and fiddle is a truly unique and exciting sonic experience. There's a great example of it midway through the third track "En sommarkväll" (A Summer Evening) – on which Natasja has a lovely, jazzy solo toward the end, also.
A true standout is the Estonian "õhtu õrna" (Silent Night), a driving 6/8 with lilting verses sung in a duet by Natasja and Säde, an anthemic chorus on which Daniel also joins in, and some danceable instrumental sections. There are a couple of instrumentals, the gentle "Rabatud" and the dramatic "Kung Björns polska." A two-part suite pairs the melancholy "Kom til mig" (Come To Me) with the flamboyant "Jag Väntar" (I'm Waiting), followed by the gentle closer "Under ditt hjärta" (Under Your Heart) with I think Säde on lead vocal. The whole album is highly entertaining and brilliantly performed; guaranteed to get you moving.
(Nordic Notes, 2023)
| Website | Facebook | Instagram | YouTube | Bandcamp |
Rüüt's Kiriküüt
At the other end of the spectrum is the Estonian contemporary folk band Rüüt, a quartet that plays traditional songs with updated arrangements as well as their own compositions. Three-part harmonies and rhythms that only sound complicated mix with a blend of old and new instruments on this, their third album. Rüüt is Maarja Soomre on melodica and vocals, Maili Metssalu on fiddle and vocals, Jaan-Eerik Aardam on guitar and vocals, and Juhan Uppin on the Estonian accordion and the kantele, a traditional hammer dulcimer type zither.
It's a winning combination of sounds, particularly the blend of vocals (alto, soprano, and bass-baritone) with the throaty accordion. Birds are a big focus here. On the opening track they sing about an old folk belief that birds went away to "Toonela" or the underworld in the winter, and they could be dangerous when they came back in the spring – but you could protect yourself if you put a piece of bread in your mouth before you went out the door in the morning. The next song is the title track "Kiriküüt," which is an old folk name for the nightingale, and both of them have snippets of transcribed bird songs in the melody and lyrics.
Another one guaranteed to bring a smile is "Jännupoig," an intricate vocal arrangement in which the two female singers swap leads on the fly in a song that sounds kind of like one of those songs used to hold the attention of children. Within the confines of Rüüt's style of music, which is gentle and sweet, there's plenty of variety. "Õiepuu" sounds like a lullaby with a very sweet arrangement that beautifully contrasts the women's voices with Jaan-Eerik's husky bass; the guitar-led "Kadrile" could be a tuneful SoCal folk song; on the other hand "Neiud mängivad mäella" has a very traditional, call-and-response vibe with kantele setting the upbeat tempo; and smack in the middle of the program are the lilting waltze "Valtsike" and the very bouncy "Poissmehe polka." A winning disc for fans of contemporary folk with clever arrangements, beautiful vocals, and a blend of trad and contemporary instruments.
(Nordic Notes, 2023)