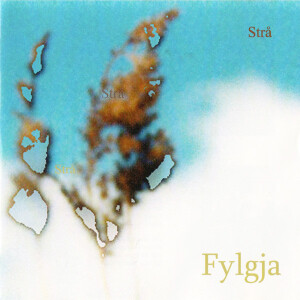 "Fylgja" in Scandinavian folklore is a guardian spirit that appears in dreams, a spirit often seen as female. Fylgja in contemporary music is a group composed of three Danes and two Swedes, with strong roots in traditional Scandinavian music and a tendency to draw upon whatever tradition looks interesting.
Strå is Fylgja's second CD, and presents a sometimes problematic stylistic mix. There are traditional songs from Sweden, Norway, and Ireland, as well as songs composed by members of the group. The disc begins with "Ørnepolska," composed by flutist Christian Coff, one of what Fylgja calls the "polska" – melodies from southeast Sweden, which to my ears sounds very strongly akin to any number of jazz flute solos, save for some impressive fiddle work by Kirsten Backlin. The following "Ädalspolska" is engaging, largely because it does not sound like lounge music, and features Backlin's fiddle trading solos with Coff's flute over some strong rhythm, provided not only by Mikkel Hornnes' drums but by Lucas Scheffold on guitar and Helle Andersen on bass. The remaining four polska tunes ("Slängpolska," "Springlek efter Omas Per," "Polska efter Omas Ludvig," and "Pytteliten springlek fra Elverum"), which along with "Ärnepolska" are traditional songs, fare equally well and give a strong sense of the roots from which they are drawn – strongly Slavic in origins, but filtered through the fluid melodic traditions of Scandinavia.
"Scatter the Mud," a traditional Irish song, gives a good sense of the various traditions that Fylgja incorporates in performance, while leading to some interesting thoughts on fiddle traditions and how they may have been traded back and forth between Ireland and Scandinavia. Basically a reel, Fylgla also draws in elements of jazz and even classical music to create a "traditional" tune that is pan-cultural in its effect. "Liti Kari," a traditional Norwegian tune, offers a glimpse of Scheffold's ability to shift between melody and rhythm, as he manages to bring a strong Spanish flavor to a song that could otherwise be morbid, before Backlin and Hornnes take over to create a passionate interlude that softens into a quiet, almost sad finale.
The one vocal track, "Varken tid eller rum," begins with some intriguing fiddle work over rhythm guitar before it suddenly, and to my mind quite unfortunately, becomes a jazz-based patter song that could profitably have been foregone.
"Anaksak," the penultimate song, gives a sense of what Fylgja is at its best. A subtle world-beat rhythm supports some truly elegant, sinuous fiddling that draws the listener along. "Cutie Cutoff" is an intriguing, high-tech, catchy finish featuring muted trumpet and synthesized rhythms that create a tour de force for drummer and trumpeter Hornnes.
Although uneven and not offering any real challenges, Strå does reward attention and offers justification for Fylgja's popularity.
(Fylgja, 2003)