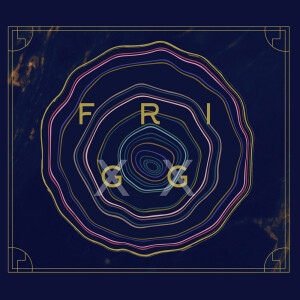 The Finnish folk septet Frigg is one of the world's best known Nordic groups, having toured much of the world including Europe numerous times and North America at least seven. In early 2020 they marked their 20th anniversary with their 10th album to date, Frixx with the two X's of course representing 20 in Roman numerals.
Frigg has had several personnel changes over the years, as does any group of such longevity. Their current lineup consists of four violins, played by Esko Järvelä, Alina Järvelä, Tommi Asplund and Tero Hyväluoma, with a rhythm section of Anssi Salminen on guitar, Juho Kivivuori on bass and Petri Prauda on mandolin and cittern. (Prauda also plays pipes, but not on this album.)
Frigg's music is a hybrid of Finnish, other Nordic, Celtic, and Appalachian folk music, and has been heavily influenced by North American "newgrass," such that their sound has been dubbed "nordgrass." Of the 12 tracks on Frixx five were written by Esko Järvelä, four by Tero Hyväluoma, two by Petri Prauda and one is traditional. I'll cover that trad one first, because it's one of my favorites. It's called Varpunen, which is Finnish for sparrow, and it's set in a very quick tempo in 6/8 time. For the most part it's led by a couple of violins in unison on the melody, with a driving rhythm set by the guitar, cittern and bass. Most of the tunes on this album have a middle section with a counter melody that acts as a bridge between the beginning and ending sections, and "Varpunen" is no exception – its middle part is charmingly chiming, courtesy of the guitar and cittern, and it wanders and flits about until the whole violin section kicks in and wraps it up in dramatic fashion.
The album opens with the introductory march "Juhlamarssi." It's stately and simple with a beautiful melody, and leads up to another avian tune, "Early Bird." You expect this is going to be upbeat after that stately introduction, and it is. It's led off by cavaquinho (played by guest Luís Peixoto) and guitar, the violins joining quickly with the soaring tune in a fast 7/8. If I'm going to go with the "nordgrass" title for any of their music it'd be this one, with its obvious nod to newgrass pioneers like Fleck and Trishka. It's a very dynamic tune in an uneven time signature, moving from soft to loud and back again, and in general living up to its frisky title. It has extra oomph from two guest violinists, Anni Järvelä and Siiri Virkkala
The whole album is nicely sequenced that way, with upbeat tunes interspersed with those that are slower or less frenzied. The pretty chamber folk ballad "Overtyyri," or "overture" is one of two featuring Senni Eskelinen on the kantele (a plucked dulcimer), which moves with no break into the driving reel "Häkkisen Riili," complete with dueling bluegrass-style fiddle solos in the middle section. The longest piece on the album "Terhen" is a folky Celtic-tinged tune that takes us into the whirling, stormy 6/8 tune "Myrskyluoto." This one has lots of choppy syncopation and a melody full of swoops and swirls.
The second half kicks off with the album's first and only polska, the delightful "Kekripolska." Following "Varpunen" is one of Prauda's tunes, and "Jouko-Taiga" sounds like a transcribed bagpipe tune, although it has a very newgrass influenced middle section. Another real highlight is "Maanitus," which opens with kantele melody that evokes some kind of fantasy setting, but it's quickly grounded by the driving, circular fiddle tune that slowly takes over the track, like a whirling trip around a maze. This is a very modern chamber folk composition by Esko Järvelä, particularly in the half-tempo counter melody during the middle section. The album wraps, as it should, with a waltz. "Vep" is a simple arrangement with a very Appalachian sound, heavy on guitar and fiddle and reminiscent of the style of the Swedish group Väsen.
Frigg plays like a well-oiled machine, but also demonstrates lots of personality. Solemn but never stuffy during the slow parts, frisky and witty on the fast songs, the arrangements always fitting and the recording superb. Frixx is a perfect way to celebrate 20 years of making beautiful acoustic Nordic music.
(Frigg, 2020)