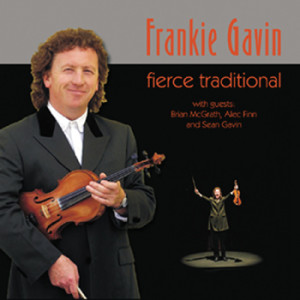 Jennifer Byrne penned this review.
Stand aside all you pretenders to the throne. Frankie is back and the gloves are off.
Fierce Traditional is the long anticipated new solo album from Frankie Gavin, and it sees him paring the sound right down, getting back to the essence of the music. With the usual stalwart suspects in the studio, long term partner Alec Finn, piano/banjo extraordinaire Brian McGrath and brother Sean Gavin, this album is all about the tunes, pure and simple.
With his fiddle to the fore of this album, the most striking thing about Gavin's playing is the breadth of texture and sound. We traverse the entire range, from the lightest touch, which inevitably lends a light heartedness and humour to the piece in question, — look no further than "Wonder Hornpipe/The Foxhunter's Reel", to the sizzling, smoking-strings, down-to-business approach so brilliantly portrayed on the reels of the opening track. In fact, this track, "The Man of the House/The Providence Reel" is also a prime example of the knack Gavin has for arranging. He can take a couple of simple tunes, tear into them with Brian McGrath hot on his heels, at the same time wrench your heart with the most beautiful arrangements, and it all suddenly makes sense. This is how it was supposed to sound all along.
Gavin takes up his flute on "Sliabh na mBan," a slow air adapted from a song commemorating a battle fought during 1798 near Slievenamon. The air is haunting, the accompaniment a gentle whispering effect, and the playing breathy and sublime. The only other slow air on the album is "She Lived Beside the Anner," itself a very beautiful melody, but made all the more effective by the gentle and dignified coaxing of the emotive fibre from each and every note. By the set "The New Road/Fisherman's Lilt/Humours of Westport," you'll be struggling to sit still. A combination of banjo, piano and fiddle, the outcome is one of the highlights of the album. McGrath has had plenty of practice within this style, himself being a member of John Carty's excellent At The Racket line-up. Gavin states that on this track he was trying to encapsulate a sense of the Irish music of 1920s New York. This is old style, feel good music, but without the dreary sense of nostalgia that often burdens contemporary renditions. Instead, it is joyful and celebratory, and the devilish twinkle in the Gavin/McGrath collective eye is irresistible.
So, I'm telling you now, stick your shoes to the floor or you might get carried away. You've been warned.
(Tara Music, 2001)