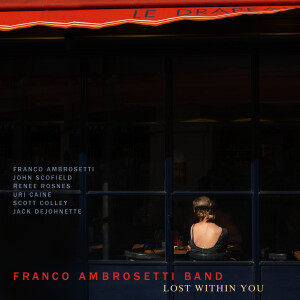 To mark his 79th birthday in December 2020, the Swiss jazz icon Franco Ambrosetti has made an album of ballads with the all-star ensemble that was with him on his 2019 release Long Waves. The composer and trumpeter — who plays exclusively flugelhorn this time out — is joined by guitarist John Scofield, pianist Uri Caine, bassist Scott Colley and drummer Jack DeJohnette on a program of ballads by jazz greats Bill Evans, Horace Silver, and McCoy Tyner, along with a couple of standards and two new Ambrosetti originals.
Ambrosetti mixes it up on Lost Within You, playing sometimes in a trio setting, sometimes in quartet. Pianist Renee Rosnes and Colley form a trio for an absolutely lovely take on the Cy Coleman-Joseph McCarthy standard "I'm Gonna Laugh You Right Outta My Life," one of my favorites on this disc. The same trio takes on Dave Grusin's "Love Like Ours," probably best known from Barbra Streisand's 2000 recording. Rosnes also appears on five songs, including Tyner's "You Taught My Heart to Sing" and the Bill Evans-Miles Davis composition "Flamenco Sketches," and DeJohnette makes a somewhat rare appearance at the ivories on the opener, a lovely languid take on Horace Silver's "Peace." I wouldn't have guessed it was a Silver piece until Jack turns on the percussive block chording during Ambrosetti's final chorus.
"Flamenco Sketches," of course, is the closer from Miles Davis's Kind of Blue but it isn't covered as commonly as some of the other tunes on that classic. Rosnes and DeJohnette oscillate between delicate and muscular on this tune, with Ambrosetti's long noted improvisations — both with and without mute — bridging the two moods. Let's just say they do Miles and Bill proud.
Rosnes similarly alternates between delicacy and light swing on the closer, McCoy Tyner-Sammy Cahn's "You Taught My Heart to Sing," which features impressive solos from Scofield and Rosnes and more of Ambrosetti's warm long tones.
It's Uri Caine setting the mood at the keyboard for three numbers at the heart of the program. Best of all is Johnny Green's "Body and Soul," on which Ambrosetti really soars, goaded on by the rhythm section, particularly DeJohnette. At nearly 12 minutes, this one is the pivot point of the album.
Likewise Ambrosetti commands center stage in a trio with Caine and Colley on Benny Carter's soaring ballad "People Time." And Caine and Ambrosetti kick off Ambrosetti's tune "Dreams Of A Butterfly" with a nice unison section before DeJohnette and Colley turn on the swing.
Speaking of swing, Ambrosetti's "Silli In The Sky" (named for his wife) really does, albeit gently, abetted by some great soloing from Scofield, and the ghost of Freddie Hubbard briefly appearing during Franco's first solo section. Oh, and Rosnes has some of her finest moments here as she makes some fanciful runs up the keyboard.
All in all, Lost Within You is a delightful and soothing way to kick off 2021.
(Unit Records, 2021)