You'll likely remember Karen Tweed (accordion) and Ian Carr (guitar) from Swåp, but both of 'em also played in Northumbrian piper Kathryn Tickell's band, as well as more projects than one should attempt to remember! I'd expect anything that they are involved in to be very good, but even this effort by their ensemble Færd surprised me by how good it was! Færd is a English-Nordic fusion group featuring Carr and Tweed plus Peter Urhbrand (violin/viola), Nanna Luders (vocals) and Eskil Romme (saxophone). Now there's nothing unusual there, as there seems to be any number of these groups running around, but this is better than many of them. Just listen to the 'Da Cross Reel' to get a feel for the clean, Nordic-tinged feel to their ever-so-danceable music. But this is dance music with real roots to it!
They are tackling the music of the Faroe Islands in a set of songs and dances from a 1923 collection called 'Faroese Melodies to Danish Heroic Ballads' and the music books of Jens Christian Svabo (1746 to 1824). He collected and transcribed the Faroese oral ballads that had long preserved the ancient legends of the Faroes. The language of his collection is considered to be very similar to modern Faroese in grammar and pronunciation, but that is a matter of conjecture. Be that as it may, Nanna Luders' singing of these ballads is even more chilling than Jenny Wilhelms of Gjallarhorn or Emma Hardelin of Garmarna! If there is a Nordic counterpart to the Old Irish ben sidhe (banshee), Nanna Luders is one of them!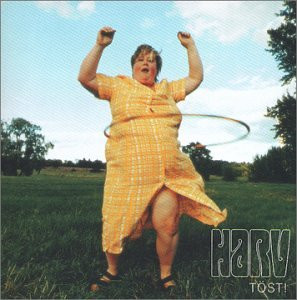 Harv's Töst! is a follow-up to Must. Harv is Magnus Stinnerbom (viola d'amore, an instrument with five playing strings and five resonating strings, which was made by Anders Norudde of Hedningarna) and Daniel Sandén-Warg (viola d'amore with four playing strings and four resonating strings, Jew's harp, and moraharpa — the oldest preserved form of the nyckelharpa). The duo plays an assortment of fiddles, with willow flutes and Jew's harp as well. Magnus Stinnerbom and Daniel Sandén-Warg are both from Värmland, which is in southern Sweden on the Norwegian border. Is there a Norwegian influence here? Oh, yes! Christiann Svensson joins them as a percussionist, as does guitarist Peter Stahlgren. Now, the key to figuring out Harv is to remember that they are very, very upbeat — no mournful dirges here! I like Garmarna and Gjallarhorn, but I'll bet my last penny that these lads are more entertaining in concert. Certainly less depressing. The musicianship is simply outstanding and the recording is a delight to hear — I repeated it a half dozen times in the first week I had it.
Excellent backup work on percussion by Ale Möller adds a needed dimension without overwhelming the primary sound from the mix of violas and so forth. Watch for Möller of Frifot on harmonica and shawm on 'The Fool' and 'Lady's Maid Polkska.' As an aside, Moller can also be found playing shawm on the new Robin Williamson CD. One reviewer called Must 'wild, raunchy fun' but I'd disagree — this is clean, bright music. There's not even a simply 'fair' track here — everything's quite brilliant. The title, 'Töst!' is fitting, as it's a a regional dialect version of the Swedish word 'tyst,' meaning 'hush.' And this is the folk equivalent of cool jazz! To me, it matters not a bit that most of the tunes are newly composed by Magnus; they remain loyal to the tradition of Nordic music. Good work, lads!
Spælimenninir is a long-standing group from the Faroe Islands. They play traditional and contemporary music from Scandinavia and the British Isles on a wide range on instruments including fiddle, Hardanger fiddle, recorder, keyboards, accordion, mandolin, guitar, acoustic bass and vocals. These early CDs are typically Nordic affairs with lots of fiddles — not surprising, as their name means 'fiddlers from Hoydalar,' the school which they all attended back in the early '70s.
Now, I must note that the players are not, by any means, all from the Faroe Islands. They are Kristian Blak (Denmark), Hans Ole Larsen (Denmark), Magnus Pauli Poulsen (Faroe Islands), Jógvan Dahl (Faroe Islands), Christina Lindén (Sweden), Janne Danielsson (Sweden) and Alistair Cochrane (Scotland). Yes, more Swedes — and that is not a bad thing at all! Oddly enough, they seem mostly to play only in the Faroe Islands, so I suspect that they are all resident there. They did play at Orkney Folk Festival (Scotland) in '02. And Spælimenninir have toured in the States. As Andy Nagy of the Boston Globe noted, 'A highlight of the past season of Garrison Keilor's Prairie Home Companion was Spælimenninir, a group of four Scandinavians and two Americans which is familiar to New England folk and dance enthusiasts. There are many different shades on this, their sixth and best album. For unadulterated good feeling, it would be hard to beat the traditional Norwegian waltz, or mandolin player Bærentsen's polkas, with Sharon Weiss on spoons and recorder. For blue mystery, there's fiddler Jan Danielsson's "Polska," or the ballad "Dronning Dagmars Dod" in Danish. And for pure beauty, an instrumental medley of ancient hymns from the Faroe Islands featuring outstanding piano from Kristian Blak.'
What you get is rather lively dance music fit for the long, cold winter nights — fast fiddlin', upbeat vocals, and generally just a fun sounding group. Not speaking Faroese, I haven't a frellin' clue what they are singing about, but neither you nor I should care about that! The penniless person should — most likely — buy the twofer, but all three CDs sound very much alike, so any will do. Indeed there's no difference in sound over the thirty year span of the CDs. Though they are still active, havin' playing in Scotland last year at several festivals, my efforts on the Web yielded neither a Web site nor any telling of a forthcoming CD.
[Update: You'll find Spælimenninir's website here.]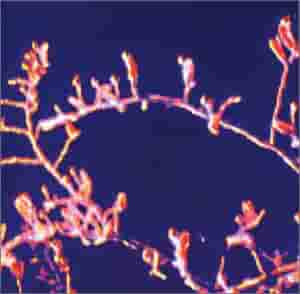 Now, Bukkene Bruse's The Loveliest Rose is described as 'a Christmas celebration from Norway's leading traditional ensemble recorded in an Oslo church.' Christmas album?!? What the frell?!? Hmmm… Let's look at the liner notes… Okay, we've got great musicians (Annbjørg Lien on Hardinger fiddle, fiddle, and Swedish keyed fiddle; Arve Moen Bergset Kveding on vocals, Hardinger fiddle, and fiddle; Steinar Ofsdal on sjøfløyte — which the notes claim is a sea flute! — willow pipe, tin whistle, dize, and Jew's harp; and Bjørn Ole Rasch on church organ and keyboards. Cuts such as 'A Child Is Born in Bethlehem' and 'My Heart Is with Jesus' are here, as well as some self-penned material.
Well, it won't be a bestseller amongst my pagan friends! Hmmm… If I don't tell them that it's Christian, will they like it? If the following of the Medieval Baebes amongst the neo-pagan community is any indication, yes. This is truly cool stuff with amazing instrumentation, cool lyrics — Annbjørg Lien should be recognized as a goddess for her voice alone — and peerless production. It won't get as much play in this household as, say, Ale Moller and Aly Bain's Fully Rigged, which I personally find to be perfect Midwinter's Day music, but it will get played from time to time. If for Annbjørg Lien alone, it must be heard!
(TUTL Records, 2002)
(Drone Music, 2002)
(Torshavn, 1978, 2000)
(Torshavn, 1984 and 1986; 2000)
(Torshavn, 1977, 2000)
(Northside, 2000)