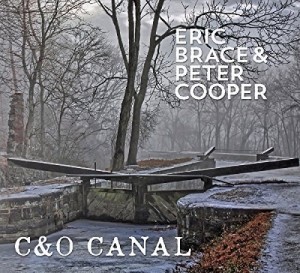 How can you go wrong with an album of country music that includes songs by the likes of Emmylou Harris, Mary Chapin Carpenter, John Starling, and Alice Gerrard, among others? Well, you'd have to try really hard to blow it, right? And if the singers making this album are the incredibly talented Eric Brace and Peter Cooper, there's really no chance of anything going wrong.
Brace and Cooper are a couple of writers and musicians currently based in Nashville where they operate their label Red Beet Records. But they grew up and cut their musical teeth in Washington, D.C., listening to acts like The Seldom Scene with guitarist and singer John Starling and Mike Auldridge on Dobro. C&O Canal, the first by the duo since 2013's The Comeback Album is their homage to the music they came to love on the DC folk, bluegrass and acoustic music scenes, and it's a winner from first to last.
First, I love the way their voices — Brace's craggy baritone and Cooper's sweet tenor — work together. Then, put those voices together on such fine material, and you get music like the lovely title track, one of those John Starling songs I mentioned.
The song is about the titular canal, which parallels the Potomac River and runs through Washington, and about the kind of authentic life that it represents. As good as that performance video is, there's a fine lyric video of the album cut with lots of beautiful historic photos of the canal here.
Highlights include Carpenter's "John Wilkes Booth" (with superb fiddle lines from Andrea Zonn); Harris's "Boulder To Birmingham" with Cooper on lead vocals and Zonn on harmony; Starling's "He Rode All The Way To Texas" on which Brace and Cooper swap lead vocals; and Joe Triplett's "Been Awhile," which has a strong vibe of '70s country-rock from Triplett's time in the Rosslyn Mountain Boys back then. Oh, and the album closer, "Boat's Up The River," by John Jackson, who played music on the weekends and dug graves for a living — the song has a strong Elizabeth Cotton vibe to it, from the lyrics and melody, and from Thomm Jutz's slide guitar. Jutz produced the record at his Nashville studio.
If you don't know the music of Eric Brace & Peter Cooper, C&O Canal is a good place to start. Then when you're hooked, go back and catch some of their earlier albums. You can find them at Red Beet's website.
(Red Beet, 2016)