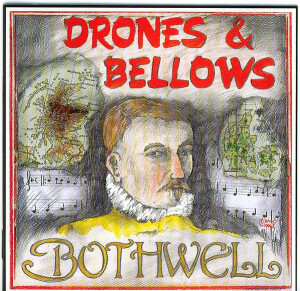 I consider Brian McNeill to be one of the finest musicians ever. And now it turns out that he's a truly great producer too! Bothwell, the second CD by Danish group Drones & Bellows was produced by Brian and bears more than a passing resemblence to many albums he was released under his own appellation. (Thanks Brian for arranging for us to review this album.) Drones and Bellows is most decidedly one of the niftier band names I've encountered, so let's allow the band to tell you how it came to be:
Drones & Bellows was called Four Reel Drive! Pam and Halvor met and started playing music together soon after Tønder Festival 1987. It wasn't long before they were put in touch with Allan and Michael from Åbenrå. This formation continued playing and gradually making a name for itself until pressure of work forced Allan to quit the band in the autumn of 1992. The remaining threesome could no longer call itself Four Reel Drive so a new name for the band had to be found. Since starting in the band Pam had taken up smallpipes and Halvor had started playing button accordion. These two instuments had begun to creep more and more into the repertoire often playing together, so Halvor hit on the idea of Drones & Bellows.
So how did a Danish band come to have Brian McNeill as producer? Again let's let the the band tell the tale:
Song of the Chanter [their first CD] was released in May 1997 and was very well received. The band had arranged and recorded Brian McNeill's "Destitution Road" on the album and this turned out to be a stroke of luck. Brian's initial reaction was very positive and the band was very proud but no one imagined he would still be listening to the album a year later and would offer to produce the band's second CD!
So now we have McNeill and the band in the same place – Tønder, Denmark, home of the justifiably world-famous Tønder Festival. A festival, I might add, that is a favorite of McNeill's. (It is a small circle when it comes to traditional folk musicians.) And what resulted out of this meeting is one very nice CD – chock full of wonderful tunes and songs. And the band itself is very neat, too. Drones and Bellows is a six-piece band consisting of Pam Naylor on flute, keyboard, smallpipes, whistle, vocals; Halvor Bogh on accordion, cittern, guitar, mandolin, banjo, vocals; Michael Nielsen on guitar, harmonica, mandolin, banjo, vocals; Anker Hintze on bodhran, percussion, eggs & bones, keyboard, vocals; and Kenneth Reimer: double-bass, keyboard, guitar, vocals. Lots of instruments creating a texually dense sound not unlike what a toned-down Blowzabella would have sounded like. And yes, McNeill is among the guest artists on this CD as he lends fiddle playing to a number of tunes – and tosses in some fine mandolin and banjo playing on the set "Edinburgh's Ragged Blooms/Ms Anne Tåstensen/The Nighbours Reel." (Pam noted in a handwritten aside to the PR notes that "Edinburgh's Ragged Blooms" is not a Scott Joplin piece, but rather is her own ragtime version of the traditional tune "Flowers of Edinburgh.") The result is that the the commonalities of Nordic and Celtic music are demonstrated in the best possible way!
So what about the music, you ask. Is it any good? To quote Molly as she lay in her bed. Yes and yes and yes … Bothwell leads off with the blusey "Donald Cameron Goes to Memphis," a snappy set comprised of "The Ass in the Graveyard" and "Donald Cameron's Powderhorn," in which Nielsen's harmonica is given free rein. What's interesting is that it sounds like it belongs on an album by Brian McNeill as his production sense clearly plays off his musical skills. Alex Fraser, the busker that Brian created for his Busker mystery series, would have loved this set! (And McNeill plays the bouzouki in this piece.) But this is no "flash in the pan" group as next up is "Shule Agra," the song you might known more commonly as "Johnny has Gone for a Soldier." Pam Naylor and Anker Hintze share lead vocals on the appropriately mournful rendition. One should single out Pam's flute playing, which gives the song an eerie feeling.
Next up is "Bothwell," a tune composed by McNeill in honor of James Hepburn, 4th Earl of Bothwell. A supporter of Mary Queen of Scots, he ended his days in a Danish prison – quite mad from unending torture and inhumane prison conditions. This tune, with Brian playing fiddle, is a charming number – particularly if you don't know who Bothwell was! Another upbeat number, "Brisk Young Lad," follows, the trick here being that the only instruments are human voices!
The Bogh-penned whaling song, "Waiting for the Whale," reminds me of the now defunct New St. George in its style and tone: a sad song made cheerful with appropriately restrained instruments. Please note that these Danes sing in English better than many a native-born English traditional singer!
Now where was I? Oh, yes … Next up is "Kritine's," a Halvor Bogh tune penned for his daughter. The use of a harmonica by Michael Nielsen gives it a bluesy feel that nicely complements the fiddle-playing of McNeill. Following the pattern established on this CD, a song "Aye wauki' O' " follows. This is a sad but beautiful song about unrequited love. Kenneth Reiner does a nice job of providing vocals harmonies to complement Pam's lead harmonies.
Not surprisingly, another tune set, "Down the Road to Galloway/ Rasmus' Polka," follows with the usual spiritely playing I've come to expect from Drones & Bellows. (No, there's not a bad cut on this CD.) Yet another wonderful song, "Meet Me on the Corner," follows – a song made famous by Lindisfarnre. (Note to Drones & Bellows and whoever put together their publicity material – you do not sound at all like Lindisfarne!) Their version adds bagpipes, all are of the "Scottish lowland smallpipes" type and are made by Hamish Moore of Dunkeld, who is also one of Scotland's very best and most innovative pipers.
The totally amazing set "Edinburgh's Ragged Blooms/Ms Anne Tåstensen/The Nighbours Reel" comes next. As noted above, Pam tells me in a handwritten aside to the PR notes that "Edinburgh's Ragged Blooms" is not a Scott Joplin piece, but rather is her own ragtime version of the traditional tune "Flowers of Edinburgh". It is a well-crafted, jaunty tune that both is true to its ragtime roots, but adds a noticable Celtic feel to the tune. Brian plays the banjo, mandolin, and fiddle on this set. This set is followed by "The Maid on the Shore," a tale of a woman who commes out on top – albiet by criminal means best not discussed here. Two instrumentals follow, "Miss Rowan Davies" and "The Set It Up" Set ("Atlantic Sound/Mrs McLead/St. Anne's Real"), which end the CD on a properly upbeat note.
Bothwell is a fine CD by a group that bears watching in the future. The fusion of Brian McNeill as a producer with an already talented group has produced one of the finest CDs I've had the privilege to listen to.
(Music Partner, 1999)