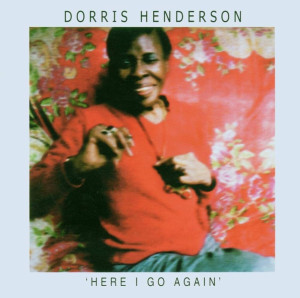 Mike Stiles contributed this review.
Hmm, what have we got here? First track is "Wayfaring Stranger." I haven't heard an opening combo of guitar and piano like this in a long time – is the vocal going to be just as good? Yes Yes YES! And so Here I Go Again launches into a collection of music as deliberate and powerful as a cycle of the moon.
Dorris Henderson (who passed away in March of 2005) is one of the pioneers from the 1960s folk scene. Her early efforts include collaborations with legends like Lord Buckley. With Trevor Lucas she played with Eclection in the European folk rounds. This, her latest release, comes many years after her last issues, showing once again that really good things in life just cannot be rushed.
The voice behind this project is Dorris Henderson. Her main accompaniment consists of Eric Rasmussen (guitars/vocals), Tim Penn (paino/keyboards), Sophie Smiles (bass), Mac McGann (guitar/harmonicas), Mike Peters (trumpet), and back-up vocalist Audrienne. Percussion comes from Mick Smiles, Eddie Peacock, and Jeff Ward.
Even John Renbourn found his way onto two of the numbers, "Heart Over Mind" and "Don't Cry for Me." He and Dorris released two albums decades ago, There You Go and Watch the Stars. Listening to them today it seems a shame that the Pentangle never recruited Dorris during their heyday!
The variety of styles on this CD must be experienced directly. "Adebimpe" sports horns that harken back to the beginnings of the Newport Jazz Festival. Dorris stamps out her own version of Billy Holiday's "God Bless the Child." "Haiku" is a spoken-word piece that would have fit seamlessly on Joan Baez's Baptism. And the rest of numbers weigh in with blues, gospel, and many of the other genres informed by Dorris's contributions.
Dorris Henderson is a little bit of Libba Cotton, a little bit of Tom Waits at his classier turn of growl, a little bit of Holly Near, and a whole lot of that deep smoky soul to which contemporary American folk music turns a deaf ear. Never mind that roots stuff. This CD is a study in the bedrock.
(Market Square Music, 2003)