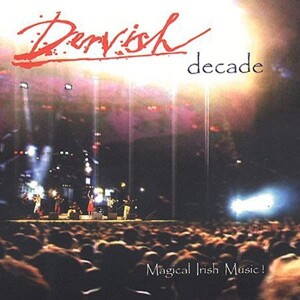 Brendan Foreman penned this review.
Since forming in 1989, Dervish has been building a reputation as one of the premiere neo-traditionalist Irish bands. Emphasizing competence and musicianship over pyrotechnics and novelty, the music of Dervish is really as good as the Irish traditions can get. Based in County Mayo, this septet consists of Cathy Jordan on vocals and bodhran; Michael Holmes on bouzouki, Liam Kelly on flute and low whistle; Brian McDonagh on mandolin and mandola; Shane Mitchell on accordion; Tom Morrow on fiddle and viola; and Seamous O'Dowd on guitar, fiddle, and others.
In order to celebrate their first decade in existence — and no doubt to increase their listenership — Dervish has released decade, a 10-year retrospective of their history thus far. Like many such recordings, it does not follow any sort of chronological ordering. Instead, it skips seemingly randomly amongst Dervish's five recordings: Harmony Hill, Playing with Fire, at the end of the day, Live in Palma, and Midsummer's Night. Rather the order seems mostly dictated by listening ease, switching back and forth (roughly) between instrumentals and songs. Dervish does not appear to have changed its sound much since its inception, keeping a fairly traditional Irish sound. So, the sequence of tracks sounds quite consistent regardless of their origins.
Also like most retrospective recordings are meant to do, decade showcases some of the best that Dervish has to offer. The instrumental work — the usual suspects of jigs, reels, hornpipes, and waltzes — here is about as good as it gets from the opening track of reels, "The Kilavill Set" to closing track, "Jim Coleman's."
As with many multi-instrument ensembles, Dervish makes good use of harmony and counterpoint while showcasing their musicianship with some blazing solos. But Dervish — at least here — tends not to "showboat." This feels like music that's played for the love of it, rather than for showing off musical talents (a common problem among Celtic and American traditional musicians). In fact, many of these tunes, such as the aformentioned "Kilavill" and the beginning part of "World's End" from Live in Palma have an anticipatory, held-back sound that reminds me of early Clannad and Altan.
The songs here are just as enjoyable. Cathy Jordan has a smooth voice with a clearly extensive range. This comes out very well in such straight-forwardly traditional ballads as "The Hills of Greanmore" and "An Spailpin Fanach." But she's also capable of producing an alluring growl in her voice, that gives her vocals to "Molly and Johnny" to mischievous sting. To me the entire CD is worth getting just for this track.
Even though it clocks in at 66 minutes, this CD is just too short. I suppose this is a good thing; after all, there are five more albums that can be explored after this one, five more albums that, through the music of decade, beckon with the allure of Lorelei.
(Whirling Music, 2001)