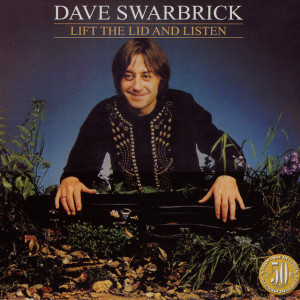 These three very worthy albums fill in a noticeable gap in the issue of Dave Swarbrick's work on CD. Recent years have seen the reissue of albums from most aspects of his long and hugely influential career in English folk, from his early '60s work with the Ian Campbell Folk Group and his duo recordings with Martin Carthy, through his many years as mainstay with Fairport Convention to his albums with Whippersnapper and plentiful session work.
From the mid-70s to early 80s, Swarb also released a number of solo albums. Solo in the sense of being credited just to "Dave Swarbrick," they still featured a number of his musical chums from Fairport Convention and beyond, but often differed in the sense of being largely acoustic performances. The fire in his playing is still just as evident as any of his electric renditions of folk tunes, and the sensitivity of slower numbers is possibly enhanced by the unplugged nature of the presentation. With the exception of one song on the Smiddyburn album, his solo albums have been all instrumental, with Swarb mostly on violin of course, plus occasional mandolin. The variation of material, his interplay with the various musicians and just his obvious love for the music make all his solo albums a joy to listen to in any case, despite the lack of vocals.
But up until now, there was an obvious hole in the catalogue: that of Lift The Lid And Listen and The Ceilidh Album. Both albums were recorded in the same studio at the same time (Livingstone Studios, Barnet, UK, Nov. 1977 to Jan. 1978) and were released some months apart in 1978. The vinyl LPs have been much prized amongst collectors ever since, as they have remained unavailable for a long time. Happily, they are now available on CD, and to say they are an important part of his discography and an essential purchase for his fans is to state the extremely bleedin' obvious!
The key personnel on both these solo releases includes his then Fairport cohorts Dave Pegg on bass guitar, Simon Nicol on acoustic guitar and Bruce Rowland on drums. It would probably be fair to say that Rowland was more appropriate to this style of music than previous FC drummer Dave Mattacks, as he seems more comfortable with the free-flowing rhythm of the music than Mattacks does on other similar recordings. Rowland sounds like he is having a great time with the various up tempo pieces, which are largely traditional Irish/UK tunes, adding drum rolls that give some tracks an almost military band feel! Meanwhile, Pegg and Nicol demonstrate yet again just why they are considered the foremost folk rock rhythm section, with performances that stand out in their own right, but which never overwhelm Swarb's position front and centre.
Other musicians include Beryl Marriott on piano (an important figure in Swarb's history, as she persuaded him to pick up the fiddle in the early 1960s) and her husband Roger Marriott on melodeon and flute. Allan Robertson provides some fine piano accordion on a number of tracks, and Savourna Stevenson adds some marvelous clarsach (Irish harp) to a handful of tunes on Lift The Lid And Listen. In fact, she provides a couple of real highlights on that album when she accompanies Swarbrick on "Fanny Power," a Carolan piece, and the title track, which is the only Swarbrick original on either disc. The mandolin and harp sound made for each other, and the arrangements are simply beautiful. I'd go so far as to say that the title track is one of the best things Swarbrick has ever done – and he's done a lot!
As is usual for this type of music, many of the tracks are medleys of tunes. It's fair enough to combine short instrumentals into a longer work rather than play them all separately, but there is still a knack in doing it successfully, to create a cohesive piece in its own right. One fine example is "Flitter Dance / Peter O'Tavy / Mona's Delight / Hunt The Wren" which starts peacefully (with a great Dave Pegg bass intro) and then builds tune by tune, increasing tempo each time until it ends as an all-out dance tune, played with fire and enthusiasm.
Some well known tunes such as "Princess Royal," "The Lark In The Clear Air" and "Our Ship She Sails" are included, played in a quite distinctive style – "Princess Royal" sounds more like a jig than a Morris tune in this instance. No doubt other people could explain Swarb's technique in more technical detail, but I tend to appreciate it on a more basic emotional level, which strikes me as far more appropriate for music of this type. In which case I can say that when it is not simply joyful music played by musicians who obviously care for what they play, it is moving, subtle and powerful all at once. There is also the inevitable questioning of just how fast the man can play! Thankfully, Lift The Lid And Listen has finally come out of the shadows to reclaim its place as one of Dave Swarbrick's best works.
The Ceilidh Album, as the name suggests, sounds more like an informal pub session, albeit with a far greater technical proficiency than most. There are no great production tricks, just a red hot band that swings. The CD starts as it means to go on, in full folk dance tune mode, with a lively "Merry Boys Of Greenland / Olifiord Jack / Willafiord." Part of the fun is Swarb's calling out to the other musicians when it's time to change the tune, which implies it was recorded live in the studio. This is followed by the plaintive "Antarctic Ice (MacPherson's Lament)" which has an achingly beautiful tune – and yet the two tracks sound perfect when placed together.
Mostly, the album continues the ceilidh (dance) format with a number of familiar and not-so-familiar tunes. Many of these have the wonderful, enigmatic titles that come to be expected such as "The Reel Of The Burnt Potato" and "Salmon Tails Up The River"; the former with Swarbrick in full demon fiddler mode, accompanied by Beryl Marriott on piano. Generously, Swarb gives her a full track to herself, no doubt as a mark of respect. She gives the well known tunes "Shepherd's Hey / I'll Go And Enlist For A Sailor / Cuckoo's Nest / Monk's March" an unusually sedate, yet quite intriguing arrangement, in contrast to the general frivolity of the rest of the album. For this reason, it is in fact a standout performance.
The main thing to say about The Ceilidh Album is that it's fun. It's hard to avoid the typical adjectives such as rollicking and danceable, largely because they're so appropriate and what the album is really all about. But equally predictable is the high standard of the players, who are largely the same as those on Lift The Lid. It must be said that the choice of tunes is just right for the project. Again, medleys are the main method of presentation, and tracks such as "The Flowers Of Edinburgh / New Rigged Ship / Nine Pint Coggie" demonstrate the thought that was put into track construction.
I keep coming back to the idea of the album sounding like a pub session, but I suspect anyone trying to join in would give up and leave the main players to it after a couple of medleys! It all sounds effortless, but it's an apparent effortlessness borne from many years of professional playing, and it shows. Another long lost album now re-released, and another worthy addition to the discerning music lover's collection!
Both the above albums include a couple of bonus tracks. Another two solo albums, Swarbrick and Swarbrick 2, were released by Transatlantic a few years ago, but four tracks were omitted to make it all fit on one CD. They are included here, two apiece at the end of each album proper. It is good to have "Lord Inchiquin," "Killarney Boys Of Pleasure" etc. available again; they fit nicely with the feel of the other recordings, and it would have been a shame for them to remain lost.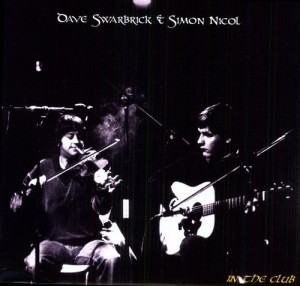 With In The Club the time frame is moved forward a few years to 1982. Fairport had nominally and temporarily split in 1979, although previous members still worked together in various combinations and the band itself reformed fully in 1985. One of the acts to come out of this temporary retirement was the duo of Dave Swarbrick (violin, mandolin) and Simon Nicol (vocals, acoustic guitar). They worked together in this arrangement for a few years and released one studio album (Close To The Wind) and one live album (Live At The White Bear). Less well known was a cassette-only release that was only sold at gigs, the afore-mentioned In The Club. This was a studio-recorded collection of songs and tunes from their live repertoire, including some pieces from other albums re-arranged to fit the more basic arrangements necessitated by the two man format, and some tracks not available anywhere else.
In The Club has long been a sought after item for Fairport collectors, and even those with aging copies of the original tape would surely welcome its final official CD release, especially since it contains five extra tracks, drawn from radio sessions and live performances.
This differs from the other two Atrax releases in that songs with vocals are included, although it is Nicol who does the singing; Swarb is content to play his heart out for the 70 minute playing time of the disc. Nicol's voice was in the early stages of the dramatic improvement it experienced in the 1980s, but is still warm and friendly and any roughness seems to suit the songs anyway. A couple of Fairport favourites are included in the form of "Three Drunken Maidens" and "The Widow Of Westmoreland's Daughter," sounding quite different in the more stripped-back arrangements but just as much fun as ever. "Over The Lancashire Hills" (one of the bonus tracks) would later appear on a Nicol solo album, while a real surprise is contained with a version of The Eagles' "After The Thrill." Here, it sounds like an excellent contemporary folk song, with a theme of failed love that many can relate to.
Nicol also proves to be an ideal accompanist to Swarbrick's masterful fiddling on the instrumental tracks. Many of these come from Swarb's solo albums, including those reviewed above, but are worth acquiring in both forms, as the contrasting arrangements make for quite different listening experiences. Predictably, there are the speed fiddle tracks like "Friar's Britches / Lark In The Morning / Gravel Path / Leighton Buzzard Shuffle" alongside some really beautiful pieces such as a couple of Carolan tunes, the classic "Si Bheag Si Mhor" and "O'Carolan's Farewell To Music," altogether making for an impressive and varied collection. Nicol is no slouch either, as evidenced by some tasty playing, such as on "Planxty Morgan / Long Odds" which he performs solo.
You can just tell they are both having a great time, and it would be difficult to not join in on the atmosphere. Swarb in particular has a bit of fun improvising on some of the tunes, and the live version of "Hen's March / 4 Poster Bed" (another bonus track and Fairport favourite) is certainly what you could call loose, but still extremely enjoyable. Nicol provides new cover notes to this CD issue, detailing how the original cassette was put together, and he seems genuinely pleased for the album to be officially out in public again. He writes, "We hope that you will enjoy it, both for the nostalgia and for the spirit of the music." I don't know about the nostalgia as I wasn't in a position to see them live at the time, but the spirit of the music is as potent now as it ever was. Add this to the two new Swarbrick reissues and you have a trilogy of extremely entertaining and worthwhile CDs, put together with obvious care by Atrax. If you've read this far, I'd hazard a guess you're a fan of the style and' the musicians involved. In which case, let's not be shy – you need these albums, simple as that.
(Atrax, 2001)