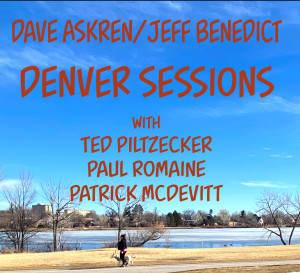 A lot of what goes by the name of jazz music these days is either quite complex musically or some sort of hybrid combining classical, folk, pop, ambient, and experimental music. I listen to and review a certain amount of that sort of thing myself. However, Dave Askren & Jeff Benedict's Denver Sessions is none of that. This is an absolute feel-good album of swinging West Coast jazz in mostly straight ahead mode. Sometimes that's just the sort of music you need.
Long associated with the Los Angeles jazz scene, guitarist Dave Askren and saxophonist Jeff Benedict were inspired to record with New York-based vibraphonist Ted Piltzecker. They're joined here by bassist Patrick McDevitt and drummer Paul Romaine, whose Colorado connections led to the move to Denver to record these sessions, and the result is pretty magical.
It's an entire album of originals, with one exception. The front line of guitar, saxophone and vibraphone is today fairly uncommon, but in these hands it's a great, urbane yet organic sound. In the '60s Jackie McLean recorded for Blue Note with a sax, vibes, and brass line-up featuring Bobby Hutcherson on vibes, including the influential 1967 album Action on several Blue Note dates. Askren draws on the bass introduction to McLean's "Hootnan" from that album on the album opener, the jaunty "Jackie's Idea," executed flawlessly by McDevitt.
Action was one of countless jazz classics from the era recorded at Rudy Van Gelder's famed studio in New Jersey, which Askren nods to on the third track, the swinging hard bop "Englewood Cliffs." Things slow down on Askren's ballad "Memories," dedicated in part to the late great Pat Martino, which features excellent contributions from everyone including Romaine on the brushes, McDevitt with a solid and pensive bass line, as well as lyrical solos on vibes and soprano sax.
Saxophonist Benedict turns in two of the outing's most upbeat tunes, including the galloping post-bop "Orange Express," where his soprano and Piltzecker's vibes double flawlessly on the main melody, driven by Romaine on the kit. The other is the deeply swinging "Ennui, Anyone," its title inspired by one of my favorite books, Edward Gorey's macabre ABC book The Gashlycrumb Tinies, where N stands for "Neville, who died from ennui." Piltzecker's mallet work here reminds me of Milt Jackson in some of his best outings. Benedict also plays his soprano on the lyrical mid-tempo ballad "Marie Adele," dedicated to his mother.
Piltzecker's three contributions are all Latin-tinged. "Rhumba Liam" is a very upbeat Cuban-inspired number with once again great interplay between Benedict's alto and the vibes, plus a seriously sinuous solo from Askren. " The samba "Poised" has a few more spikes to it, and the melodic straight ahead piece "Resilience" is a tribute to those who helped us get through the pandemic.
Another great combo that featured guitar and vibes, probably the best known these days, was Benny Goodman's sextet with the groundbreaking guitarist Charlie Christian and Lionel Hampton at the beginning of his stellar career on vibes. The album closes with a vibrant rendition of "Stompin' At The Savoy" in honor of that group, with some of the date's best solos from all three of the front players.
Like I said, just solid straight-ahead jazz music, a cohesive blend of East and West coasts recorded out in the middle of the country – no nonsense but a lot of fun, lots of great solo turns but no showboating, everything very much a collaboration serving the music. A superb listening experience.
(Tapestry Records, 2023)