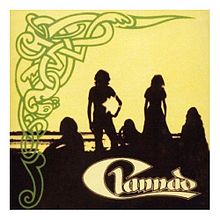 This CD reissue of Clannad's first album is sure to be both a treat and quite a surprise for current fans of the popular Celtic-fusion group. Out of print for years, Clannad's debut 1972 effort is packaged here with the 1975 single-only "An Bealach Seo 'Tá Romham." That's the treat.
The surprise is that this album probably doesn't sound like what the casual Clannad fan expects at all. Every band must start someplace; and Clannad, like most every other Celtic band before and since, started with a repertoire of traditional covers. The jazzy arrangements and haunting harmonies didn't come until later — actually, judging by this disc, much later. Like the songs they play, Clannad's sounds and arrangements are much more traditional than anything on, say, Rogha: The Best of Clannad (RCA, 1997). This is not to say that this sound is bad. Their take on O'Carolan's "Mrs. McDermott" is a gentle piece that shows off excellent flute and harp arrangements. "The Pretty Maid" is another mellow piece that takes full advantage of Clannad's abundance of male and female vocalists, styling a wistful duet around the translated lyrics of this Irish song about the chance meeting between a young man and a singing milk maid.
Long on ballads, there's a distinct melodic thread running through this album — it could almost serve as the soundtrack to some Irish-themed "people" movie. With the faint backing seashore sounds of waves crashing and seagulls, "Thios Chois Ma Trá Domh" fits in with this mood, evoking a melancholy air. And it's no wonder; the translated title means "Down by the black strand" — a seaside graveyard. Máire Brennan's mournful voice is put to good use here, but unfortunately, this is one time where the digital CD format hurts the music, exposing the limits of the original analog recordings, so that Brennan's voice ripples with distortion on the high end of her register.
There are indeed hints of what's to come, if you know how to listen. On "An tOileán Úr," the distinctive backing harmonies that are so much a part of Clannad music can be heard in their embryonic form. "Liza," one of the few nontraditional inclusions here, incorporates electric guitars and a smooth baseline that's reminiscent of Steely Dan, already reflecting the influence rock 'n' roll will have on Clannad. The opening track here, "Nil Sé Ina Ia," is a stripped-down Gaelic piece, showcasing Brennan's vocal talents with guitar and flute accompanyment — another rock influence here in Jethro Tull — that could easily fit in somewhere on a modern Clannad project. It starts off raw and minimalist, but slowly builds until it reaches a strong crecendo by the conclusion. "An Phairc," a second nontraditional piece (an anti-pollution song at that), continues with the flute play but backs off the derring-do and comes across as rather staid.
"Siobhán Ní Dhuibhir" is another forward-looking piece, wrapping the traditional Celtic tune in a jazzy attitude and beatnik-flavored baseline that's an oddly-flavored treat. If nothing else, it conjures images of Sting's Dream of the Blue Turtles, proving that the former Police frontman wasn't the first to spice other musical genres with the cool stylings of jazz.
Unfortunately, such good things can't be said of the bonus track, "An Bealach Seo 'Tá Romham." A pleasant enough flute and harp arrangement with just a touch of harpsichord-inspired keyboards, this song doesn't really bring anything new to the table. Go to any Renaissance festival, and you're likely to hear a dozen more just like it — none bad, but each one as forgettable as the last.
(Royal Records, 1997)