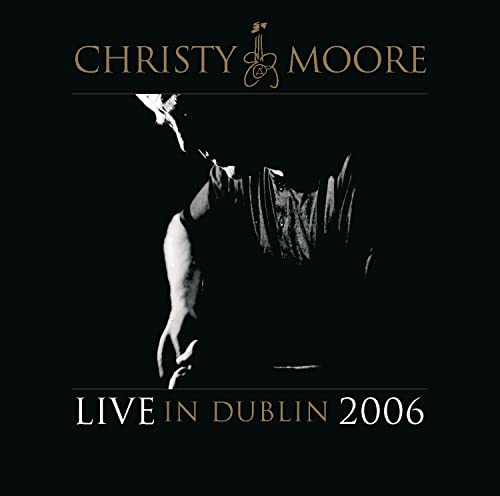 I write this as Europe prepares for two nights of the Eurovision Song Contest, in which each country submits a song, often performed by a starry-eyed youngster, who does his or her best to cover his or her roots, singing to a pre-recorded backing, with much emphasis put on clothes, dancing and wind machines. Sometimes you wonder, where did the music go?
By European Song Contest standards the very idea of two middle-aged men in their everyday clothes sitting down to play for a couple of hours must seem almost impossible. Who would like to spend time and money on something like that? Well, if the two men are Christy Moore and Declan Sinnott, quite a lot of people would. At least they filled The Point Depot in Dublin, a large venue, for four nights, and the CD that was recorded those nights is running up the charts in more than one country. To me it sounds a clear victory for real music.
But then again Christy Moore is something of a legend. One of my most prized possessions is a VHS tape with a more than 20-year-old concert recording of Planxty, taped from Swedish television. Moore's performance of "Only Our Rivers Run Free" still sends shivers down my spine. And the first Moving Hearts album is still one of the best in my 2,000-plus collection. Not to mention classic solo albums like "Ride On."
Declan Sinnott is no newcomer neither. I first spotted him as the guitar player in the Moving Hearts, but he has also been a sidekick for Mary Black.
Five years ago Moore and Sinnott joined up again, this time as a duo, with a huge repertoire based on the songs Christy Moore has recorded. And here we are talking about a man with a remarkable knack for choosing the right songs and making them his own. Although he started out singing traditional Irish songs, Moore is no puritan. He mixes from different sources and nationalities. He even sings songs written by Englishmen.
But it even if these CDs and the DVD bear only Moore's name on the front cover it is wrong to consider this a solo performer with a backing guitarist. If you compare it to Moore's earlier live solo album, you will note the difference. The earlier one is very good, but Sinnott's presence turns very good into brilliant. Whether playing acoustic or electric, or using his slide on the dobro, he lifts the songs to new heights. His chord work is lovely, his fill-in lines behind the vocals even better, and there are a number of well structured solos as well. Oh, I almost forget, he adds good singing harmonies, too.
All way through you get the notion of two men playing together for the joy of playing. I have seldom heard Christy Moore delivering his vocals with such attack, or heard him use musical dynamics to such great effect.
Almost all of the songs must be well-known to Christy Moore's fans. They cover most of his career, although the Moving Hearts songs appear only on what I consider to be the bonus material.
Both the double CD and the DVD basically feature 20 songs from the shows. On CD they are collected on the first disc, which clocks in at around 77 minutes. On the DVD it takes longer as there are more of the introductions on that one. It is hard to pick favourites among the 20, but Dylan's "Hattie Carol" and Peter Hames' "Ordinary Man" shows the angry Moore at his best, and "Missing You," "Ride On" and "Natives" the softer side. But if I were to pick two it would be Joni Mitchell's "The Magdalene Laundries" and Richard Thompson's "Beeswing." I was a little frightened of listening to the latter, one of my all-time favourite songs in Thompson's version. But Moore does a good job with it, turning the tempo up a little and really making it his own.
Then there is the bonus material. The CD version gives you 15 more songs on disc 2, recorded during the concerts. All of them are just as good as the basic 20. Mike Waterson's "Stitch in Time" is given a powerful a capella treatment. "Veronica" spits out the anger over the murder of Veronica Guering, while "Cry Like a Man" is sheer beauty.
On the DVD you get seven songs from the sound checks and a documentary about the concerts. Of the songs, I like "No Time For Love" the best. At the end Sinnott breaks loose, delivering a giant guitar solo. Who said you need drums and bass to play rock? And yes, "Cry Like a Man" is on the DVD, too.
If you ever lose your faith in music, in the ability of songs to give you something more than simple statements of love, these products will restore it very quickly. This is what music is about: good friends playing songs they love. Hypnotic, magnetic – I get lost for words. One of the best live CDs I have ever heard, and one of the best concert DVDs around.
Did I mention I love it all?
(Columbia/Sony BMG, 2006)