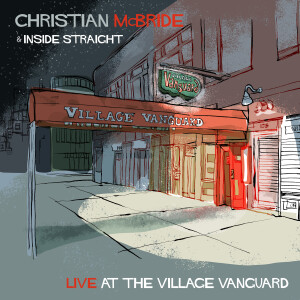 Christian McBride is an amazingly prolific musician, even among a modern American jazz field of very active players. A former "young lion" whose career got off to a running start in the early 1990s in New York, bassist McBride has released at least 17 leader dates and has played as a sideman on a host of recordings. He's a skilled composer, a sought-after collaborator, innovative and rock solid bassist. He has successfully transitioned from young lion to leading statesman, hosting National Public Radio's weekly "Jazz Night in America" program from Lincoln Center in New York.
From his beginnings in straight ahead hard bop and post bop jazz, McBride in 2000 started branching out into some hybrid styles that incorporated the music he grew up with and loved including R&B, funk, hip-hop and even some pop. He's collaborated with musicians as varied as Edgar Meyer, Laurie Anderson, Sting, and Pat Metheny (whose trio he played in from 2003-2010). His vehicles have included a genre-bending sextet, a big band that has won two Grammys, at least one trio, and the classic quintet called Inside Straight. In December 2007 he played with the first iteration of that group in the storied venue The Village Vanguard, and the quintet has played there every December since, with the exception of the pandemic year of 2020.
In December of 2014 he played two, one-week residencies at the Vanguard, one with his trio and one with Inside Straight. A recording assembled from the former, released by Mack Avenue in 2015, won McBride a Grammy for best improvised jazz solo.
This new recording presents performances by the quintet in the second week of that residency back in 2014. The band comprises Steve Wilson on alto and soprano saxophones, Warren Wolf on vibraphone, Peter Martin on piano, McBride on bass and Carl Allen on drums. This is McBride's 12th leader date on Mack Avenue, the continuation of a long and fruitful relationship for both musician and label.
The seven tracks include four by McBride, two by vibraphonist Wolf and one by sax player Wilson. It is for the most part hard-hitting and hard swinging post-bop jazz of a high order, kicking off with the first track, Wolf's "Sweet Bread," on which Wolf and Wilson play the melody in unison right out of the gate and Wolf starts the solos with a smoking one of his own. This 12-minute workout is a great intro to this band. The rhythm section grooves, McBride and pianist Martin locked in throughout and Allen setting a high standard of swing on the kit. The soloing is all great, too, melodic and inventive.
Wolf's other composition "Gang Gang" comes near the end of the program, a hard-driving piece that touches on fusion with an Afro-Latin rhythmic bed and soaring, sprawling melody, and plenty of time for development of solos at nearly a quarter of an hour.
The program is leavened with a couple of ballads (or ballad-adjacent tunes), including Wilson's "Ms. Angelou," an encomium to poet Maya. Wilson plays a sweetly melodic soprano sax on this warm ballad, introduced by McBride as "A musical portrait of someone who was so dignified and had great wisdom and power in her words. Wilson also plays soprano on McBride's "Uncle James," a tribute to James Williams, a leading jazz educator and member of Art Blakey's Jazz Messengers. Wilson's piano truly shines here, as McBride stands back and lets the ensemble carry the tune.
The other musical tribute is McBride's "The Shade of the Cedar Tree," which honors Cedar Walton, hard bop pianist and another member of Jazz Messengers), and this one just kicks. It's the shortest on this date at just under 9 minutes, and I'm on the edge of my seat through the extensive and rapidfire solos, and I can't imagine what it was like for the Vanguard patrons. Well, actually I can, because they give this one a big hand, and lots of vocal responses throughout.
Speaking of solos, the ensemble goes out in a big way with "Stick & Move," a rapid-fire bop tune by McBride and a fiery way to wrap it up. McBride and Allen swap incendiary solos, the bassist owning the stage for long stretches.
If you enjoy modern hard bop type jazz like I do, you're in for a treat with this superb set by Christian McBride & Inside Straight.
(Mack Avenue, 2021)