Alistair Brown wrote this review.
Play On is the fourth release from a group of musicians who had no real intention of continuing as such beyond a one-off concert series in 1993. The project featured three of the Celtic world's most noted fiddlers, Irishman Kevin Burke, Scot Johnny Cunningham, and Christian Lemaitre from Brittany. The enthusiasm they generated both on and off stage resulted, twelve years later, in hundreds of performances and numerous successful international tours.
This recording is dedicated to the memory of founding member Johnny Cunningham, who died in 2003. His chair is now occupied by Andre Brunet, a young Quebecois fiddler, who plays regularly with La Bottine Souriante. Ex Battlefield Band member Ged Foley provides peerless guitar accompaniment, and adds a solo "Lord Galway's Lamentation" and "Planxty Whitbread" to the performance. The addition of Brunet has contributed several very infectious Quebecois sets. Particularly notable is a rocking opening set of crooked tunes, "La Belle Catherine, Le Step a Ti-Phonse, and Reel a Toto," foot percussion and all. Kevin Burke is at his usual best on well-loved pieces including "Sonny's Mazurka" and O'Carolan's famous "Concerto," reputedly a bit of musical one-upmanship directed at the Italian Baroque composer Geminiani. There are several distinctively Breton tunes played by Lemaitre: "Dans Fisel," a special kind of Gavotte, an old march from the Vannetais region of Southern Brittany, and a set of an dro tunes, included because Johnny Cunningham loved to play them. Johnny's "Leaving Brittany" is played as a tribute.
This album, most of which was recorded in concert, has very much a live feel to it. There's that feeling of one thing leading to another, of excitement building, that you get when one master musician brings his own experiences and a different cultural perspective to add to what has gone before. Performances feature each individual fiddler performing a solo set to showcase his own style and musical tradition, followed by a joint session where the different components combine to create a new musical compound, illustrating what the musicians have in common after all the unique elements that have gone before. Each part was wonderful, but the sum is another thing entirely: a chemical change rather than a physical one, as my old science teacher used to say. It's all about the chemistry.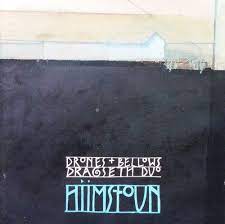 The music of the Danish band Drones and Bellows has also been well reviewed here at Green Man Review. In the past, their repertoire has had a strong Scottish influence, albeit with an interestingly Danish element to it. The name is an accurate reflection of the sound, driven by accordion and pipes, with flute, fiddle, guitar, percussion and bass. On this latest recording Hiimstoun they have teamed up with Dragseth Duo from North Friesland, across the border in Germany. Dragseth Duo are Manuel Korz (guitar, pipes, and vocals,) and Kalle Johannsen (guitar, vocals.) The result is an album that reflects and celebrates the common culture of the region.
The liner notes are comprehensive, but are only in German and Danish, neither of which I speak. Having few multi-linguists to hand in the remote part of Cornwall where I live, I resorted (again, naturally) to the internet and Babelfish for translation. I now have the gist of the philosophy behind the project, despite such gems as " … this was the starting point fur co-operation between the Drones and Bellows and Dragseth Duo, which began the idea the different in fruhjahr the 2003 spoke and which common and different cultural heritage is to be described in music during the preparation of two common concerts …" and the word "stucco," when what they mean is "material."
But to the music: I concur with the previous reviews. This recording is well worth your attention. Of the fifteen tracks, twelve are songs, well sung with inventive and melodic accompaniments. This raises an interesting point: this album obviously sets out to tell a story, and much time and effort have been expended to develop it, but this listener's inability to follow the points made did not in any way diminish my enjoyment. High points for me were Marte Johannsen's lovely rendition of "De Fief Sohns" and Halvor Bogh's exquisite little tune "Ebbe." Look out for these musicians, either together, or as separate entities. They certainly merit a much wider audience. Information on Drones and Bellows and Dragseth Duo can be found on their web sites. [Update: Drones and Bellows are on Facebook and you can find Dragseth Duo's music on Spotify and YouTube.]
Call me a grumpy old man if you like, but normally when I hear terms like "the rock'n'reel connection" I start walking quickly in the other direction, moustache quivering with indignation on my stiff upper lip. This from an early Steeleye enthusiast, a faithful Oysteroid from the first, and a signed up Richard Thompson groupie. I think it's the fact that they feel they have to explain what they're doing that rankles. But I like much of what Smoky Finish does on their album Tune the Speed, despite their insistence on the r'n'r subtitle. This Austrian quintet rocks (and yes, there are reels in there as well).
They describe what they're about as developing "their own, new, unmistakable musical style rooted in traditional Celtic music." It's good, but not so new. There's a distinct echo of groups that have gone there before. It's that style pioneered by bands like Steeleye Span: a heavy Irish influence, strong fiddle and guitar underscored by a rhythmically emphatic bass line and driving percussion, and very enjoyable it is too. However, it is when the songs arrive that it all starts to sound a bit ordinary. That is when Smoky Finish appears to decide that it would rather be a bar band instead. At this point we get some fairly run of the mill material, all composed by the band members. Without the instrumental sets, this recording could have come from any of a thousand groups of boys with a van and time on their hands. The songs are the major weakness in this recording. It would be interesting to hear what they could do applying the rock'n'reel treatment to the odd traditional song. Germany's Folkworld Magazine says they "rival other more well-known transatlantic bands such as Lunasa or Solas." I have to disagree – they don't come close – not yet. I like the name though: it's got that nice blend of old world, whisky-sodden values and urban riskiness.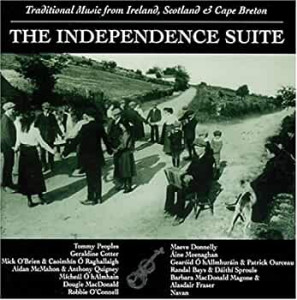 The Independence Suite is a compilation album proclaiming itself to be of "traditional music from Ireland, Scotland and Cape Breton," culled from fourteen different self-produced recordings (hence the name,) and released on California's Celtic Crossings label. Despite the subtitle, this recording is mostly about Ireland, with eleven of the fifteen tracks from there; Scotland is represented by a Hebridean waulking song and a fiddle and piano set featuring Barbara MacDonald Magone and Alasdair Fraser; Cape Breton by a selection of jigs from fiddler Dougie MacDonald along with a clog and hornpipe set from Irish fiddler Maeve Donnelly.
Of the Irish music tracks, the emphasis is on instrumental pieces. Concertina player Gearoid O'hAllmhurain contributes two selections – some reels with fiddler Patrick Ourceau, and two well-known hornpipes accompanied by harp and step dancing. All Ireland champion pianist Geraldine Cotter also appears twice – once with a set of hornpipes and again illustrating the role of the piano in the ceili band with some energetic reels. Other contributors are the great Tommy Peoples who plays three of his own compositions, Anthony Quigney and Aidan McMahon on flute and fiddle, fiddler Randal Bays with the ubiquitous Daithi Sproule on guitar, Micheal O'hAlmhain with a rendition of the sean nos love song "An Buachaill coal Dubh" on flute. The album finishes with two well-known tunes, "The Silver Spear" and "Mullin's Fancy" on uilleann pipes and fiddle. Songs are from Robbie O'Connell with "The Road to Dunmore" and a sean nos song, "Brid Thomdis Mhurchadha" from Aine Meenaghan.
This is a fine collection, with exemplary liner notes, providing an opportunity for a wider audience to discover musicians who have had, for the most part, fairly limited distribution of their recordings. While the introductory notes attempt to make the connections among the cultures represented here, the album title is perhaps a bit misleading: this is essentially a recording of traditional Irish music, with token representation from Scotland and Cape Breton.
And finally to A Highland Journey in Music, part of Greentrax's Celtic Collections series. I have always admired the efforts of Ian Green to promote Scottish music and artists through the years. Since its inception, his label has produced many imaginative and exciting (not to mention risky) recordings, leading to Roots magazine's accolade that it is "now the undisputed frontrunner among Scottish labels…"
With this series, one can only assume that they felt they weren't selling enough CDs in motorway service centres or that they were missing out on the tartan shortbread tin and wee highland Barbie doll market. Or more likely, they wanted to provide a higher quality sample of Scottish music than the usual dross found in souvenir shops, for this one's aimed directly at the tourists. Anyone who's ever done a gig in a bar knows that what the punters mostly want are the ones they know already, and that's what they get here: the publicity promises "Well known and loved tunes take you on a musical journey around Scotland." The insert is light on information about the music but includes statements like, "Whether you're a frequent visitor to this wonderful part of Scotland, or looking forward to your first experience of its beauty, the tranquil airs and evocative pipe tunes of this album will take you there."
There's absolutely nothing wrong with a collection of old favourites, but A Highland Journey in Music plays it excruciatingly easy-listening safe, plodding along to "My Heart's in the Highlands," "Loch Lomond," "Highland Cathedral," "Sky Boat Song," and others. Produced by the accomplished Jack Evans, veteran of "The Easy Club" and "Jock Tamson's Bairns," and featuring highly regarded musicians Dougie Pincock on highland pipes, Mairearad Green on smallpipes and accordion, Innes Watson on fiddle, and Jack Evans on guitar, whistles and synthesizer, it is certainly a much better class of souvenir album than most, and as such, provides a valuable service I suppose. However, it does seem to be more appropriate for background music while you show your neighbours the holiday slides, rather than as an accompaniment to an evening of reflection with a glass of Bowmore. If it's more the music than memories you're after, look elsewhere. You could pick almost anything else Greentrax does.
(Green Linnet, 2005)
(GO' Danish Folk Music, 2005)
(Self Produced, 2003)
(Celtic Crossings, 2004)
(Greentrax, 2005)