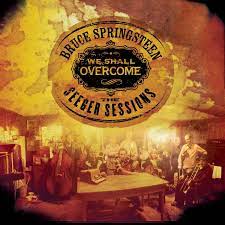 "In 1997 I recorded 'We Shall Overcome' for Where Have All the Flowers Gone: The Songs of Pete Seeger. Growing up a rock'n'roll kid I didn't know a lot about Pete's music or the depth of his influence. So I headed to the record store and came back with an armful of Pete Seeger records. Over the next few days of listening, the wealth of songs, their richness and power changed what I thought I knew about 'folk music'. Hearing this music and our original '97 session for Pete's record sent me off, casually at first, on a quest."
This is Bruce Springsteen writing in the liner notes about the beginnings of a journey that would lead him to the release of We Shall Overcome: The Seeger Sessions, a new CD (or DualDisc) of classic folk songs. The early months of 2006 have been filled with Springsteen releases: a deluxe boxset reissue of Born To Run, at least three different DVDs and the well-received Devils & Dust. Through all of this material there is a sense of the past. Even the songs on Devils & Dust were written over the last few years. The Boss may be suffering from a little writer's block, but he's looking for answers in all the right places.
If Springsteen was another "new Dylan" when he began his journey, he is following Dylan's lead by going back to folk standards for inspiration. Dylan's two albums of folk songs (Good As I Been To You and World Gone Wrong) in the early '90s led to a rebirth of his creative powers with Time Out of Mind and Love and Theft by the end of the decade. And don't forget the career spanning Live Bootleg series, or his autobiographical book Chronicles, Vol. 1.
The Seeger Sessions in context with the Born To Run box and the quiet but powerful Devils & Dust, shows us a thoughtful Boss looking for new ways to surprise his legion of fans. And to capture their hearts and minds.
He's always been a populist, quoting Woody Guthrie and John Steinbeck and rooting for the 'working man'. The characters in his songs worked long shifts and sought escape after hours in funky bars or cruising their cars: "At night we ride through mansions of glory in suicide machines / Sprung from cages out on highway 9…" If there was anything to criticise in his songs it's that they were too thematically linked. Cars, and girls, and cars…and crummy jobs, and cars. And then along came Born in the USA which completed the American hero look. He had to pry the title song away from Ronald Reagan's Republican Party. All through these early years he alternated between the raw rock 'n' roll power of the E Street Band's bombast and the soft acoustic wanderings of Nebraska. Truth be told, though, even in his quietest moments there was plenty of bombast! And there's more on these new recordings.
"I met a group of musicians out of New York City who played at a fiesta in the field of our farm. Accordion, fiddle, banjo, upright bass, washboard, this was the sound I was looking for, for the project for Pete. I wanted the sound of a bunch of people just sitting around playing. After a few phone calls we set up next to one another in the living room of our farm house (horns in the hall). "Till that moment we'd never played together. I counted off the opening chords to 'Jesse James' and away we went. It was a carnival ride, the sound of surprise and the pure joy of playing. Street corner music, parlor music, tavern music, wilderness music, circus music, church music, gutter music, it was all there, waiting in these songs, some more than one hundred years old. It rocked, it swung, it rolled."
Bruce's liner notes are very informative. Not just in the details of the sessions, but in the feel he was looking for. Most people, when they think about the folk songs of Pete Seeger's career, will picture a tall skinny guy with a beard and a banjo, singing all alone his songs of peace and humanitarian socialism, or his kids' songs, or his story songs. Or they'll think of him sailing down the Hudson River working for the environment. Whatever context you remember him in … he has little to do with rocking, swinging, and rolling! And here's Springsteen creating a wall of sound out of these same folky tunes!
It's not an E-Street Band wall of sound but it is definitely a wall nonetheless. Did you notice the brackets in his liner notes? (horns in the hall)? Horns? That's right. All those acoustic instruments, strings pluckin', accordions wheezin', fiddles squawkin', and down the hall … a sax, a trumpet, and a trombone a-blowin' up a storm! Then take all that, and have Bruce Springsteen growl in his growliest growl, "Well John Henry wuz a li'l baby / sittin' on hiz daddy's knee / he picked up a hammer an' a li'l piece of steel / an' cried, 'this hammer'z gonna be th' death of me, Lord, Lord / this hammer'z gonna be the death of me!!!" It's powerful, potent, potentially dangerous stuff!
Many of these songs had dangerous beginnings. They were sung around campfires and at union meetings and in boxcars, and only much later did they take their place in concert halls. Springsteen and his Folk Big Band takes the songs back outside. Or if they're inside at all, he's brought them back into the living room and away from the theatre. He breathes some new oxygen into them. He rocks the joint with "Mary Don't You Weep," saving it from the polite singalong it's become. His version of "John Henry" is sung by someone who might well swing a hammer. His version of "Eyes on the Prize" is a warning to "Hold On!" not just a suggestion!
We Shall Overcome is a loud and raucous celebration of this music, dragged kickin' and screamin' into the 21st century. Sure, sometimes it's too much. On some of the songs you wish that Springsteen would just dial it back and pick his beat-up old guitar and whisper the lyrics, and that's about the time that the horn section cuts loose! And then you find your feet moving again, and you start singing along to the glorious songs of generations of folk musicians. "Here's to Cisco and to Sonny and to Lead Belly too / an' all the good people that traveled with you," Dylan sang on his first album, oh so many years ago. And here's to Pete Seeger, still making music at nearly 90 years old. And here's to all the unknown writers of these songs. Even if we have their names … we don't know much about them. And here's to Bruce Springsteen for taking some time to revisit these songs, to put his mark on them, to claim them for a new generation, and give them life.
This disc has two sides. The second side is a DVD with two bonus tracks, and a half-hour video presentation of the making of the album. I wish I'd been there, playing my guitar, singing out with the Boss. Making more of the joyful noise that fills both sides of this DualDisc. Is it perfect? No. But who needs perfect when something rocks this hard?
(Columbia Records, 2006)