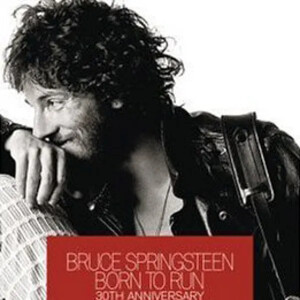 Thirty years!?! Wow! It's been thirty years since I heard Bruce Springsteen for the first time? I had heard so much about other "new Dylans" that I ignored his first two albums. When I played Born To Run for the first time I was amazed, almost awestruck, by the power of this music. Why, he wasn't like Dylan at all! His songs were all about cars, and the mean streets of New Jersey. But somehow they were more than that. They encapsulated the history of rock'n'roll into brief, shining moments of sound. You could hear "Roy Orbison singin' for the lonely . . ." if you listened with a rock fan's ear. The car songs went beyond those of the Beach Boys. Bruce wasn't driving to the "hot dog stand" he was "catching rides to the outskirts, tying faith between [his] teeth . . . getting wasted in the heat and hiding on the backstreets." There was a sense of Phil Spector's Wall of Sound about the production by Springsteen, Jon Landau and Mike Appel. Now here we are — 30 years later — and the music sounds every bit as huge, every bit as exciting, in this newly remastered digital rendition.
A recent issue of Uncut magazine featured Springsteen on the cover, with a long informative article about the recording of this classic album. According to the article this was a pivotal album for him. Columbia was all set to cancel his deal since the first two albums didn't sell. He had to really do something special to save his career. One of two DVDs contained in this special edition box set contains a programme entitled Wings For Wheels: the Making of Born to Run which documents the creation of the album with interviews and "archival performance and studio footage." It's a fascinating story of juggling. Juggling management, songwriting, production, performance, second- (and third-) guessing oneself . . . and through it all Bruce Springsteen grows up beyond his initial promise to become The Boss.
The other DVD is a live concert film, shot at the Hammersmith Odeon, London in 1975. It's a film that Springsteen thought was lost, with perhaps a song or two salvageable . . . but the whole concert is included, and it's potent. Like an explosion. The footage is grainy and dark, but there's no denying the excitement. Springsteen is a passionate performer and here in 1975 he was giving his all. He had "one last chance to make it real, to trade in these wings on some wheels . . . to rid[e] out tonight to case the Promised Land . . ." and it is with a slow steaming version of that song ("Thunder Road") that he begins the show. Whew! The concert features most of the tracks from Born To Run (six of eight) along with selected tunes from the first two albums and some choice cover versions. The band cooks, the Boss works hard, the Big Man (Clarence Clemons) blows his sax, and the audience eats it up. You will too. This is advertised as the only full-length concert film ever released of Bruce Springsteen and the E-Street Band's first 25 years, and it's a good one.
There is some concert footage added as a bonus on the first DVD, some of it captured in 1973 in Los Angeles, but the Hammersmith Odeon disc is the prize.
That's the video content. Exciting. Raw. Vibrant. And it's all put together in a sturdy cardboard box with a book of pictures from the sessions and the shows. But for me, it's the opportunity to reconnect with an old friend that makes this release special. The new digital remastering of the album is beautiful. It makes the sounds that made me sit up and take notice three decades ago seem fresh and new. Springsteen never sounded like Roy Orbison, he had nowhere near Roy's range, but he is every bit as thrilling a singer. There's a husky rawness to his voice that brings an immediacy to the songs. The production borrows from Spector, but brings it up to date, 1975 style. Which isn't to say that the album sounds dated in the least. Teenagers still yearn for cars and girls; and the road has lost none of its attraction. As long as there is a radio, or a tape deck, or a CD player, or (dare I say it) an iPod on which to crank up this vital music, Born To Run will have a place on the playlist.
Don't miss this essential version of a classic album. Born To Run: the 30th Anniversary Edition is a must have.
(Columbia, 2005)