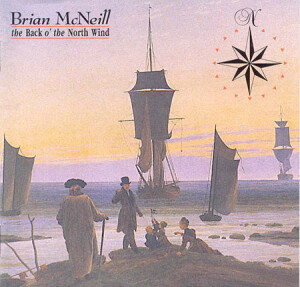 Debbie Skolnik wrote this review.
Subtitled "Tales of the Scots in America," this fine collection of songs and tunes is inspired by Scots men and women, some you probably have heard of, and some you likely have not, all of whom found their way to North America. Some wound up in Canada, some wound up in the United States but all have been immortalized in music by McNeill, on this CD and in a stage show based on it (or perhaps it's the other way round).
The opening song, the title song in fact, is an animated, up-tempo song of wanderlust. With its crisp, double-tracked mandolin solo opening and its chorus, "And it's rovin' for pleasure by mountain and stream, rovin' for sorrow wi' whisky for dreams, rovin' for fortune on a far foreign shore, at the back o' the north wind it's rovin' no more," the stage is set. It segues into a lively jig in 9/8 time called "the entail," named after a novel by John Galt. Galt made his way to Canada, where he founded the settlements of Guelph and Goderich in Ontario, and led the Canada Company.
"Strong women rule us all with their tears" was inspired by Flora McDonald, who is famous for helping Bonnie Prince Charlie escape after the battle of Culloden in 1746. She eventually emigrated to North Carolina and, in one of those strange twists of fate, saw her husband and son both put on the British uniform from which she had once helped Charlie Stuart flee. McNeill is joined by his close friend and former bandmate (Battlefield Band, Boys Of The Lough) Dick Gaughan on back-up harmony, for this poignant homage to McDonald. The guitars and fiddle accompaniment echo the quiet dignity of the song's heroine.
Alexander Stewart, footman to the aforementioned Bonnie Prince Charlie, was transported to America when he refused to sign a petition for mercy after he was captured following the failed Jacobite rebellion. An even worse fate awaited him there: he was sold as an indentured servant despite refusing yet again to sign papers permitting this. Luckily for him, he was bought by two Scots brothers living in Annapolis, Maryland, and then set free. He then made his way back to Scotland. "The rock stands firm against the tide" is McNeill's tribute "for people everywhere who are unjust imprisoned; may you all have the courage to deny authority to your jailers." The crisp drumming tinged with a military flair, and Highland pipes add immeasurably to this song.
A minor-key instrumental called "destitution road" laments the eviction of many Highlanders from their long-held lands; the road referred to in the title was the route they took to Ullapool, where they embarked for a new life.
One of the first American conservationists, John Muir, had his roots in Scotland. His father's unbending insistence on adherence to Calvinism caused a permanent rift between father and son. Muir headed off to California and found the beauty of the Sierra Nevada mountains both a tonic to his soul and an inspiration for his life. "Muir and the master builder" makes wonderful use of an expansive array of instruments, and includes liberal lashings of trombone. Dick Gaughan does a version of this song on his own album Redwood Cathedral As good as his version is, I prefer McNeill's.
A series of lively reels with the umbrella title of "the Atlantic reels" provides a lively break before the next song. In "the best o' the barley," McNeill's great-uncle Jim is immortalized. He went back and forth from Scotland to Michigan, enlivening his work with a dram whenever he could find one.
An adventurer named Ewen Gillies, who left Scotland for the goldfields of Australia, is recalled in "Ewen And The Gold." When he'd spent his earnings in Australia he went on to New Zealand, leaving his wife and children behind. He was gone long enough that his wife, convinced she'd been deserted, had remarried, so off he went to America to join the Union Army and fight in the Civil War – for a while. He then deserted, headed off to California with gold once again on his mind. He struck it rich, went back to Australia to get his children, then back to Scotland where he remarried and headed back to Australia. His new wife didn't much care for the country, so back to his point of origin, the remote Scottish island of St. Kilda they went.
Another pair of fine tunes, "drive the golden spike" (referring to the linking of the transcontinental American railway) and "Lang Johnny Muir" (yes, the same John Muir) herald one of the best songs on the album, "steel man." This was Andrew Carnegie, honored as the benefactor of libraries in both the U.S. and Scotland, and vilified for maltreating workers and union-busting in the American steel industry. This song rocks!
The final cut is a beautiful solo guitar instrumental entitled "the bridal boat," a quiet coda to a very fine album.
McNeil has the gift of bringing his songs' characters to life. He is a master storyteller as well as musician, and you will find that he marries his music very appropriately to a given story. There is not a weak track on this album and I highly recommend it (as well as McNeill's many other albums). Every one of his albums is different, but all are united by McNeill's passion for his music and high level of craftsmanship.
For more about Brian McNeill, visit his Web site.
(Greentrax, 1991)