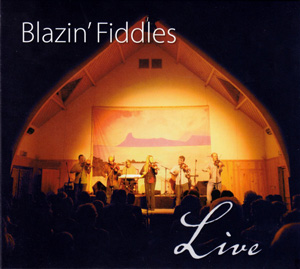 When our Editor and Publisher (also known as "the Chief") first broached the idea of my reviewing a Blazin' Fiddles release, I was hesitant. "A whole orchestra?" said I. "Of fiddles?" (Well, that's what he said it was.) Somehow I knew it wasn't going to be Henry Mancini.
Well, it's not. It's not-entirely-traditional Scottish music. The qualifier is because no one can convince me that seventeenth-century Scottish minstrels went trotting around the Highlands lugging pianos on their backs (besides the fact that pianos hadn't been invented yet), and Blazin' Fiddles make extensive and very interesting use of the piano.
So what does that do to the music? Well, to put it in the most concise way I can, from the very beginning this CD rocks. "Forgeron," which begins the collection, is an exceptionally lively set of reels, beginning with a traditional piece from Quebec, "Reel du Forgeron," that lifts the spirits no matter what mood you're in, and "I Laid a Herring" moves into a sequence of jigs that allows you to calm down – just a wee bit. The lilting "Fishponds" offers something of a respite, with a glimpse of that haunting quality that seems to be a special gift of Celtic music – or at least, Celtic musicians: the first part, "Lost in Fishponds," was written by an English band, and the second part, "Rippusillan Hambo," by a Finn. (Well, I warned you.) When we get back to "Colonel Thorckmorton's," which features some fine fiddling (by everyone, one at a time and sometimes in groups) in some fine strathspeys, suddenly all is happy again. The one and only quibble I have – and trust me, it's so minor that I hesitate to mention it – is the treatment in "Smissary," composed by Glenuig musician Allan MacDonald. It is such an archetype that it treads dangerously close to stereotype, which doesn't stop it from having that haunting quality I mentioned – but you can see it coming a mile away. It's lovely, but could have used a bit more edge.
Enough – you get where I'm coming from here. Let's talk about a couple of overriding impressions. The fiddling is remarkable – to have five fiddlers playing together and throwing out music with this kind of clarity and precision is awe-inspiring, to say the least. The keyboards add another dimension to the sound, with occasional assist from guitar: it's somehow meatier, more substantial than one might expect, as though you were set up for a sip of The Glenlivet and found yourself sipping Macallan's instead: the delight is there, but it's a different experience.
This is another album I just flowed along with. I'll readily admit that a performance has to be pretty bad to get a negative reaction from me (ask me sometime about the buskers and street musicians in the subway station the past few months – no, on second thought, please don't), but then there are levels of "good." This one's pretty high up there.
Those responsible for what is, incidentally, one of the better live albums I've ever heard in any genre (sorry, but I'm still listening, and there are some incredible passages here – goosebumps caliber), are Allan Henderson, Catriona MacDonald, Iain MacFarlane, Bruce MacGregor, and Aidan O'Rourke, fiddles; Marc Clement, guitar, and Andy Thorburn, keyboards, who got together in 1998 to showcase the regional styles of Scottish fiddling. I'd say they've gone a little beyond that.
(Blazin' Fiddles, 2007)