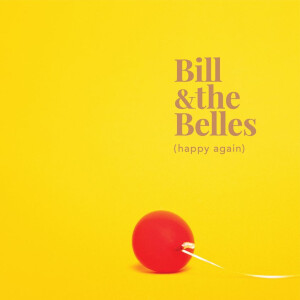 Bill and the Belles, based in Johnson City, Tennessee, are steeped in American roots music, and it shows in their delightful 2021 album Happy Again. It's one of those albums full of sad songs that only sound happy, as betrayed by the title song's full title, "Happy Again (I'll Never Be)." More on that in a bit, but first an introduction, because these folks have some serious musical pedigrees.
Starting with the Bill of Bill and the Belles, whose real name is Kris Truelsen, who wrote the songs and plays guitar and sings lead. A Colorado native now based in East Tennessee, he's got a Master's degree in Appalachian Studies, is programming director at Radio Bristol, housed in the Birthplace of Country Music Museum, (Bristol, Tennessee/Virginia), and is the creator and host of the PBS television program "Farm and Fun Time" which airs in 20 million homes throughout the South. He's joined by the Belles: Alia Yeagle on fiddle, an Alaska native, scholar of Appalachian studies and on the faculty at East Tennessee State University; and Aidan Vansuetendael on banjo and banjo uke, a native of South Florida now based in Nashville (who recently succeeded Helena Hunt in the group). Finally but not least is Andrew Small on bass. He plays lots of other instruments, has a Master's degree from Yale in double bass performance, has played with artists ranging from Sierra Hull to the North Carolina Symphony, and is now based in Floyd, Virginia, where he manages the world's largest selection of bluegrass and old-time recordings at County Sales Records, and runs the Handmade Music School based out of the Floyd Country Store.
Impressive, no? Their music is no less so, though it may come off as a bit fluffy at first. Maybe because they take the music but not themselves too seriously. Once you start listening closely to the music in general, you find deep undercurrents of all kinds of Americana. The title song and "That'll Be Just Fine," for example, sound like what you'd get when a Tennessee stringband tries its hand at early Motown style songs. The latter is a slow shuffle with lovely organ fills on the Hammond B3, and the former, well, it's a great intro to the music of the group and the album's theme. And that theme waltzes around Truelsen's recent divorce, which turned out to be a rich vein of musical inspiration.
"I used to walk tall, had a skip in my step / But now I am drowning in a sea of regret …" Truelsen sings without a touch of regret in his voice, with the Belles' background "Ooooo's" and "yeah yeah yeah's" emphasizing things. Oh and note the little quote of the opening lick from the pop chestnut "Walk Right In" on the guitar:
But there's more than soulful stringband tunes. There's the peppy bluegrass/swing jazz blend of "Taking Back My Yesterday," with some tight fast three-part harmonies on the verses, no mean trick at that tempo, and some hot fiddling from Yeagle. And a bit of a sly reference to one of Willie Nelson's oldest hits when Kris sings "Funny how quickly your memory fades, gave me back my yesterday …" There's the peppy calypso of "People Gonna Talk" about the hazards of living in a small town. There's the Woody Guthrie-style taking blues of "Sobbin' The Blues," with some hot fingerpicking on the guitar and some fine bass from Small. Plus a couple of great songs that could've been penned by Jimmie Rodgers (but all of this album was written by Truelsen): "Blue So Blue," with Yeagle's fiddle out front, and the closing track, which is appropriately a waltz, "Good Friends Are Hard To Find," a parlor ballad of sorts with a lesson about choosing your friends.
I think my favorite is the two-part song "Get Up and Give It One More Try." The first half is a languid ballad with just guitar and bass accompaniment, and then it picks up tempo to a fast shuffle, adds perky banjo and fiddle lines and really swings us out the door on the way home from the dance. It has lovely full harmonies all the way through, a scatting vocal bridge from Truelsen and a nifty fiddle solo from Yeagle – just fun all the way.
Speaking of fun, there are also a couple of ditties that started out as jingles on Truelsen's radio show: "Bye Bye Bill" about a beer-drinking whale, with Small's deeeep bowed bass way out front; and the possibly double-entendre of "The Corn Shuckin' Song," again with Small's bass out front, this time with a walking bass style lick that will remind you of Roger Miller's "King of the Road."
Happy Again, which by the way has excellent clean production by Teddy Thompson, is an excellent showcase for Bill and the Belles that deserves attention outside this group's home base. It's fun music on themes ranging from silly to serious, and it synthesizes a wide swath of American styles from jazz to bluegrass and beyond.
(Ditty Boom Records, 2021)