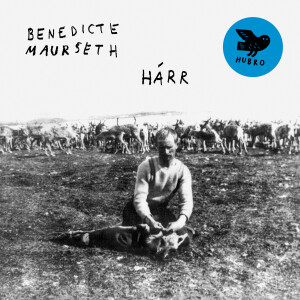 It's doubly true that Benedicte Maurseth is a Hardanger fiddler. She plays the Hardanger fiddle, and she is from the western Norwegian district of Hardanger. Her latest album Hárr is an homage to the wildlife and mountain people of her home region, where she has spent a lot of time hiking in the subarctic landscape of Maurset in Eidfjord, near Hardangervidda National Park. (Hárr is the Norse name for Hårteigen, a mountain in the park.) Here's what she says about how that experience has informed her art:
In many ways creating music and hiking are the same thing, at least to me – they evoke an awareness of beauty, deep listening and presence when our spirit is open. You can experience them alone or share them with others, in silence or in conversation. Both require time, effort, patience and repetitive continuity. Both are also a reminder of something else, something larger than the individual self, that makes one feel forever humble as a human being.
On Hárr she combines elements of Norwegian folk music, free improvisation, American minimalism, and extensive use of musique concrète – that is, sounds recorded from the environment. The recorded sounds she uses as raw material include "special guest appeareances" from, as she lists them in the credits: reindeer, European golden plover, bumblebee, running water at Tinnhølen, rock ptarmigan, rough-legged hawk, great snipe, Arctic loon, common crane, mountain owl," and the voices of four individuals including her great-grandfather and great-great-grandfather. The music is made by Maurseth on Hardanger fiddle with Håkon Mørch Stene on vibraphone, marimba, percussion, electric guitar, and electronics; and the ubiquitous Mats Eilertsen on double bass and electronics. Guest musicians include Jørgen Træen, electronics; Rolf-Erik Nystrøm, saxophone; and Stein Urheim, langeleik, harmonica, electronics, samples, and percussion.
The first time I heard "Reinsdyrbjøller" I was moved to tears. As I sat bundled up on a cold damp January day, the random musical clankings of the reindeer bells as they grazed, combined with the sounds of Maurseth's Hardanger, plus vibes and other drones was so exquisitely melancholy and hopeful at once that I was nearly overcome. I've listened to it many times now and in the right mood it still has that effect.
But that's track 3. Before we get there we first encounter the minimalist soundscape of Augnast, Maurseth's ghostly fiddle joining Eilertsen's bowed bass and gently struck marimba. Both here and on the next track, the album's longest and its first single "Heilo," the marimba and vibraphone sound a lot like an Indonesian gamelan. "Heilo" moves through many moods in its seven-plus minutes, frequently accompanied by the whistling peal of what I think is the plover. I could try to describe this wondrous piece, with its collage like elements of saxophone, percussion, birdsong and more in addition to the hardanger, but it's best you just close your eyes and listen.
Next up is that magical "Reinsdyrbjøller." Of darker tone is "Eidfyrder," Eilertsen's bowed bass and electronics providing a deep, deep drone upon which Maurseth plays a haunting tune that I would guess is related distantly to a folk dance. This is the kind of piece, pioneered by Nils Økland, that introduced me to this sort of minimalist, droning, folk-based improvised music originating in the northlands. Without which my life would be infinitely less enjoyable.
The title song "Hárr" is not just descended from folk dance, it actually is a dance tune. The multilayered rhythm section lays down a six-beat rhythm for the fiddle, with a bit of a bass solo in the middle, kudos to Eilertsen. On "Hreinn" we return to the sounds of the natural world, especially the common or Eurasian crane, which along with some other birds provide a backdrop to a minimalist composition mostly featuring the hardanger and bowed bass, which here produces almost mechanical sounds like trucks gearing down on a nearby highway. The Hardanger slowly picks up the pace until it's laying out a series of related tunes that draw on Celtic jig and Nordic polska. And then the album wraps somewhat as it began, with a tone poem with the lovely title "Snø over Sysendalen," which translates pretty easily to English – Sysendalen being a valley in Eidfjord. (Interspersed are two short tracks of sound collages, spoken dialog combined with nature sounds and improvised music.)
In case you can't tell, I'm absolutely smitten with this album. From the very first notes it became a welcome piece of music in my collection, and it has a place of honor with the likes of the Nils Økland Band's Kjølvatn and Lysning as the albums I'll turn to for inspiration, hope, and solace.
(Hubro, 2022)