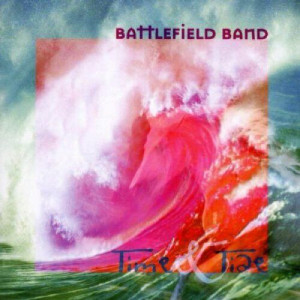 One of the longest running Scottish folk bands, Battlefield Band celebrates three decades of music touring and recording. Time & Tide, their latest album, again sees a change in the lineup with the departures of Karine Polward and John McCusker. Pat Kilbride has returned after a 25 year absence. Young Shetland fiddler Alistair White from the Isle of Lewis takes up the fiddle baton on McCusker's departure. Founding member Alan Reid and piper Mike Katz stay put.
As far as Battlefield Band lineups go it's perhaps early in the day yet to guess their staying power and compare them to any previous grouping. What's obvious is that the Battlefield Band is a functional working unit on the move. Time & Tide harks back to their 1980 album Home is Where the Van Is, when Ged Foley came in. This album has a similar transitional feel to it and a sense of regrouping and reshuffling the deck is evident.
Pat Kilbride's return is an interesting situation. The migrant Irishman has experimented with John Martyn-like jazz rock on his solo album Devil May Care Dreamer and reinvented himself as an Irish semi-traditional singer/songwriter in New York, forming the Kips Bay Ceili Band and releasing two fine solo albums in the interim. His vocal contributions – here the lilting Andy Irvine-esque 'Camden Town' and 'Whiskey from The Field' – feature his warm voice and his stirring guitar and cittern work, and admirably suit the ensemble sound. Alastair White's fiddle work blends in nicely too, and no mean tunesmith, he contributes the title track and the intriguingly titled 'If Cadillac Made Tractors'. Alan Reid's songwriting yields 'The Bonny Jeannie Deans' complete with a contagious hookline, and Mike Katz even gets to show off his dancing shoes on 'The Earl of Space'.
Time & Tide has enough of the familiar Battlefield Band hallmarks to slot easily within their recorded catalogue. They're a sight mellower than before but the energy ante is well in place, and neither long term fans nor new ears should claim disappointment with this excellent collection. This is a hearty reaffirmation of the Battlefield Band's lasting stature on the Celtic music scene.
(Temple Records, 2002)