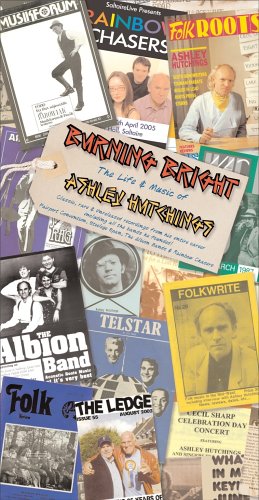 The title comes from the William Blake poem, "Tyger, Tyger" and the reason is…that Tyger is Ashley Hutchings' nickname. Having said that…let me next alert all and sundry that Free Reed is the greatest box-set compilation maker in the world, nay, universe! There is such a wealth of material in one of their sets that to properly appreciate it one must spend quality time with it to savour each mouth-watering delectable. And it's not simply the music, although they are called Free Reed MUSIC, but the posters, and especially the books that are prepared and accompany each package are filled with enough photos, posters, memorabilia and biographical text to keep all your senses busy. Stick your nose in the book…it even smells good! One warning though…if you don't like the sound of the concertina, approach this one carefully…but…the concertina grows on you, and this is five hours of definitive British folk music.
Divided thematically into four CDs of almost 80 minutes each Burning Bright solves several problems. First of all, Hutchings has already released a broad collection of his own archival recordings (The Guv'nor series) so Free Reed had to be creative in packaging an anthology of his work. Well, Free Reed is nothing if not creative. The first CD is titled Ashley's Almanac-a Hutchings History with the sub-title 1968-2005: Portis Green to Chesterfield. It follows the history of Hutching's musical endeavors from London's Portis Green where The Ethnic Shuffle Orchestra turns into Fairport Convention, and through generations of musical evolution including The Cecil Sharp Centenary Collective, The Albion Christmas Band, Steeleye Span and more. Songs are introduced by Ashley's voice reading sonnets and poems, Blake's "Tyger, Tyger" leads off. The songs may be familiar to long-time Hutchings fans but the renditions vary from rare live tracks, Fairport tunes done by Albion Band, duets, and conglomerations. The sound is wonderful considering the many sources used for this gathering.
The scope of the songs included is tremendous both in the time-frame represented by the recordings (anywhere from 1968 to 2004) and in the time frame of the actual songs. There are Child Ballads, sitting side-by-side with Bob Dylan songs, compositions from Richard Thompson and David Swarbrick, Morris dance tunes…you name it, and Ashley Hutchings played it somewhere in his career. AND what's more…an example of it is likely to be included on Burning Bright.
Ashley's Almanac includes "Working Underground," a sort of autobiographical tune Ashley wrote for inclusion on an Italian tribute CD dedicated to Fairport; "Coming In To Land," a sonnet; "New St. George/La Rotta," recorded live with Richard Thompson [!!!]; "Telstar" (THAT'S RIGHT! "TELSTAR"!!!) the twangin' guitar hit, taken at a leisurely (and, strangely, appropriate) pace and much, much more. And that's just the first CD!
The book provides track notes for every song. One slight complaint is…a lack of any list of who the heck plays on each track. Sure, the cognoscenti will be able to piece it together, I suppose, but with all the work that went into compiling this whole thing…are we wrong in expecting a cast list? The notes are informative about virtually everything else!
Disc Two is entitled Dance and Drama – Ashley On Stage and features close to a dozen different amalgams of musicians performing under a variety of names like Albion Dance Band, The Morris On Show, Albion Christmas Band, Albion Country Band, The Ashley Hutching Dance Band, Ashley Hutchings' Big Beat Combo and so on. Again the songs played are various although the theme this time is truly "dancing." Ah, those English eccentrics do love to cut a rug!
Titles like "Dancing til Monday Comes Around," "Gloucester Hornpipe," "Sharp On Morris," "Staines Morris," "Rapid Polka," and "Spirit of the Dance" will give you some idea of the breadth of Ashley's interest in things terpsichorean. There are also jigs, reels, country dance tunes and even "Twistin' til Monday Comes Around." Your feet will be moving as you listen to disc two…that's for certain.
An entire page of the book is devoted to the classic art of album sleeves. Ah the good olde days, when 12″x12″ packages gave inspiration to artists and writers to fill the cardboard with all sorts of creative design. The mini-sized digi-pack, or even worse…dreaded jewel box insert provides such a miniature surface that my 50+ year-old eyes simply cannot read the liner notes. Free Reed's designer's agree with me. Listen to them… "Although the reduced size of a CD slipcase virtually brought an end to the art-form, there was a time when the sleeve design of an album was a significant matter. By the late seventies, there were almost twenty "Album Cover Albums" available–books whose sole purpose was the reproduction of LP sleeves.
"Ashley remarked how the albums he has been involved with have a certain continuity of design: 'I have always felt that the packaging was very much a part of the experience of listening to an album; it should reflect the mood of the record and tell you what you want–or need–to know about it.'"
Bravo, then, to Free Reed for creating, in their box-sets, the perfect album cover.  Burning Bright is a many sided piece. Not a fiddle case like Swarb, nor a brightly shining container of a cardboard model of the Festival like Cropredy Capers with its programmes, etc. but the Burning Bright box is rather a collage, much as the CDs contained within are a sound collage of the career of Mr. Hutchings. And the book has the same style to it. A huge pastiche of everything "you want–or need–to know." Except, that is, for who the friggin' band is from track to track!
Authored By Ashley – Produced By Hutchings! is the title of the 3rd disc which contains twenty-one of Hutchings's own compositions done by, well, the usual suspects. "On Seeing Grace Slick," by A.H., "If It Feels Good, You Know It Can't Be Wrong," by Fairport Convention, "Press Gand," "The Shipwreck," "When My Son Has Grown," and others by a variety of Albion Bands, and more including Martin Carthy's rendition of "Lovely Joan." Twenty-one tracks from thirty-five years of writing and playing!
The fourth disc is called Trad: arr. Hutchings – The Folk-Rock Godfather and contains versions of traditional fare as performed by one or another of Hutching's bands. The Cecil Sharp Centenary Collective's "Matty Groves," Steeleye Span's "Captain Coulson," Shirley Collins (with John Tams) rendition of "Hopping Down In Kent," and Fairport Convention's "She Moves Through the Fair." All traditional songs done up in Hutchings inimitable style. It's a wonderful collection, and includes a recording done in 2005! That is just how current this anthology is!
There is such a wealth of material gathered here, that to do it critical justice, one would have to spend half a year listening to the set, picking apart selections and considering things that didn't make it, but suffice it to say…Burning Bright covers as much of Ashley Hutchings' career as anyone possibly could. And after all, it's simply a "celebration" of that career…not the final word…it's a career that continues! Free Reed has also included a FIFTH CD called Visions of the Daughters of Albion which includes songs sung by Judy Dyble, Sandy Denny, Gay Woods, Maddy Prior, Shirley Collins, and more. This is another bonus of the Free Reed way of creating box-sets. You ALWAYS get more than your money's worth. You should not miss this stunning addition to Hutchings' oeuvre.
Free Reed Music, 2005)