Arthur Lyman, who passed away in February 2002 when he was 70 years old, was a vibraphone and marimba player. He popularized a weird sort of lounge Polynesian music in the '50s and '60s which eventually took on the sobriquet exotica. The albums he made were beautifully recorded, with elaborate instrumentation and sound structures. There's a fascinating article here which describes some of his recording techniques, but suffice it to say he was the King of lounge music. Collectors Choice has launched an extensive re-issue plan for Lyman's albums. A series of nine twofer CDs will represent 18 of Lyman's albums on CD for the first time.
Lyman was born in Hawaii to a Hawaiian mother and a French/Belgian/Chinese father, and spent every day after school learning to play Lionel Hampton solos on a toy marimba. In 1953, aged 21, he joined Martin Denny in a trio with bassist George Kramer. He soon formed his own band, and had a million-seller with the album Taboo in '57. The albums sent to Green Man Review begin with Bwana Á / Bahia which followed Taboo in 1958 and '59 and are subtitled, "The Exotic Sounds of Arthur Lyman" and "MORE Exotic Sounds …" How exotic are they? You might well ask.
Bwana Á begins with some odd percussion accompanied by sound effects of birds and bells. Lyman's group comprised Lyman on vibes, xylophone, marimba, bird calls, congas, bongos, guitar, and any number of percussive instruments; Alan Soares on piano, celeste, glockenspiel, guitar, clavieta, marimba, percussion; John Kramer on string bass, bass guitar, percussion, ukulele, guitar, bird calls, flute and clarinet, and Harold Chang playing percussion, marimba, xylophone and bass. Together they have a deep and rich sound that seems to these modern ears quite contemporary. So it must have been ahead of its time in '58, when folks were digging Sing Along With Mitch and the soundtracks from Gigi, South Pacific and The Music Man. I recall my parents being quite captivated by Mitch Miller, and I don't recall this abstract music from an unmade Hawaiian movie showing up on their turntable!
The tunes on both albums included on the first set are a broad-based bunch. There's the traditional Japanese "Moon Over a Ruined Castle," "South Pacific Moonlight" complete with waves breaking on the shore, an exotic take of "Malagueña" (piano and tambourine based) and "Colonel Bogey's March" done as a dischordant jazz tune on vibes, with plenty of jungle fauna squawking in the background, and turning into a quick tempo march and then a fantasy. It's weird but enchanting.
Bahia is more of the same. I guess that's why they called it "exotica."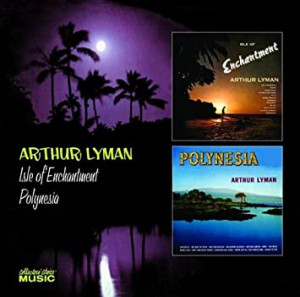 The second disc we received includes Isle of Enchantment and Polynesia, two albums hailing from '64 and '65. So now Sam the Sham was singing "Wooly Bully" on the radio. Bob Dylan's "Like a Rolling Stone" cracked the four-minute single limit. The Rolling Stones couldn't get no "Satisfaction," and Lyman and his band were providing renditions of Henry Mancini's "Charade," Dmitri Timopkin's theme from "The High and the Mighty" or the jazz of "Swingin' Shepherd Blues." These quasi-standards were mixed in with more exotic fare, and a handful of originals done in the same style. Plenty of percussion, and the textures of hammered melody instruments gives everything an other-worldly sound, exactly what Lyman was looking for. Maybe he'd add an accordion, but even though the personnel of his band would change through the years, the instruments they played didn't, nor did the vision of their leader.
You put these CDs on, and you are transported out of the city, out of this world and into another world. A fantasy world perhaps, but one where nature still has input — monkey sounds, bird calls, wind and waves, and the exotica of Arthur Lyman's music. It's all very esoteric, and it still sounds good … maybe not to everyone's taste, but you can't argue with the music's quality and mystique.
(Collectors Choice, 2008)