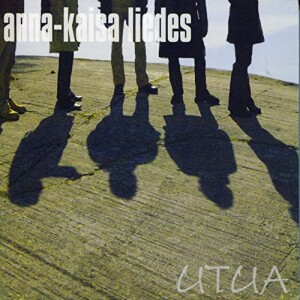 Singer Anna-Kaisa Liedes has been a part of the folk music scene in Finland for 20 years. Best known for her work in groups like Niekku and MeNaiset, Liedes has spent her career blending Finnish and Karelian song traditions with vocal improvisation and experimentation. She continues in this fashion with her new CD and new backing band, both called Utua. Ape Antilla (bass), Kristiina Ilmonen (percussion and flute), Topi Korhonen (guitar) and Vilma Timonen (kantele) provide solid support throughout the album.
Most of Utua consists of enjoyable Finnish folk songs, primarily in a tradition called rekilaulu, or "dance song." Verses in rekilaulu songs typically have two sentences, where a metaphor from nature is used to represent a human emotion. However, the simpler, easier-to-digest songs are overshadowed by two songs in which Liedes abruptly elevates the intensity of her vocals, boldly daring her audience to go along with her. I found the first of these two songs to be quite powerful, but these songs will generate very strong and very different reactions from different listeners, regardless of how they like the rest of the disc.
The opening track "Usein Miun Utuisen (Often Misty Me)," a spell invoking the forces of the earth, begins with just a delicate riff on the kantele. The guitar comes in with the vocals, and things gradually build up at first. Then the bass and percussion come in at full force and Liedes' vocals become louder and more impassioned.
"Usein Miun Utuisen" is followed by the jovial, upbeat love song "Älä Sinä Laula (Don't You Sing)," easily the best song on Utua, gliding along effortlessly as Liedes scat-sings over Korhonen's backing vocals and fast guitar picking. "Minkähän Takla (I Wonder Why)" also moves along nicely, although this time the groove is slower and more dreamlike. A kantele, guitar, and mbira (a type of African thumb piano, played by Liedes herself) may seem like an odd combination of instruments, but they blend together very well here, and conjure up images of a relaxing day on the beach. The next song "Viimeistä yötä (For the Last Night)" is a subdued, sad-sounding ballad about belonging.
The fifth song, "Lumivalkija (Snow White)," is the first really challenging song on the album. As Topi Korhonen described it, "This is not Disney's Snow White," but rather a song about a woman mourning at her lover's deathbed. It begins with Liedes singing quietly and unaccompanied, but soon Timonen colors the arrangement with a steady, mostly repetitive refrain on the kantele. Then Anttila starts improvising on the upright bass. As the tension builds, the picking on the kantele turns into strumming, the bass becomes more dissonant, and Liedes' vocals become feverishly unnerving. Then, without warning, Liedes emits a blood-curdling wail like a banshee having a really bad day. Obviously, Liedes intends to stun the listener at this point, and while she may lose some of her audience as a result, the wailing does achieve its desired effect. The music may remind some rock fans of songs from Big Star's Third/Sister Lovers, where the tension reaches a boiling point and the structure holding the song together is deliberately allowed to dissolve. "Lumivalkija" will make or break Utua for most listeners.
The jazzy "Rannan Kivellä (On the Rock by a Lake)," about an unfaithful lover, begins the second half of the disc. Ilmonen improvises a bit on her flute, alternating between more straightforward solos and mimics of bird calls, while Korhonen uses his guitar as percussion. "Läksin Koista (I Left My Home)" combines an Ingrian melody with text written in the Kalevala meter. The musical arrangement is dominated by a frequently repeated guitar line, while the kantele and flute weave their way through the arrangement.
Liedes combines her own lyrics with music from the Kanteletar on "Haitra," the disc's other challenging track. The song recounts the despair of an abused girl, and begins with Anttila scraping out some ominous notes on his feedback-drenched bass. "Haitra" starts out fairly softly, with a number of quiet pauses, but steadily builds up. Ilmonen's percussion becomes particularly frenetic as the song goes on, and then Liedes takes another sharp left turn with her singing. This time, she screeches out some random syllables — or at least, they sound random — at an ungodly register. The screeching might remind some listeners of Yoko Ono or a young Kate Bush, but I'm not sure the analogy would really hold up to much scrutiny. The music holds together after this point in the song, though, and the song builds up again to a rousing finish complete with driving percussion and many layers of vocals.
The tone of Utua calms down again with "Toisko Tuuli (Would the Wind Bring)." Despite a nice melody and pleasant arrangement, "Toisko Tuuli" does not stand out as being particularly distinctive when placed next to as jarring and disturbing song as "Haitra." The album closes with "Yö On Kylma (The Night Is Cold)," a song about loneliness featuring guest kantele player Timo Väänänen from the band Loituma. The lyrics, written by Eija Tuomela, are the only fully non-traditional lyrics used in Utua. Väänänen's kantele provides most of the accompaniment, but Anttila supplies the drama by ominously plucking the same note twice in succession at the beginning of each measure.
Certainly, eight of the 10 songs on Utua will appeal to anybody who likes the singing traditions of Finnish folk music. While I'd probably have to place Sanna Kurki-Suonio a little ahead of her, Anna-Kaisa Liedes ranks among the very best vocalists in her genre. Her backing band consists of four excellent musicians, and the material chosen for the CD is strong. The listeners' overall reaction to the disc, however, will be determined largely by "Lumivalkija" and "Haitra." People who like to be challenged by music, and perhaps even caught a little off guard, will probably embrace Liedes' vocal acrobatics, but those of a more squeamish disposition will not. Personally, I think "Lumivalkija" at least will reward anyone who allows it the opportunity to grow on them, and that Utua as a whole will satisfy anyone who is patient and a little bit adventurous with the music they listen to.
(Sibelius Academy Folk Music Department, 2004)
[Scott Gianelli]