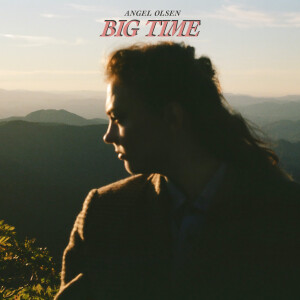 Angel Olsen has been on quite the journey. Since before her 2012 full-length debut Half Way Home she's been pouring her life experiences into obliquely confessional songs. In the ongoing process of finding her voice and growing as an artist, she's come to terms with her own queer sexuality, come out to her adoptive parents about that, had both of them die shortly thereafter, and gone through the unexpected end of her first same-sex relationship.
Olsen started out as a folk oriented singer songwriter with other influences, as I noted in my review of Half Way Home:
With a fingerpicked gut-string guitar, a little accordion, some bass guitar and brushed snare, songs like the opener "Acrobat" are more jazz than folk in presentation. It's a brave and stunning vocal performance, this double-waltz love song – like pretty much all of these 11 songs, really. She lays it all on the line, vocally and emotionally.
Her sophomore release, the cathartic Burn Your Fire For No Witnesses flirted with country and indie rock but the songs were just as personal. As I noted in my review, "Not even excepting the ironic, slightly arch finale to "Hi-Five," every song on this album delves into themes of loneliness, alienation, and frustration toward love that seems to have gone wrong at every turn." Her following two albums My Woman (2016) and All Mirrors (2019) were more indie rock than indie folk. They were even more critically acclaimed than the first two full-lengths and grew her audience, too.
Now in her mid 30s with new vistas of honesty and grief in her life, she comes back to a warmer, more intimate and vulnerable place with her music. Big Time is a country album of sorts, largely written in Southern California's Topanga Canyon, that bastion of country-rock and folk, full of crying pedal steel guitar and pulsing organ, strummed acoustic guitars and languid waltz-time songs of love and loss and perhaps more love.
Olsen grew up a fan of punk and noise, and her music has generally had a big dynamic range with plenty of quiet verses and loud choruses. There's less of that here, replaced by a hazy feel of sadness and introspection. There's "noise" too but it's more subtle, provided by strings or soughing organ rather than crashing cymbals and layered electric guitars. "Dream Thing" is languid and, well, dream-like, Olsen puzzling out the logic of things her lover said to her in her dream. The plodding sad waltz "Ghost On" points the finger at a fickle hearted lover over a stark arrangement of softly droning organ and sparsely plucked guitar chords, over which Olsen sadly intones verses like this one: "Tell me how I should feel, how can this heart learn how to heal / When should I believe the things you say, you change your mind from day to day / and I don't know if you can take such a good thing coming to you / And I don't know if you can love someone stronger than you're used to …"
"Take it one day at a time this is how it works for me now," Olsen says to her lover over the phone from far away on the road in "This Is How It Works," another slow country waltz. There's what passes for a soaring chorus on "All The Good Times," which opens the album. It's a quiet, slow country soul song with horns, organ and pedal steel all providing delicious accents as she ponders that unexpected end to an affair. Just to keep things in perspective, she follows that up with the sweet love song "Big Time," a country soul song in waltz time about her new flame, employing more of her vocal yodel with the upbeat chorus, "I'm loving you big time, I'm loving you more …"
Significantly, Olsen ratchets up the sound to match the emotions on a couple of songs. On "Go Home" she channels her sadness into something akin to anger the way she did way back on Burn Your Fire, her voice an indie-rock wail: "I want to go home, I don't belong here, nobody knows me … How can I go on with all the wrong dreams. We watched it all burn down and did nothin', nothin'." On "All The Flowers" the backing string section flirts with sour dissonance as she sings about romantic disillusionment in her high register, an almost childish sing-song incantation.
The album pivots around the sixth track "Right Now," the most Topanga Canyon of all these songs with its folksy verses and plodding country rock choruses. It's a song of confrontation, "All those times are gone, I'm telling you right now, right now," she cries at the end, but it's unclear who she's telling this to … maybe herself. And instead of the country-ish pedal steel solo that carried us home at the end of "This Is How It Works," we get ear-stabbing electric guitar fills.
The mood shifts to cautiously hopeful on the last two songs. From the opening chord, it's apparent that "Through the Fires" is a special song. Quiet piano chords are backed by mallet-struck toms with heavy reverb, a sound that's a universal stand-in for a lonely heartbeat.
And as the album ends with the jazz-influenced "Chasing The Sun" she's driving away again, singing in her hushed voice, but the strings and piano sound hopeful rather than lost.
The external trappings of Angel Olsen's songs may not always resonate with me, but her words nearly always do. From the beginning she has been the Joni Mitchell type of songwriter who channels her life and emotions into her songs in interesting and creative ways. The songs on Big Time really hit home for anyone listening closely, and for those like me who prefer a more organic setting with, dare I say it, Americana stylings of organ, horns, and pedal steel, it's a perfect combination. These songs seem to suggest that Olsen may find happiness, but I doubt she'll ever get complacent.
(Jagjaguwar, 2022)
The three pre-release singles "All The Good Times," "Through The Fire" and "Big Time" are presented in a short film, Big Time Film.