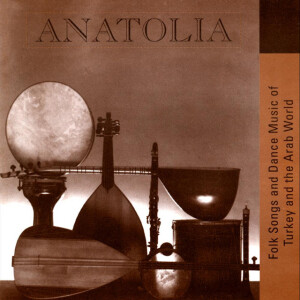 These two CDs have been sitting in my "to review" pile for quite a few weeks. They made it to the top this time because the characters in Birds of Amber, which I just reviewed, refer to Darweesh's music with great reverence. I decided to review them together because they both feature ensembles based in the U.S., playing music from the Middle East and playing it well, without trying to "Westernize" it.
Named for the peninsula that comprises the greater portion of the republic of Turkey, Anatolia is just one of many musical projects of Edward J. Hines, who lives and works in Western Massachusetts. He spent a year in Turkey in the early 1980s on a Fulbright Scholarship studying composition and ethnomusicology with the well-regarded composer Ahmet Adnan Saygun. This experience seems to have had a lasting impact. According to Hines's Web site, Anatolia is a group of musicians dedicated to the preservation of folk, classical and dance music traditions of the Middle East. Founded in 1994, the band has produced just three CDs, the other two being Middle Eastern Songs & Dances for Children and Lost Songs of Palestine. In addition to Hines, Anatolia features four other musicians: Taner Okatan playing saz (long neck lute) and darbuka (dumbek); Michael Moushabeck on tabla, daff, tambourines, and doli; Jenny Kilgore on violin and kasik (spoons); and Bruce Rawan on kanun (zither). Most of these performers also sing, and while most of them are not (apparently) of Middle Eastern ancestry, they have mastered the distinctive vocal styles of that region quite well.
Folk Songs and Dance Music of Turkey and the Arab World runs just under fifty-two minutes long and includes eleven tracks ranging in length from just over three to just over seven minutes. Nine of these are from Turkey or Anatolia (the rather sketchy liner notes use the two interchangeably). The liner notes include lyrics in Turkish and English for the eight songs in this group. The remaining Turkish piece is an instrumental for the saz. I recognized the melody for the final track on the CD, "Oy Nanayda," a song from Artvin in northeastern Turkey, from its use on a Boiled in Lead song on Antler Dance – "Rasputin." I always knew those boys were eclectic! Somewhat inexplicably, the other two pieces on this CD are Arabic. "Fellaheen" is a farmers' song from the Nile Valley, while "Cane Dance" is an instrumental. I found these a bit more complex in their instrumentation than the other pieces.
Folk Songs and Dance Music of Turkey and the Arab World is an entertaining and well-produced CD of traditional Middle Eastern music. My only real disappointment is the minimal background information available on the music and the musicians either on the CD itself or on Mr. Hines's otherwise splendid website. If Anatolia has the goal of introducing this music to Western audiences, I would hope that they would provide some documentation beyond the minimal liner notes.
(Anatolia Productions, 1999)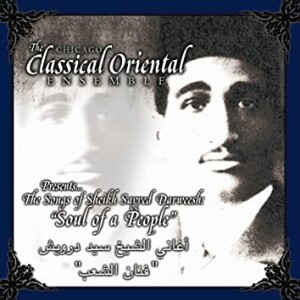 Although it was also produced in the U.S. (Chicago, to be exact), "Soul of a People" has a more authentic feel to it. In part, I believe this is a consequence of the care that went into the packaging. The extensive liner notes include biographical information about the composer, background about this particular CD and about the Chicago Classical Oriental Ensemble and the label, Xauen Music, as well as lyrics for each song in Arabic and English. About the only information missing from this thoughtful presentation is further context about each song, e.g., date of composition or first performance and musicians and singers featured on this recording. Recalling the notes that accompanied the Sivan Perwer CD I reviewed a while ago, I would also appreciate transliterated lyrics, that is the English phonetic spelling of the Arabic. Since I don't know how to read Arabic script, I can't directly associate the words I hear sung in Arabic with their meaning.
Born in Alexandria in 1892, Sayyed Darweesh learned Arabic, Persian and Turkish musical styles while traveling with a performing troupe around the Middle East and began composing his own works after World War I when he settled in Cairo. He wrote the scores for thirty musicals as well as numerous stand-alone songs that became hits as a result of their availability on vinyl and their regular air play on radio stations throughout Egypt. He was active in the Egyptian nationalist movement and wrote the current Egyptian national anthem, "Biladi, Biladi" ('My Homeland, My Homeland'). In terms of his popularity and his influence on modern Egyptian music, I would compare him to early twentieth century American composers Cole Porter or George and Ira Gershwin. Darweesh died of an apparent drug overdose in 1923.
Moroccan born musician Hicham Chami founded the Chicago Classical Oriental Ensemble in 2003 for the purpose of performing and recording music from Arabic, Turkish, Levantine, Armenian and Sephardic traditions. Like Edward J. Hines, Chami is involved with a lot of musical projects, of which this is just one. Soul of a People is the Ensemble's first and to date only recording. It features nine musicians and six singers. Three of the musicians are violinists, another plays the cello, and in fact these instruments dominate the sound on this CD. If you have listened to the live version of "Kashmir" on Page and Plant's No Quarter, you'll get a sense of the instrumentation. I find it really enjoyable!
As I mentioned above, Darweesh left an extensive repertory of compositions, covering a range of styles and topics. The ten songs Chami selected for inclusion on this CD are intended to be representative of that range. The first song, "This is What Happened," refers to the Egyptian nationalist movement that Darweesh supported so passionately during his lifetime. The second, "Safely, Safely," is about Egyptians traveling to America and Europe, then returning safely to their beloved homeland. Following a few straightforward love songs, "Woman of Today" is a strong feminist anthem, asking: "Why can't we be like Western woman, and fight without restraint throughout our lives?" The last two songs on the CD, "The Porters" and "Oh, Admirers of the Prophet," have a clear religious (Muslim) message. All of the pieces have a very rich, full sound, reflecting the size of the ensemble and the complexity of the arrangement of instruments and voices. "Woman of Today" is the only song in the collection to be performed by a solo female voice; the rest of the songs feature male and female voices. My only complaint about this CD is that it is far shorter than I wanted it to be, coming in at less than forty-two minutes total.
(Xauen Music, 2006)