Big Earl Sellar wrote this review.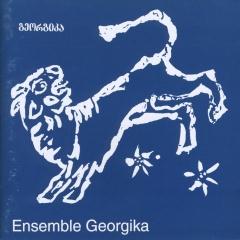 The former Soviet Union is one of the least explored areas in terms of traditional music, encompassing hundreds, if not thousands, of regional music genres. We have only begun to scratch the surface of the gems that Russia has to offer us. On these discs, Face presents us with several facets of the music of the peoples of this vast country.
Ensemble Georgika is a vocal choir with some musical accompaniment (chiefly on the panduri, a three string lute). The ensemble singing features very broad-ranged singing, in which voices often alternate between voices (baritone to soprano, for example), creating a rich polyphonic style. Indeed, on many of these tracks it's hard to believe that only 13 singers are creating such a dense oral sound (it often sounds like a hundred voice choir!). The songs are divided into five sections: Table Songs (songs for guests); Cradlesongs (lullabies sung largely by women); Work Songs (call and response); Ritual Songs; Liturgical Chants; and Tusheti, from the mountains of Eastern Georgia. The Tusheti are of particular interest here, as the singing style mimics normal speech, while still carrying a melody: "Khvaramze" is a stunning example. The wagon-driver's song "Urmuli," showing a distinct middle-Eastern influence, is also notable. Most of the songs are quite slow in tempo, and often the soloists are lost due to their proximity in the mix. But this is still a nice early morning disc, soft and yet with enough force to get you going.
Ensemble Mzetamze is a six woman ensemble, formed in 1986, to keep alive the traditional songs of women in Georgia. Georgian society separates the musical roles of men and women: men sing the mundane, the welcoming and work songs; women sing the songs of ritual. This disc presents songs of hope, healing, and blessings, all collected by the singers (who are also ethnomusicologists). Again, a slow, often sad tempo, overshadows the stark beauty of this disc. The singers alternate between solo songs and a choral approach, often in three parts (three duos singing). Although the style is long on drones and call-and-response, this disc is rather limited dynamically, almost to the point of boredom. While in small doses it is very pretty, to sit through the whole disc (68 minutes) is a tad tedious. Extremely thorough liners notes are included, although they jump around between songs quite a bit. An interesting, if not totally engaging disc.
The two Ensemble Pesnokhorki discs are fairly interchangeable, and both decent. Formed in 1979, the ensemble keeps alive the music traditions of the Cossacks, the cavalry class of Russian society. The music, both a cappella and with musical accompaniment, is a great deal jauntier than the previous two discs, and much more engaging as well. Their style is what we would think of as "classic Russian," with hearty ensemble singing and staccato accompaniment. I was particularly struck with the second disc, which is slightly better recorded. The chantey choir piece "Iz-za polya," (a bridal song) is an uptempo number with a "round" style, led by the female singers. Mix this with the accordion workout "Oy, kak u nas bylo na Donu" (a traditionally Cossack dance song), and you have an very interesting disc of a fairly familiar-sounding style. The first disc is no slouch either, especially the dance songs ("Oy, rastvorite mne tyomnuyu temnitsu" is a standout), but has a slightly slower tempo overall.
These four discs are marred by an almost too clinical style. While these are musical styles that are often celebratory and jovial, the performances are almost uniformly stiff, stoic and a bit severe. Whatever reverence these artists have for the music they are performing is overshadowed by the overly formal workouts these songs get. The more I listened to these discs (especially Ensemble Mzetamze), the more I noticed that the performances are a little too perfunctory. You can close your eyes and picture these songs sung by the ordinary citizens (most of these performers are university-educated musicians) in a more emotional, if not so technically perfect style. Which is a real shame, because many of these songs are exceptionally appealing: often the performances let them down. Each disc comes with copious notes, stiffly translated into serviceable English, and some formal looking but nice packaging. The recording quality is fair throughout, with no real rough spots (just some additional mixing needed on some songs).
Overall, these discs don't quite live up to what they have to offer. The Ensemble Pesnokhorki discs are the most appealing of this set, but not specifically worth tracking down. I hope that Face Music can make it back to the area to record some more of these styles of music, but perhaps with less "professional" groups.
Ensemble Georgika, Volume 2 (Face Music, 1994)
Ensemble Mzetamze, Traditional Songs of Georgian Women (Face Music, 1994)
Ensemble Pesnokhorki, Traditional Songs of Cossacks (Face Music, 1998)
Ensemble Pesnokhorki, Traditional Russian and Cossacks songs of Siberia (Face Music, 1998)