There is probably no culture on the planet that is without some kind of bowed instrument in its traditional practices. From a simple spike fiddle to the violin family, humans have been fascinated by the sound of dragging a bow over stretched strings. Over the centuries, some of these instruments have become memories or historical notations and others have gained popularity throughout the world, far away from the original inventors. The violin is probably the most popular instrument from the latter category. It has become a favorite not only in European music, where it began its life in Italy in the mid 1500s, but also in America (North and South), India, Japan, and many other cultures. There seems to be something universal in its appeal. As anyone knows it can be found in classical orchestras as well as folk, rock, jazz bands and any combination thereof.
What is it about the sound that is so attractive to us? I've always been of the opinion that the violin, in particular, is the closest to the human voice of all instruments. Perhaps it's that humanity that draws us in both as players and listeners. And perhaps for the players, the vibrations permeating their physical bodies as they play brings an added level of connection to the music and the spiritual world beyond. As a non-fretted instrument, any possible scale or mode can be played on a violin, making it adaptable to any culture's musical system, new or old. The instrument also is a good companion to so many others be they from the string, percussion, or wind families or paired with the human voice. Hmmm, it seems I've answered my own question.
The five CDs reviewed here are a miniscule sampling of violin/fiddle music from Nordic countries. With this group, the versatility of the violin is evident as we move from solo settings to a sextet and everything in between. Through all of it, the violin is the binding force. The geographical areas represented include Norway, Sweden, Finland and Denmark.
My, how the world has changed: music students releasing CDs of graduation concerts. Fiddler Alicia Björnsdotter Abrams has done just that. After studying at the Royal College of Music in the performance program for Swedish Folk Musicians under such masters as Mikael Marin, Sven Ahlback, Elika Frisell and Aly Bain, Abrams released Live at Stallet to celebrate her graduation. She is joined by Emma Reid, fiddle; Anna Holm, double bass; Tuulikki Bartosik, accordion; and Kristofer Pettersson, nyckelharpa and kontra.
This CD is a good example of how technology has become so accessible to musicians these days. In the past, players with many more years under their belts would have been ecstatic to have the opportunity to put out a record. Now it's available to almost everyone with a few dollars to spend. There are positive and negative aspects to this, of course. The biggest negative I see is a glut on the market of so many artists that it makes it harder for any one of them to make a go of it without constantly struggling to be recognized. The positive side is that young artists have an early chance to learn about the art of recording and releasing a product, giving them a head start in a very competitive business. It also makes it easier for artists to present an audio introduction of themselves. Not to mention websites and e-mail contact that makes it so easy to find people these days.
Abrams must be complimented on this first effort so early in her career. The package is simple and to the point without looking amateurish; the program of tunes is nicely put together for a pleasant listening experience with a good dynamic range; the arrangements nicely complement her playing and keep her fiddling as the focus; and with this live recording you can tell she has a good rapport with her audience. For sure, this is a student work, but one can hear where she will hopefully go as she gains experiences both in life and music that will deepen her musical soul. This recording is a fine example of Swedish fiddling and of the passing down of tunes and folk heritage. She has been taught by some of the best musicians in her field and I suspect the name Alicia Bjornsdotter Abrams will become very familiar as time goes on.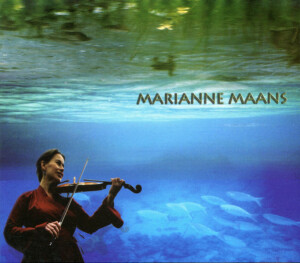 Marianne Maans takes a very different direction with her strings and voice on this self-titled album. She has reached into the Finnish tradition and pulled out some intriguing and very exciting melodic lines and rhythms, interweaving the bowed and sung notes into new patterns that hold both ancient and modern sensibilities. Her presentation would seem to be almost more at home at a venue like The Kitchen in New York, known for its left-of-center musical presentations. But Maans never quite gets to the point of dissonance except in a couple of places, and I suppose that depends on your own definition of dissonance. (She reminded me immediately of Iva Bittova, a Moravian violist and singer, and there's a bit of Meredith Monk in there too). Maans draws a fine line between traditional and very contemporary sounds — a place where often the very old and very new meet. Very old traditions were driven by deep spirituality, guiding the messenger (musician) wherever the spirit needed to go. In very contemporary and experimental music, the artist is always trying to move away from the rules and find new places of inspiration. Thus, these two camps frequently meet and find much to compare notes on. This would be a good listening experience for folk fans that think contemporary music is not for them, and a good experience for contemporary fans that think folk music is not for them.
Maans' approach is not simply to accompany her voice, but to give the instrument and the voice equal roles — at one moment I hear two voices, at another moment I hear two violins, and at another I can't decide which is which. The beauty of it all is that it doesn't matter. The music is exquisite, delicious. Although none of the tracks is very long, they work together as a suite instead of a string of individual cuts, leading the listener from one musical room to another.
If your interest lies with more than four strings, Majorstruen from Norway just might be the group for you. These six young string players are sure to take you for a ride with their energized, robust tunes. They are: Ragnhild Furebotten (fiddle); Jorun Marie R. Kvernberg (fiddle); Synnøve S. Bjørset (fiddle); Tove Hagen (fiddle, cello); Gjermund Larsen (fiddle, viola, cello); Andreas Ljones (fiddle, viola).
This CD, Jorun Jogga, is filled with original and traditional tunes, great arrangements peppered with humor and soaked with integrity. There are few contemplative moments, but mostly this is music on the move, never staying in one place too long before lunging off to the next thing, and always playing on the border between the classical and folk disciplines, teasing one with the other. I can hear them saying, "Hey! Listen up! This is wicked fun!" They often utilize pizzicato and percussive techniques (especially track 10), complimenting the expected long bowed tones of the melodies and drones. There is a joyous intensity to their playing as they lean in to the strings pumping out the tunes with gusto. Imagine JPP (the Finnish fiddling group) with more of an edge. Photos on the package reflect the music perfectly: running, smiling, wind blowing — an ensemble that's going somewhere now! Catch them while you can at their website. By the way, the English translation of the title and first track is "Run Jorun, Run!" That's the idea.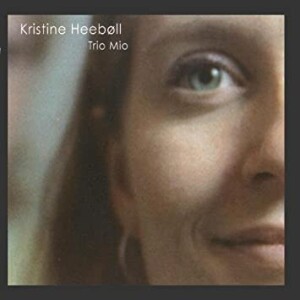 Kristine Heebøll (violin) and her trio with Nikolaj Busk (piano, harmonica) and Jens Ulvsand (bouzouki, guitar) mix a bit of traditional and contemporary folk and jazz together with compositions mostly written by Heebøll. A few guest artists grace particular tracks with percussion (Jesper Falch), additional strings (Rune Sørensen, viola; Mette Spang-Hanssen, cello; Hal Parfitt-Murray, violin), and vocals (Julie Maria Larsen).
Trio Mio starts off innocently enough with two tunes very much in a traditional mold, but the mood takes a turn on track 3, "Lysten Vals," with Busk's lively and hopping piano support and Ulvsand's string attacks slipping in and under the piano notes. This track really launches the CD, telling the listener not to jump to conclusions right away. There are some wonderful turns, like the string quartet pieces (tracks 5 and 8), and the piano changes under Larsen's vocal on track 12. Heebøll has assembled the perfect set of musicians to bring her compositions to life. The basic trio with violin, piano, and fretted strings creates a balanced and colorful texture that teases the listener with traditional, jazz, and classical elements, all woven into a cohesive whole.
Jan Beitohaugen Granli describes his needs as a musician: "Energy, danceability, those I must have. If I play a springar, I play a dance, not a springar as a listening tune." Granli comes from a long line of folk musicians and I'm sure his ancestors would be proud of the way he is carrying on the tradition of Norwegian fiddling. Lite Nemmar is an unadorned solo recording that gets right to heart of traditional fiddling. The photo in the booklet shows him comfortably sitting in a corner on an animal skin that covers a simple wooden chair, focused on his instrument with dancers whirling around him. It is this quiet intensity that comes across without question on the album. Although he also does concert work, I suspect his comfort zone is in a dance hall. The treat that accompanies the music is a wonderful short video piece on with "Kristofferrengja" as the soundtrack tune. An older gentleman cues up an old audio tape on a reel to reel machine to play the tune while his wife sits at the table knitting. He is remembering his earlier days (as a fiddler perhaps?) and visual flashes back and forth from the older couple in their kitchen to a younger couple in an empty hall with the fiddler (Granli) seated on the side providing the music. The dance is beautiful. For all the Nordic dance music I've heard over the years, I have never seen the dancing, so this opportunity was especially wonderful and added a new dimension to the sound of the fiddle.
Reflecting on my listening experience with these CDs, it would be hard to pick a favorite because there are no slouches in the bunch. That being said, Marianne Maans hits me in a different way than the others. It may have a lot to do with my statement in the beginning about the violin being so close to the human voice. Maans is so successful at intertwining her violin and voice that it becomes supernatural and shamanistic at times. This listener, at least, found the process to be less analytical and more emotional, and I found myself getting sucked in deeply enough that the two voices, human and violin, that in the end they simply ended up as one.
I naturally gravitate to music somewhat beyond the traditional, though I appreciate traditional music a lot. I probably would have picked Jan Beitohaugen Granli's recording as my least favorite except for the fact that he included the little video clip. Now that I can see the relationship between the fiddling and the dancing, he's got my attention. So the bottom line is: if you prefer unadorned tradtitional settings go for Granli or Abrams; if you lean towards enhanced traditional playing go for Maans, Majorstuen or Heebøll.
(Alicia Abrams, 2004)
(Institute of Finland-Swedish Traditional Music, 2004)
(Majorstuen Fiddlers Company, 2004)
(Ta:lik, 2003)
(GO' Danish Folk Music, 2004)