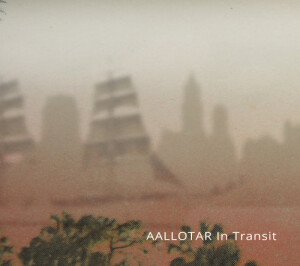 Aallotar is a new duo making contemporary Finnish folk music. Finnish-American fiddler Sara Pajunen (who I previously knew from two albums cut with American guitarist Jonathan Rundman in Kaivama) and Finnish accordionist Teija Niku (Polka Chicks) met in early 2013 at a Scandinavian festival in California, where they immediately bonded and started jamming. Within a few months they were playing regularly together, had recorded an album's worth of songs and started touring the U.S., playing house concerts and scanfests and putting on workshops. They named their act Aallotar after a character in Finland's national epic "Kalevala." They discovered that their families came from the same region of Western Finland, before Pajunen's emigrated to the U.S. about 100 years ago, and they look at their collaboration as an exploration of the similarities and differences in the musical backgrounds and traditions from which they hail.
Both of these vibrant musicians are educated in Finnish classical and folk traditions, and both have musical interests beyond the traditional that they have incorporated into this collection. For Pajunen, that is manifest in her folksy Midwestern vocal style, the way she occasionally strums rhythmic rock-style riffs on her violin, and her contemporary interpretation of lyrics such as those of "Lauluni Laulan," a traditional song whose Finish lyrics are translated as "I sing my song with my eyes closed." Niku's extracurricular interests include French musette, which shows up in the musical interludes between the verses of "Hiljainen suru," a traditional song about the "silent sorrow" in a young girl's heart; and Balkan dance music, which appears in "High 5," an original by Niku.
Pajunen and Niku are superbly sympathetic musicians, so both their instrumental playing and their singing are quite complementary. Their vocal ranges are similar, with Niku's being a little higher and a little clearer in timbre than Pajunen's warm alto, which makes for lovely harmonies. They wisely open the album with a song that highlights both their singing and their playing. "Syämestäni Rakastan," a traditional song arranged and expanded by Niku, about desperate love. For much of the song, Niku plays a driving syncopated motif on the accordion, while she sings the verses and Pajunen echoes the melody on fiddle; there's a middle section in which the two sing "aaahhh"s in close harmony that always gives me chills. Similarly thrilling are their tight high harmonies on "Lauluni Laulan."
My favorites are the lilting traditional song "Hellulaulu," with flirty, repetitive lines sung by Niku; and the long, meditative suite titled "Temporary." It's a song with dark lyrics about the temporary nature of all life, and the two take turns singing verses in Finnish and English. Then after a dark, deeply textured section they slowly break into "Sahasottiisi," a joyful schottische composed by Niku. Here's a performance video featuring just that schottische with its pensive introduction:

Sahasottiisi (T. Niku) from Aallotar on Vimeo.
Don't miss the stately "Juottomarssi," a march traditionally played during the drink service at weddings; or Niku's meditative polska "Aamupolska." Also very lovely is the final track, "Day & Night," a meditative piece that reflects the nature of their musical relationship as they live on opposite sides of the globe.
Aallotar is a small group playing music from an often-overlooked corner of the musical world, but they play it with a big heart. This is a very worthy debut. You can preview the music and buy it at Bandcamp.
(Self-released, 2014)