Various artists' A Touch of Latvian Folk Music
Skandinieki's Skandinieki
Valdis Muktupavels's Valdis Muktupavels
Marija Golubova's Stasti Un Dziesmas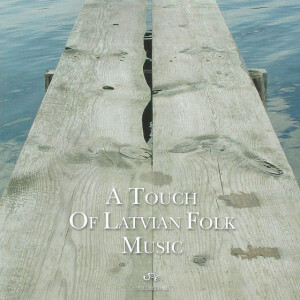 Latvia is a small country located on the east side of the Baltic Sea, with Estonia to the north, Lithuania to the south and Russia to the west. Like so many other cultures these days, Latvian music is enjoying the modern age of CDs and the music is reaching beyond their borders, landing in hands like mine. The demise of the Soviet Union has certainly been a help in allowing the arts to blossom again. The four recordings I'll be talking about are all available through UPE Records.
UPE Records was founded by Ainars Mielavs in 1997 after he spent many years as a painting professor, television and radio producer, and band manager. These recordings are part of a "Latvian Folk Music Collection" that is a sub category of the UPE label.
My first exposure to specifically Latvian music was the compilation A Touch of Latvian Folk Music, which includes about a dozen different artists and groups. The CD shows the traditional side as well as modern songs. It opens with a traditional song by Ugis Praulins, "Easter Comes," and the classic sound of the zither, embellished by some sound effects of the outdoors and synthesized drones. It is a beautiful song that moves from a slow pace to a faster section with percussion, and back to the droning slower melody. What a wonderful introduction to the world of Latvian music this cut is. Not only is the composition itself appealing, but the production is superb and the arrangement would catch the ear of any lover of European music.
There are dance tunes, lullabies, and great vocal work (both solo and small chorus). The mixture of instruments includes both the traditional zither, fiddles, guitars, pipes, percussion and a few tasteful electric instruments (if I'm not mistaken). The listener comes away with a real sense of the colors of Latvian music. You can hear Scandinavian, Bulgarian, Celtic, and Russian influences, but it has its own character that becomes more identifiable the longer you listen. This compilation CD is an excellent introduction to vast wealth of artists the country has to offer.
Singing is very important in Latvian culture. Led by Livs Helmi Stalte and Dainis Stalte for 27 years, Skandinieki (the group) is credited with helping to start the movement of reclaiming many old Latvian songs and stories in the late 1970s and giving them new life. In the process they have learned more about their heritage and have passed on their knowledge to audiences in Latvia and beyond. The CD Skandinieki is a fabulous sampling of songs from their repertoire. The lush harmonies are reminiscent of the Rustavi Choir (Russia) and Las Voix Bulgares (Bulgaria). Most of the thirty songs are under three minutes and include solos, small groups and large chorus, sometimes accompanied by instruments, many times acapella.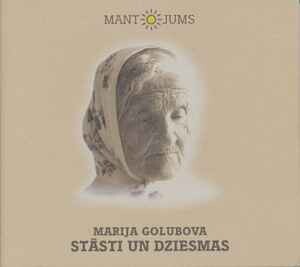 Marija Golubova tells of her life in song and talk on Stasti Un Dziesmas (Stories and Songs). She is described as "the inimitable folklore teller from Vil … the Princess of the Forest." The recording tracks alternate between spoken word and song. Her unaccompanied solo vocal emits the wisdom and experience of one who has been on the earth for a very long time. She was born in 1907 and I am uncertain whether she is still living. Her voice is raw and rich. The "performances" were seemingly done in her home. Sometimes she stumbles over a word or note, then picks up and moves on. Sometimes a chair moves or other sounds occur in the room. Although transcriptions of the spoken word sections do not appear in the liner notes in Latvian or English, there are one sentence descriptions of each in English which are helpful. I have always found it fascinating to listen to people speak in an unfamiliar language, as I can just focus on the rhythms and inflections. Unlike the other CDs in this review, with their artistic expression and high level of recording studio production, Stasti Un Dziesmas is an excellent historical record and field recording that preserves the voice and knowledge of one of the Latvian elders, Marija Golubova.
Valdis Muktupavels has released a double CD set featuring the traditional box zither or kokles, a type of psaltery. CD 1 Muktukokles features his original compositions and includes some other instruments beyond the zither (cello, guitar, tabla, bass, etc.) and some vocals by Muktupavels himself and Ruta Muktupavela. He is a composer, instrumentalist, and ethnomusicologist who is well aware of music from many other cultures and brings other sounds into his work. There is a blues, some throat singing, some tabla and more, but you never lose the focus of his incredible kokles playing. Some of the tracks are quite long and allow him to improvise and travel down some long roads musically. Personally, I love this kind of approach and I also gravitate strongly to his sense of modes. Perhaps it's because of my fretted dulcimer playing, but anything that utilizes the old modes finds a special place in my heart.
Ethnomusicologist that he is, Muktupavels has designed CD 2 Tradicionalas Kokles as a tribute to the traditional kokles players of the past. Legends of the instrument say the kokles was given to people by Dievs (God). Players and their instruments faded from the culture by the early 20th century, but over the last twenty years there has been a bit of a revival. Muktupavels had the opportunity to learn a little from one of the last old traditional players that lived into the 1980's. I suspect Mutupavels may be the one responsible for the instrument's revival.
The traditional CD is as compelling as the contemporary CD. Having both at hand is a wonderful way to hear the progression of music from the traditional to the modern. You can tell that Muktupavels' love and respect is in both places. His original compositions are that much deeper because of his knowledge of the tradition.
I can't imagine that I would be disappointed with much of anything from the UPE label. If you like any kind of European folk music, you will most certainly enjoy music from Latvia.
(UPE Records, 2001)
(UPE Records, 2003)
(UPE Records, 2002)
(UPE Records, 2003)