Jackie Washington's Blues & Sentimental (Knight II Records, 1970) out of print
Ken Whiteley, Jackie Washington, Mose Scarlett's Where Old Friends Meet (Borealis Records, 1991)
Jackie Washington's Keeping Out of Mischief (Borealis Records, 1995)
Jackie Washington's Midnight Choo Choo (Borealis Records, 1998)
Mose Scarlett, Jackie Washington, Ken Whiteley's We'll Meet Again (Borealis Records, 1999)
James Strecker, More Than a Blues Singer: Jackie Washington Tells His Story (Mini Mocho Press, 1996)
Jackie Washington is a local legend. He was born in 1919, and the family has lived in Hamilton forever. Jackie worked as a porter on the railroad; he worked at American Can for a time, bottling soda pop; and his whole life he has been a musician. A quick glance through the quasi-autobiography More Than a Blues Singer [compiled from interviews by poet James Strecker] shows a connection from Jackie to some of the greatest names in 20th century jazz and blues. Duke Ellington, Billy Holliday, Woody Herman, Jay McShann; Sonny Terry and Brownie McGhee, Lonnie Johnson, and John Lee Hooker are all name-checked. Jackie has met, eaten with, played with, talked to, or somehow interacted with all of them. And don't forget the folk singers, like Joni Mitchell, Arlo Guthrie, Gordon Lightfoot and others with whom he shared a stage. Yes, Jackie Washington is a local legend.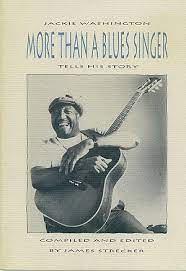 The book shows a man with stories to tell, and a fine, free-flowing way of telling them. All Strecker had to do was ask a couple of questions and start the tape recorder, then put it all in order. I spent a day with Jackie a few years ago; my job was to entertain him between sets at a fundraiser. He talked my ear off, about playing with Jay McShann, about his record collection, about who wrote this or that song, about who played this or that solo on some old 78! It was a day I'll never forget. Reading the stories in More Than a Blues Singer is like hearing each one told in his own voice; you can feel him sitting next to you, chatting. That's what he likes to do.
Right now, Jackie is in a state of transition. His health isn't the best. He's diabetic. He's already lost a leg. He's not at home with his wife Eleanor. He misses the company. But if you visit, he opens up, his face brightens and he starts to tell the stories. If he was simply a historian of the music world of the second half of the last century…that'd be wonderful. But he's also one of the most enjoyable performers you've ever [or never] heard! In a few weeks McMaster University will be presenting him with an Honorary Doctorate in Humanities. He is thrilled to be receiving it. For a lad who dropped out of school early, it means a lot to be so recognized. And then later that month, or maybe in July, Borealis Records will be issuing the newest in a series of CDs of standards recorded by Jackie and his pals Mose Scarlett and Ken Whiteley. Jackie Washington is still working!
His first album, after a lifetime of preparation, was a small independent release on the Knight II imprint. Knight II was a coffeehouse in the city, where every stopped to play at one time or another. Heck, I even played there one weekend. But Jackie was a regular and would play a set drawn from the encyclopedia of modern song that exists in his memory. (He says he knows 1,200 songs! I'll bet the number is higher.) Blues & Sentimental was a vinyl only album, with a moody black'n'white cover and a cross section of songs that fit into the title categories. This album has been out of print for years, and it's almost impossible to find. Even the local university radio station no longer has a copy! But if you could find one…you would discover the template for all of Jackie's future releases. Standards and bluesy classics, Jackie's comfortable voice, his fine chording and rhythmic playing on either guitar or piano.
It would be a long time till the next release. Borealis Records, champions of both Canadian talent and folk music, presented Where Old Friends Meet, a collaboration among Ken Whiteley, Mose Scarlett and Jackie in 1991. Whiteley had been part of the Original Sloth Band, with his brother Chris (among others) and they played fairly authentic renditions of jazzy standards. Scarlett can be described as the Canadian Leon Redbone (or maybe Redbone is the American Mose Scarlett), deep voice, ragtime guitar and a bucket of 20th century classic tunes to choose from. Combined, Whiteley, Washington and Scarlett have a bottomless source of material and influences from every area of jazz, blues and popular song. Their depth is amazing.
Scarlett plays a precise fingerpicked ragtime style on his guitar. Washington is the owner of one of the most unique, smooth, solid, rhythmic multi-chord flatpick guitar techniques. And Whiteley, well, Ken can play everything else! Together they are unstoppable, and on Where Old Friends Meet you get the sense that they are just what the title says…old friends meeting for a session in your living room. They allow each other lots of room to take their individual turns, but support each other brilliantly. "A Little Street Where Old Friends Meet" (by Gus Kahn & Harry Woods) starts with Mose's guitar and voice on the verse, then goes to Jackie for the chorus. Jackie's voice is a clear and cozy instrument, every syllable enunciated yet rhythmically sound. Then a nice solo and some harmonies by Ken. And that's the way it goes. You have to call them by their first names; they're old friends for goodness' sake! With each other, and by the end of the first song…with you! The album follows this pattern. Mose sings, then Jackie, then Ken…each one stepping out, then backing off. The songs are the stars. All are presented in definitive arrangements.
The trio tours with a show much like this album. They play songs like "Go Where You Go," "I Wish That I Could Shimmy Like My Sister Kate," "The Three Bears," "On the Suny Side of the Street," and "We'll Meet Again." Songs from the American Songbook written by songsmiths like Gus Kahn, Fats Waller, Mack Gordon and Harry Warren…maybe a gospel tune or a blues…even the odd original thrown in for good measure. They did meet again, by the way. Green Man Review reviewed their live album a while back, and this is the group who will be releasing a new recording this summer!
In 1995 they worked on an interesting project. Each member of the trio worked on a solo album (though each member of the trio helped on each album!) and the resulting three albums were released both separately and in a boxed set. Jackie Washington's effort was entitled Keeping Out of Mischief, but knowing Jackie that title doesn't describe what went on in the studio. "At Sundown" echoes earlier versions of the song by Mugsy Spanier and Bud Freeman; Jackie's shuffling guitar, a fine guitar solo by Whiteley and some horns! The addition to the sound on this album is marvelous. A horn section of Chris Whiteley (trumpet), Laurie Bower (trombone) and Jim Galloway (clarinet) adds an authentic 30s touch. All three are excellent soloists as well. Bucky Berger plays drums, and string bass is shared by Terry Wilkins and Rosemary Galloway. Piano is played by Jackie himself (a fine clunky style), John Sheard and special guest Jay McShann on "Take the 'A' Train." Mose shows up for a duet on the title track, and Ken Whiteley is all over playing guitar or mandolin. This is a great showcase for Jackie's own sound.
Jackie cut a followup to this CD in 1998. The liner notes of Midnight Choo Choo feature a few of Jackie's own detailed pencil drawings of trains. He loves the railroad, and is pleased to feature a train song whenever he can. Keeping Out of Mischief offered "Take the 'A' Train" and "Sleepy Town Train," and Midnight Choo Choo begins with the title track "When That Midnight Choo Choo Leaves For Alabam'." That fiddle solo is by Graham Townshend! Then an Ink Spots number "Street of Dreams," with Colin Linden on guitar. Victor Bateman plays bass and Jackie plays the wandering piano solo which echoes a selection of other tunes. Fabulous! Again Ken Whiteley is the multi-instrumentalist, and Mose Scarlett's basso-profundo makes an appearance, but this is Jackie's album all the way. It displays his instrumental virtuosity, his charming vocals, his personality (which is so key to his success). Don't miss his original Scottish blues, "Heilan' Lassie" or "Where Did Robinson Crusoe Go With Friday on Saturday Night?" He learned that one from an Al Jolson 78rpm record, from 1916.
There are songs and singers that lead us into new directions. There are performers and material which reinforce who we are and what we believe. Jackie Washington, and his pals Mose Scarlett and Ken Whiteley, reflect our past…even long past. Times we have forgotten, or only remember through legend. That's why we need legendary performers. We need the Jackie Washingtons of the world. We need to look after them, and to pay attention to them. And when they get sick and old we may need to take care of them. They are part of us. Today Jackie is living on a pension, just getting by. Working musicians don't have benefit packages, retirement savings plans and large savings accounts. Most of them don't find themselves on the "ten richest men in the world" lists…just the opposite. Some friends have recently put together a group to raise funds to keep Jackie a bit more comfortably than his pension will allow. The Jackie Washington Living Trust will be announced shortly. But right now we have the music, five albums of old songs, good picking and singing. Jackie Washington is the legend. He is the man.